This shop has been compensated by Collective Bias, Inc. and its advertiser. All opinions are mine alone. #RediscoverLaMorena #VivaLaMorena #CollectiveBias
The other day I was talking with a friend about menu planning and in our conversation, she shared that when hosting a party, she tends to over-complicate and take on too much.  We've all been there; it's an easy thing to do.
We, as hostesses, so often think we need some complex, crazy menu for a successful dinner and all it does is end up stressing us out.  So let's rediscover the way we entertain.  After all, entertaining isn't about impressing.  It's about hospitality, the warmth with which you welcome guests into your home, and making the whole evening do-able.
Let's step back and think easy, fun and attainable.  Let's stop the stressful, cumbersome menus and keep things enjoyable as we prepare for and welcome friends into our home.  And we can do all of this without sacrificing great taste and quality.
Today, I have a simple but yummy appetizer recipe.  We're taking something pretty traditional and adding a little twist (and kick).  It's going to be delicious.  Check it out!
But first, don't miss this sweepstakes where you can win fun prizes to help you discover new places!
#VivaLaMorenaSweepstakes(7/19 to 8/23)
Mini Hot Dog Jalapeño Rolls
Who doesn't love crescent rolls and the warm, baked goodness of dough?  They are easy and pretty much something you can't mess up.  But for this recipe, I wanted to try something new.  So I wrapped cocktail hot dogs,  LA MORENA® Sliced Jalapeños (28oz) and cheddar cheese inside crescent roll dough.  The jalapeños added such great flavor as well as a little kick.  These appetizers will delight your guests.  And one thing I love?  They are simple to make for a busy hostess!
Ingredients & Instructions:
LA MORENA® Sliced Jalapeños (28oz) . . . with plenty left over for a treat later!
2 packages of crescent dough sheets (This will make 16 rolls.)
1 – 12oz. package of mini hot dogs
2-3 cups of shredded cheddar cheese
Roll out the sheet of dough.  Be sure to buy the sheets and not the pre-perforated crescent rolls.  This will allow you to cut whatever shape and size you like.
With a pizza cutter, slice through the dough.  You should expect to get eight rolls out of one sheet, more if you make your rolls smaller.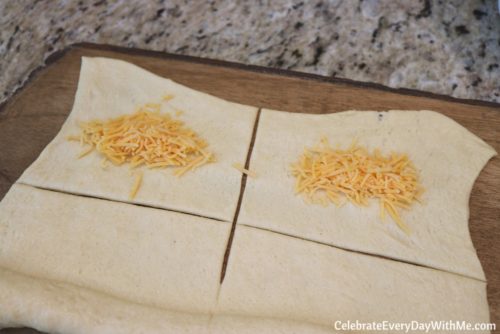 Add a couple pinches of shredded cheddar cheese to the center of your dough.
Now for the best part . . .
Place a sliced jalapeño on top of the cheese.  I was so excited when I opened my can of LA MORENA® because the jalapeños are sliced lengthwise which is perfect for cradling the mini hot dog.
Have you tried LA MORENA® products before?  They are a leader in the chiles and peppers category and for over 35 years, have been providing US consumers with the highest quality products made in the style and with the taste of the authentic Mexican home and traditional recipes.  I am excited to be joining them as their product packaging gets a new look.  (And coming soon . . .  watch my Instagram to see where LA MORENA® is taking me this summer.)  We'll be rediscovering LA MORENA® all the while enjoying the same delicious flavors their customers have loved and trusted for years.
When I was at Giant Eagle shopping for this recipe, I also picked up a can of LA MORENA® Whole Jalapeños (28oz).  I can't wait to try something fun with those.  Mmmmm!
Next, add your mini hot dog and top with more shredded cheese. 
Wrap the dough around your ingredients and pinch at the top.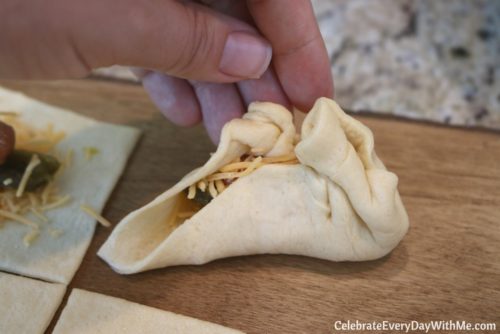 My daughter thought they looked like little presents and I have to say I like the way she thinks.  🙂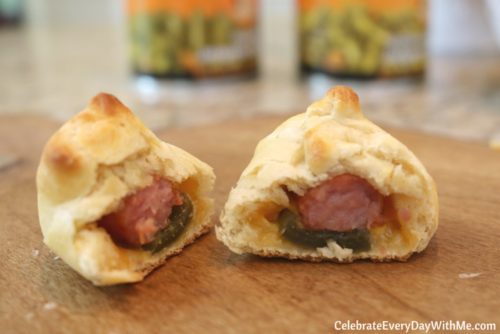 Bake for 10-12 minutes at 375 degrees.  Then, plate the rolls and watch them disappear.
Yum!  These mini hot dog jalapeño rolls are delicious.  Here is where you can find LA MORENA® products at Giant Eagle: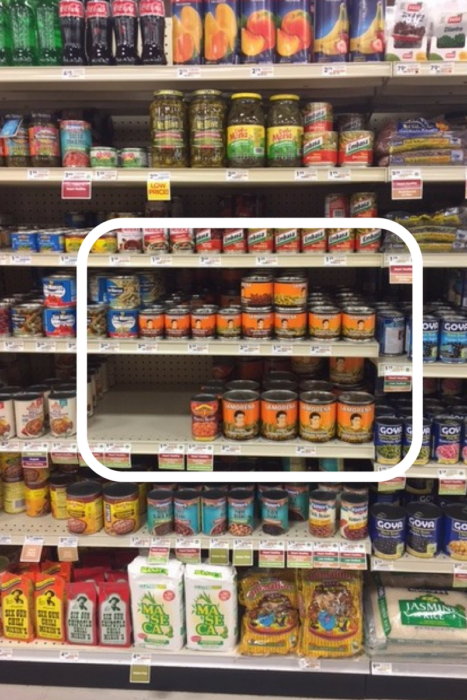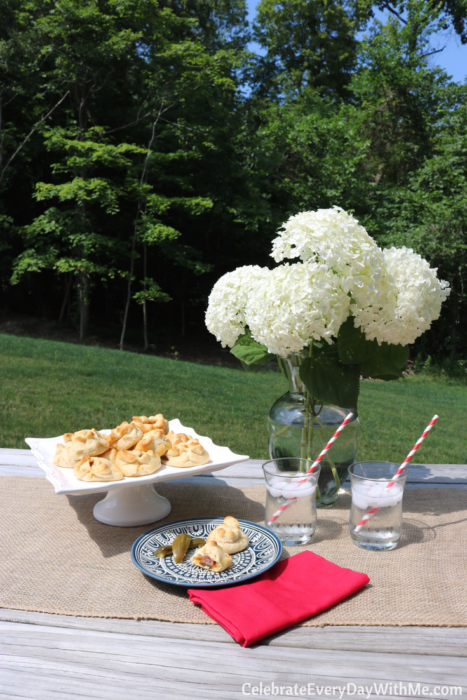 Thanks, LA MORENA®, for helping us rediscover the way we entertain and adding such great flavor to a simple recipe!
Rediscover more flavors and recipes with LA MORENA® by clicking here.  
Connect with LA MORENA® on Twitter, Instagram, Pinterest, Facebook and YouTube.