Disclosure: This shop has been compensated by Collective Bias, Inc. and its advertiser.  All opinions are mine alone. #SandwichWithTheBest #CollectiveBias
When you think of entertaining, do you only think of complex, gourmet meals?  Friends, it does not need to be that way.  Today, I am sharing a 6-ingredient sandwich that will simplify your spring entertaining, allowing you to prep with confidence, add a cute presentation and enjoy your guests.
I love the opportunity to have a friend or two over for a simple lunch.  As a busy mom, I find that time with other women and mothers is invaluable.  It renews, encourages and rejuvenates.  Lunch with friends?  Yes, please.  Now, when it comes to lunch for spring entertaining, I like to look for lighter menus that are simple, yet tasty.  And of course, a pretty presentation.
The 6 Ingredients Needed For Our Spring Sandwich:
Pepperidge Farm Farmhouse™ Oatmeal
Hillshire Farm® Thin Sliced Honey Ham
Hellmann's® Real Mayonnaise
Thin Sliced Pepperoni
Fresh Spinach
Tomato
I love the fact that this sandwich is easy to make.  One quick run to Walmart for my ingredients and I was set.  If you are serving these sandwiches for family or friends, set up a little assembly line.  You'll be done before you know it!
I made these sandwiches a couple hours in advance, wrapped them in deli paper, added a little plastic wrap to the open side and refrigerated.
I wanted a hearty and delicious bread for my sandwich.  Farmhouse Oatmeal made by Pepperidge Farm® is perfect.  It has a "fresh from the oven" taste and is really what set this sandwich recipe apart.  Pepperidge Farm breads are slow baked and crafted from a small batch recipe with flavorful ingredients.  Plus, the bread is double-wrapped for freshness.  I loved it!
The second ingredient in this sandwich is Hillshire Farm® Thin Sliced Honey Ham.  Hillshire Farm® slow roasts their meat for hours making it taste better than other lunchmeat.  Plus, it contains no artificial flavors or by-products.
Now, I like a meaty sandwich.  Don't be afraid to layer up the deli meat.  One 9 oz container made four sandwiches for my luncheon.  The meat is double-sealed for freshness so use as much as you need and re-seal . . . And you better believe that crafty-me will be saving those containers for a future use.  😉
The next three ingredients keep the simplicity going.  Add thin slices of pepperoni, fresh spinach and a juicy slice of tomato.
Looking delicious!  But we're not quite done.  One last ingredient.
Spread Hellmann's® Real Mayonnaise on the other slice of bread.  I bought the 20oz squeeze bottle.  Seriously, I don't think my husband or kids could make a mess even if they tried with this "Squeeze with Ease" bottle.  It was wonderful!  I was able to squeeze the mayonnaise precisely where I wanted it with zero mess.  Hellmann's® Real Mayonnaise is made with real, simple ingredients (cage-free eggs, oil and vinegar).
If you want to crisp your sandwich, you could also use Hellmann's® on the outside of your bread instead of butter for a perfectly grilled sandwich.  Or switch things up by combining Hellmann's® Real Mayonnaise with other flavors like sriracha, soy, wasabi or maple.
Ready to take a bite?  Before you do, let's give it a pretty presentation for our guests.  You will need deli paper and baker's twine.  I used standard weight, dry wax deli paper that measured 15in by 10.75in.  It was perfect for the size of the Farmhouse Oatmeal bread.
Fold a lip of the wax paper inward as shown above and place your sandwich in the corner of the paper.
Pull the wax paper over the top of the bread, folding another lip underneath so that your paper lines up with your crust.
Cinch the length of the paper on the side of the sandwich and begin to fold over the sandwich toward the right side.
As you are folding the paper over, double check that your front edges are lining up.
Tuck the excess of the paper underneath the sandwich.
Slide the baker's twine underneath and tie in a bow.
Now on to lunch!
This pretty table made use of soft colors, a variety of textures and fresh flowers to celebrate spring.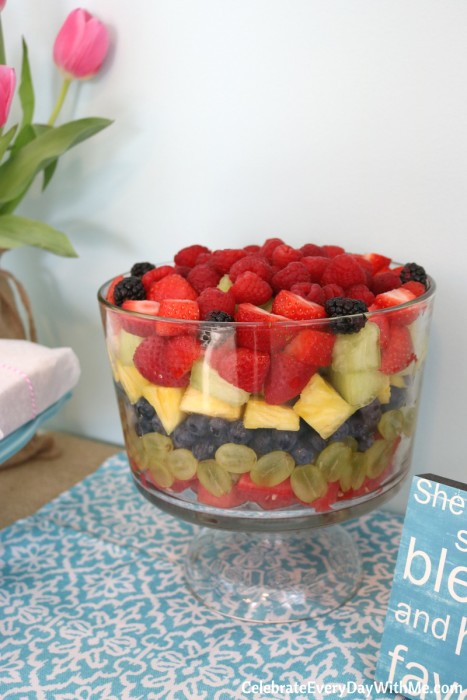 A simple menu is all you need for a fun ladies' lunch.  Easy sandwiches wrapped up pretty, fresh fruit, cookies and pink lemonade.  Your guests will enjoy the meal and time together.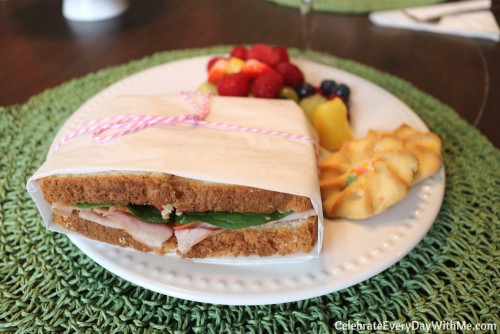 Here is where you can find products in Walmart:
It was a delightful lunch!  How do you keep things simple for spring entertaining?  Click here for more delicious recipes and inspiration.