I have been creating our Shutterfly book from our latest trip to Walt Disney World.  Yes, I am a little behind (it was last fall), but I am loving the chance to re-live all the fun memories, look at the kids' faces and see my most favorite vacation spot on earth.
All in all, I have probably been to Disney World just under 15 times:  visiting as a child, a teen, an adult without kids, and now twice with our children.  And all the while, I love it.  I am struck by what you can do with unlimited creativity (and of course, a lot of money!).
I think I block out the fact that spending long days in the heat, stretching the limits of your kids and having multiple days at an amusement park can be exhausting.  (For me the perfect Disney Vacation is 6-8 days!)  If you missed 10 Tips for Planning Your Disney Vacation, you'll want to check it out when you are making your vacation plans.  Today, we won't be looking at the planning side, rather while you are actually at the parks.
10 Tips for Getting the Most of Your Disney World Vacation: 
1.  Download the free app, Disney Mobile Magic.  You can get quick access to wait times (pretty accurate), find out where the character greetings are, look at a map of the park and find out what restaurants are near you.
Our trip last fall was the first time I used this app and I loved it!  It helped me make decisions as to which ride to head to next, see the wait times for greeting Mickey and the other characters, but I also used to it to scan the list of quick-service restaurants at lunch time.  (We booked with a free dining plan promotion.  You can find out more about it here.)
* Be sure to activate the location service of the app when you enter the Disney Property.  This app is available from the Apple app store, as an Android app on Google Play and also Verizon Vcast.
UPDATE:  Disney now has the My Disney Experience app.  You can find wait times, character greetings, change your fast passes and so much more!  I'll be writing about this soon, but this is the new go-to app.  If you are at the parks during peak crowds seasons, it may be a little slow though and you could use Mobile Magic as a back up.  You won't be able to change your fast passes from Mobile Magic however.
2.  Check out the Opening Festivities of the Magic Kingdom at Least Once.  This is one of my favorite parts of being in Disney World.  Everything is a show . . . including the opening of the Magic Kingdom.  You have to get to the park at least 20 minutes prior to opening because the whole thing happens before you can even step foot onto Main Street when the park opens for the day.
From the train station platform at the entrance, the Mayor greets and welcomes all the guests.  Dancers in turn-of-the-century style clothing come out to sing to Good Morning, Casey Junior and Zip-A-Dee-Do-Dah.  The anticipation builds as the crowd waits for Casey Junior, the Magic Kingdom train, to arrive with Mickey and about 15 other characters.
My kids love watching the train pull in with all their favorite characters.  Then the whole crowd counts down from 10 to 1 for the park to open.  They pick a family to throw fairy dust at the end of the countdown and fireworks blast to the sky.  Did I mention that they play "happy" music as you enter.  Ah, I love it!
UPDATE:  The opening of the Magic Kingdom is no longer at the train station.  It is now at the castle forecourt.  Before the park officially opens, you may walk (and shop) up and down mainstreet until the opening show.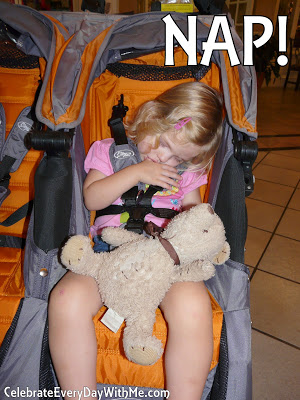 3.  Nap!  When you have an extended trip at Disney World, napping is not only a luxury, it is a necessity.  Even as a teen and young adult going with my family, we went back to our hotel and napped.  For us, we'd have lunch at the park, do one more attraction or so, then head back to our hotel and take a nap.  Then afterward, we'd pick up and go to a different park.  (If you are on the dining plan, this does take some forethought so you end up in the right park for your dinner reservations and it also requires a park hopper pass – something I will always get!)
Napping will give everyone a better chance of being their "happy-selves" and make the evening parades and fireworks show much more enjoyable!
4.  Sit on Main Street for the Nighttime Parade.  This may be more preference, but I have my reasons.  Through most of the year, the Magic Kingdom runs a fun and exciting nighttime parade:  either the Main Street Electrical Parade (brought back for a limited time) or Spectromagic.  Both are incredible, but I am finally partial to the newer Spectromagic.
The parade starts at the cul-de-sac at the entrance of the park and runs up Main Street and through some of the different lands.  I prefer to be on Main Street, not only for the picturesque feeling of Main Street at night, but also because it is close to the beginning of the parade's route.  You're not waiting with young children (or without for that matter!) for the parade to arrive at your position.  Go to where it starts.
If you want to sit on the curb of Main Street (the best!), you do have to arrive at the curb at least an hour and half before the parade, sometimes even two hours.  But again, if you are on Main Street, the wait isn't too bad.  Just mark your spots with jackets, strollers, bags or whatever you've got and take turns sitting there while some of your group shops in all the Main Street stores.  It is also a treat to sit for the parade after a long day of walking the parks.
5.  Take Advantage of Fast Pass.  The Disney parks offer a great way to cut your wait time for many of the attractions.  Think of it like a place holder in line.  It couldn't be simpler:  go to the fast pass kiosk at a particular attraction.  Insert your park ticket (or Disney resort hotel keycard) and you will receive a fast pass ticket telling you to come back during a certain window of time.
For example, you may go get your fast pass at 9:00am and your fast pass ticket will say to come back between 10:35 and 11:35am.  When you go back to the attraction, find the Fast Pass return line and hop to it.  You'll bypass all the long lines.  You can make the most of your day by picking up a fast pass for a particular ride and then going to ride something different in the meantime.
You are only allowed one fast pass at a time and the return time is clearly presented at the kiosks so you'll know before you insert your park ticket if it will work for you.  I have heard several times that the cast members will allow you to use your fast pass at a later time in the same day.  (I've never tried this.)  However recently, I've heard that they are discontinuing this in preparation for a newer system to be introduced . . . a system that is more like making reservations ahead of time.  (I'm not a fan of this concept, but then again, I don't like change.  Disney always wins me over though once I "try" their new innovations.)  You can learn more about Fast Pass here.
Well, we had better break here for today.  I'll be posting the rest of the tips next week.
What is your best Disney World tip?  Please share!