This shop has been compensated by Collective Bias, Inc. and its advertiser.  All opinions are mine alone. #CelebrateAmazingBDays #CollectiveBias
Birthday season is about to begin in my family.  Summer brings three birthdays and I am very excited to celebrate.  Parties, gifts, cards, cake, balloons . . . I love it all.
This summer, my daughter will turn 7.  She is sweet, tender-hearted, thoughtful and loves to laugh.  And lucky for me, she also loves to craft!  So I knew that this little project would delight her to no end.  She will probably wear it all day long on her special day!
Today, I am sharing it with you:  how to make a flower crown with tissue paper.  Maybe you have a sweet little friend or daughter who would love to run, dance and play under a crown of beautiful, handmade tissue paper flowers.
To start my craft and get ready for our summer birthdays, I stopped at Walmart and picked up American Greetings tissue paper, along with a few other things to celebrate my daughter's birthday.  I love how easy American Greetings makes it to celebrate your favorite people with fun and meaningful cards and a great assortment of gift packaging.  
For Your Flower Crown, You Will Need:
Tissue Paper (assorted colors of your choice)
Floral Wire
Scissors
Ruler
First, measure the recipient's head with the floral wire.  You'll want a natural fit where a crown should sit.
Crafter's Tip:  It is always better to measure big for sizing the crown.  Once most of your flowers are on the crown, you can resize and make the crown smaller by twisting the wire.  However, you cannot make it bigger.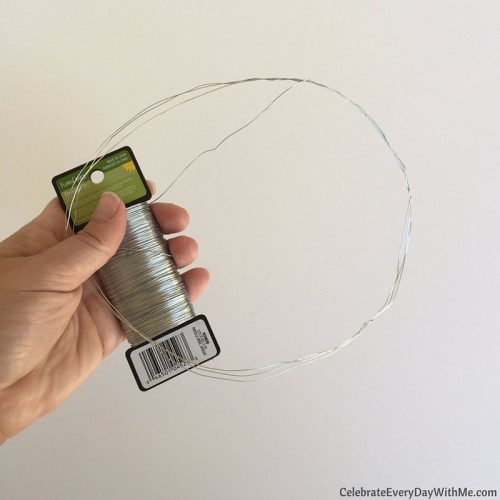 Coil the wire several times around your circle to provide a base for the crown.  The base will bend and flex, but no need to worry.  You can perfect the shape at the end.
Once you have about three coils, go around once more, weaving the wire in and out of the ring so that it holds together.
Snip your wire, twist around the crown base, and fold it back in the opposite direction.   Finish by twisting what wire is left around the base.  Take note to make sure that your wire end is not sticking out.
Measure 3″x 3″ squares of tissue paper.  To conserve your tissue paper so you have sheets left for gifts, cut from one or two sheets instead of the whole stack.  Each flower will use 3 squares of pink or yellow (or the flower colors you have selected).  The green tissue paper is to provide the look of greenery running throughout the entire crown below the flowers.
Grab three squares of your flower color and one green square.  Stack them on top of each other, placing the green on the bottom.
Fold into quarters, in accordion fashion.
With the tissue paper folded in the accordion, cut both ends to form the shape of the petal.  I chose a rounded edge.  (See other options below.)
Then with a piece of floral wire (about 7″ long), secure it around the tissue paper and twist.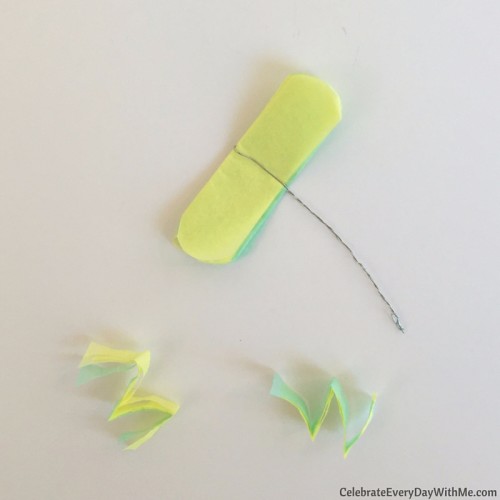 Don't forget to fold the end of the wire back in the opposite direction as we did before to help keep it secure and reduce the chances of your little lady being poked.
Begin to stretch out one of the sides.
One at a time, peel each layer to separate.
Once one side is complete, repeat the same process with the other side.
Your flower should look like this.
Before you set it down, pinch the bottom of the bloom to tighten your petals and green leaves.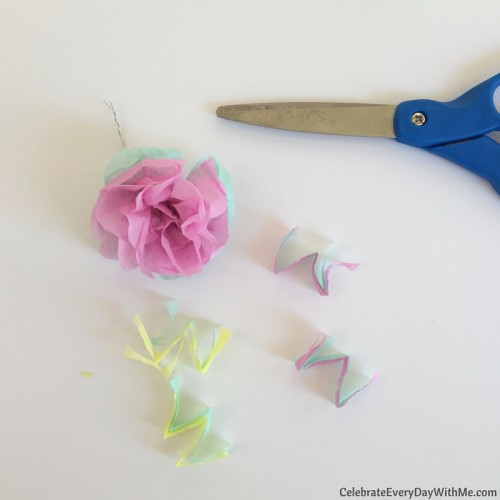 Continue with the same steps to make more flowers.
Initially, I made 12 flowers but ended up needing 16 to fill the crown.  Take your best guess on how many you will need and make more as necessary.
Each time I finished a new flower, my daughter oohed and aahed over the beauty of each one . . . it made the process so much fun!
Now, you are ready to attach the flowers to the crown base.  If you are using multiple colors, decide whether you want to alternate colors in groups or by the bloom.  (I repeated a pattern of two pinks then two yellow flowers.)
Simply twist each flower stem around the base.
Before you finish adding all your flowers, be sure to check the size of the crown on your daughter or friend's head.
Remember how we favored measuring larger than smaller when making the crown base?  If your crown is too big, fold the wire over itself to reduce the size, as in the photo above.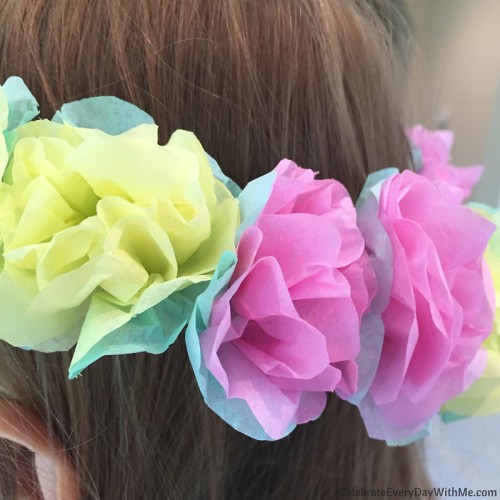 Now, you can add the last few flowers.
These are the different cuts you can make on the tissue paper to achieve a variety of petals and flower shapes.  The top option is pointed.  The middle cut is very rounded and the bottom option is what I used for our crown, a more gentle, rounded cut.  It is also the easiest for separating layers when you are working on a smaller scale like flowers for a crown.
Before I show you the finished product, take a peek at the cards I bought for my daughter and my mom while shopping for the tissue paper.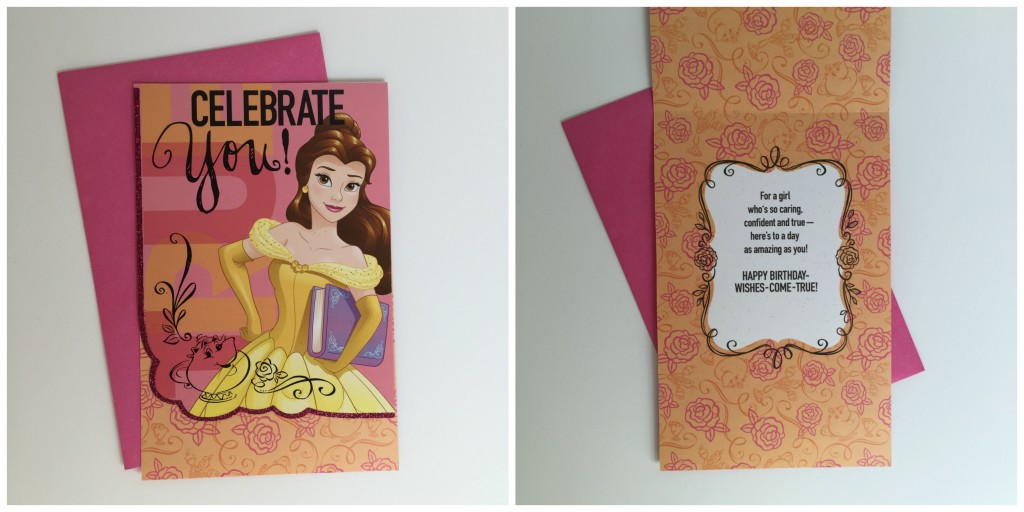 My daughter loves the princesses so when I saw this American Greetings card and read the text, I knew it was the one!
I always look for pretty cards for my mom.  I enjoy buying funny cards for certain people, but for my mom, I love heart-felt and meaningful.  This one was perfect from the gorgeous artwork on the outside to the beautiful words on the inside.  Cards are a great way to express your feelings.  Don't you love finding a card that says exactly what you want to say to that special person?
Since our summer birthdays are quickly approaching, I have started shopping for my daughter's birthday gifts.  She has been wanting one of those popular coloring books.  And notice how it worked out, all within my flower theme:  the flower coloring book, American Greetings gift bag and flower crown!
Here is the finished crown:
Don't you just love it?  This is the point where you can adjust the flowers and bend and twist as necessary.  Work and play with your crown to get the desired effect.
These tissue paper flowers are perfect for my little girl's crown, but they are also quite versatile.  I would love to use them as party decor for draped flowers in a doorway or on the tabletop for a garden party.  Oh, the possibilities!
Here is where I found the American Greetings cards, gift bag and tissue paper at Walmart:
Who do you know that would enjoy a flower crown for her birthday?   For more birthday inspiration, click here.
Connect with American Greetings on Facebook, Pinterest, Instagram and Twitter.