This past summer, my friend Melissa Deming of Hive Resources launched the paperback version of her book, Daughters of the King.  It was super exciting and I was honored to help her with the book launch party.  In developing the party theme of vintage books, burlap and lace, I made this book page wreath for her door. And today, I have the tutorial for you!  It is quite easy and turned out beautifully.
What You'll Need to Make a Book Page Wreath:
A Pizza Box Lid (yes, really…could it get better?  Pizza and crafting!)
Pencil/Pen

Scissors

Compass (the kind for drawing circles, not giving directions)
Metal to twist for hooks on the back of wreath
Metal Snips
Hot Glue Gun
Tape
An Old Book to Tear Out Pages (my pages were about 7×9″)
Now, let's get started.  I have many, many pictures to help you see exactly what to do.
Using the compass, draw the circles to create your wreath base.  I expanded the compass as far as it would go for the outer circle.  Then, I came in 2.5″ and drew another circle.  These were the two lines I cut.  You can ignore the inner most circle on the above picture.  I was playing with how wide I wanted the base to be.
Next, you'll need to create hangers/hooks on the back so that you are able to hang your wreath.  I scouted my husband's tool bench for metal wire that I could bend and coil.  Use a pen to wrap the metal and then slide the pen out.
When you hot glue the hanger to the unprinted side of base, be sure to add a touch of hot glue to your other metal edge (the one in the coil).  You wouldn't want any exposed sharp metal to scratch your lovely door or wall. Allow to dry completely before flipping over.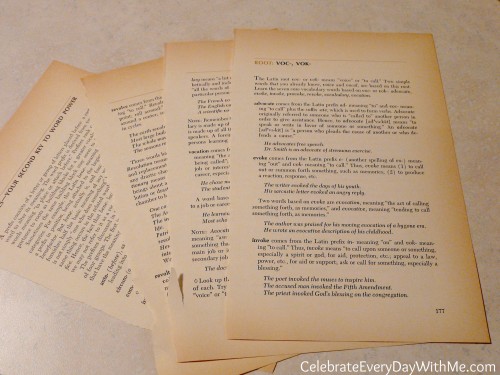 Tear out book pages.  I was very selective in which pages I used.  The word/dictionary style book had different formats.  I wanted pages with as much text as possible.   This may be the perfect time to talk about the book you're using and where to find cheap books.  For the party, I scouted out garage sales and thrift shops for old books.  Most of the books I bought only cost me a quarter each.
Take care what kind of book you are buying as well . . . lest you end up like my cousin who was using a thrift shop book to make fans for a bridal shower.  She noticed after finishing over 50 fans that the language was not quite (a'hem) suitable for a shower.  Secretly, this gave many of us a good laugh knowing my cousin and the fact that she does not use crude language at all.
Roll your pages into cones.  I always made sure that the top of my cone held the corner (point) of the page.  It is important to start your base with wider cones and as you move inward, to make the cones narrower. I did not make all my cones at once either.  I probably made about 5-10 at a time so that I didn't get too far ahead of myself and could adjust the size if needed.
Start hot gluing your book page cones to the base.  To keep things symmetrical, I glued the cones at the 3, 6, 9 & 12 of a clock.  It was just a starting point and I think I did move one along the way.  But it will give you a good start.
Continue gluing the pages around the base to create your first layer of the wreath.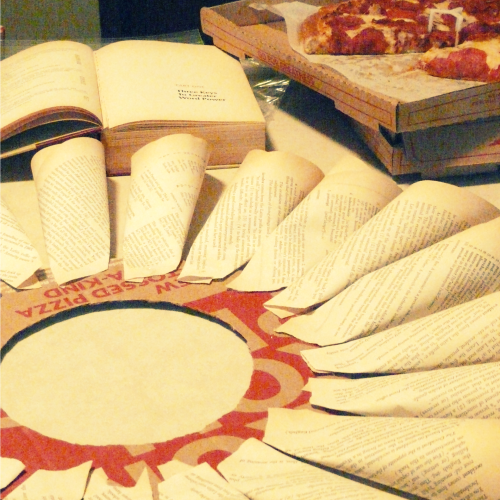 Ah, pizza and a project!  Makes me smile.  😉
Next, glue your second layer.  Secure this layer staggering placements between the cones of your first layer.  This will give your book page wreath a full look.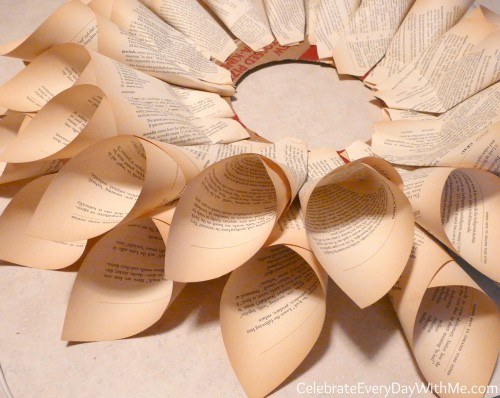 You can see that for the first layer, I didn't cover the base when gluing.  But for the second layer, I took the edge of the cone right up to the inner circle of the base.
For the 3rd layer to shorten the length of the cones, I folded under the edge and glued this part to the second layer.  Work around the entire circle, again trying to alternate between cones.  Don't worry about being perfect, though!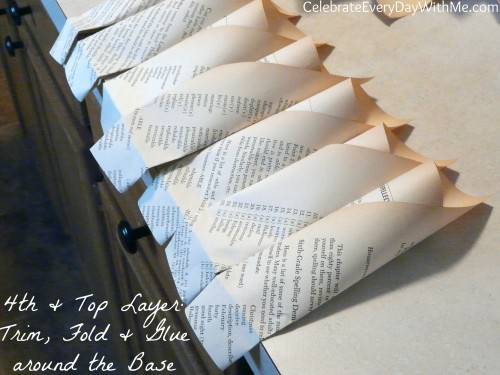 Here we go!  Last layer . . . or should we say top layer.  Make narrow cones and fold them.  Snip off the ends for a clean look.  You will actually be gluing that inner fold to the underneath part of the base.  This picture should give you the idea.
When you're done with this 4th layer, your cones will all be sticking up.  Secure that top layer to the third layer by gluing the cones together.  You'll notice that this is a hard layer to put in alternating spots, so just do your best and make sure that the bottom of your cones are touching each other in the inner circle.
Give it a few minutes to dry and then lift up the wreath.  Are there are spots that could use hot glue to hold cones together?
Incidentally, this is where I burned myself and needed the neosporin.  My daughter (aka little nurse) was thrilled to run and get me a bandaid and tend to my "wound."  She just cracks me up.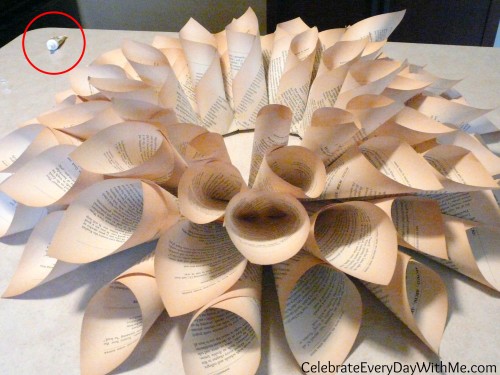 Last, add string or twine and hang your book page wreath.  Hooray, you did it!
What do you think?   Where would you put a book page wreath in your home?  
You may also be interested in:  A Book-Themed Bridal Shower
Linked up with:  Pin-N-Tell, My Craftily Ever After, Red Head Can Decorate, The Thrifty Home