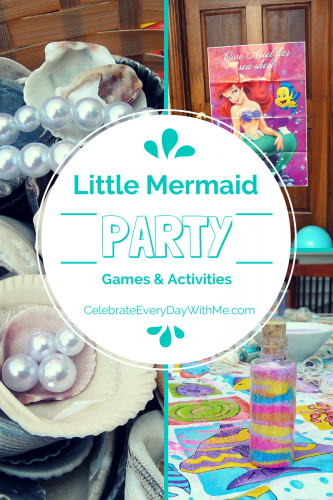 We're back Under the Sea!  Today, we're talking about Little Mermaid party games and activities.  My daughter recently turned 5 and these were the three activities we did at her party.  I'm saving the best for last!
1.  Pin the Shell on Ariel
Simple, classic and well-loved by children.  It was the perfect (and inexpensive) choice for bringing a large picture of Ariel into the grotto.  I found this game at Shindigz
 along with all the items for the next activity.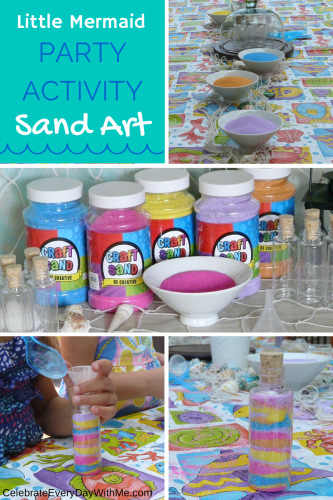 2.  Sand Art
Sea…Sand…Sand Art.
This was a great little activity for the children.  I had five colors of sand and these cute plastic corked bottles.
  Add the funnels
 and a little hot glue at the end to ensure the bottles aren't "mistakenly" opened indoors, and we were set!
My confession:  after the kids were gone, I made my own sand art.  Who can resist???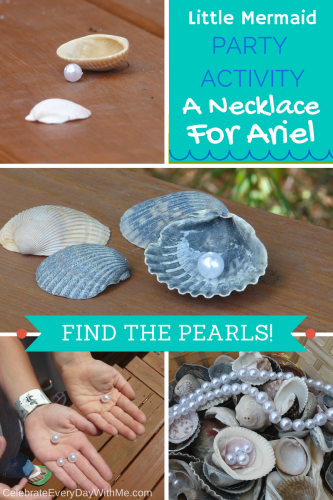 3.  Make a Necklace for Ariel
This was a last minute creation but I could't have loved it more.  When I work on children's parties, I enjoy bringing in a little imagination into the activities.  The kids suck it right up.  Who doesn't want to enter the imaginative world of his or her favorite characters?
What You'll Need: 
string for jewelry
enough pearls to string together into a necklace
a lot of shells
a bubble machine for added effect.
The Premise:  Prince Eric wanted to make a necklace for Ariel, but he needs our help.  A string of pearls is sure to make a beautiful necklace and Ariel would love the thoughtful gift.  But Eric doesn't have enough pearls.  We need to help him find more pearls.  All around, you'll see shells and under some of them are pearls.  Once you find a pearl (ONE pearl) run it back to _[the helper]__ and she will string them together to make Ariel's necklace.
We were on our deck and I knew one or two might roll away.  If this happened, we told the kids to yell, "Flounder, don't be such a guppy."  It brought levity to sad moment of a lost pearl.
Thanks to years upon years of childhood seashell collections, I had over 350 shells spread out over our two decks.  The kids ran around, lifting shells to find a pearl and then took it to my niece who was stringing them together for Ariel.  Eric would be so happy!
The game is great because it is active, imaginative and constructive.  It doesn't get better!
 What kinds of party games and activities do you like to do at your children's parties?
Related Posts:
Little Mermaid Party Decor:  Creating Ariel's Grotto
Little Mermaid Food, Favors & The Rest of the Sea
Disclosure:  This post contains affiliate links.  I received the products from Shindigz
 at no cost.  All opinions are my own and I loved everything received and recommend these without hesitation.