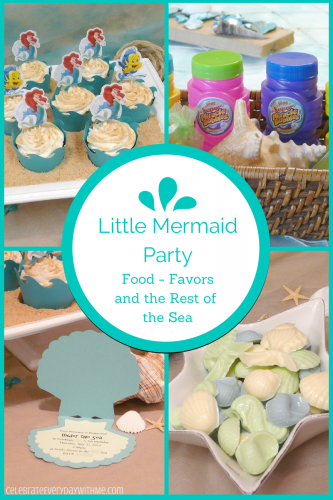 Hi Friends!  We're back with the final post about our Little Mermaid Party!  If you missed the grotto decor or fun games, you will find links at the bottom of this post.
Today, we'll be looking at Little Mermaid party food, favors and well . . . the rest of the sea.
The Food ~
At kids' parties, I like to keep the food simple.  I served cupcakes and ice cream, chocolates and goldfish.  The cupcakes were decorated with Disney's Little Mermaid Fun Pix from Shindigz
, a wave wrapper made with my Silhouette Cameo
 and crushed graham cracker to look like sand.  And boy, my husband had a great time telling the children it was real sand.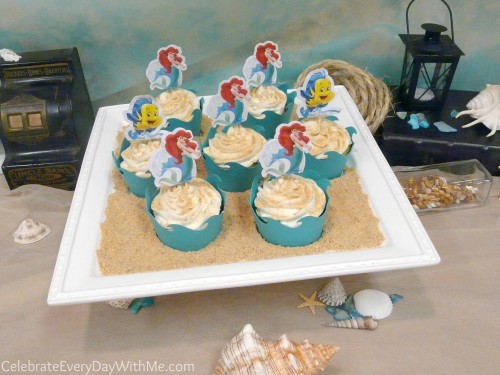 The chocolates came from Chocoley.  I have now used their products several times and found them easy to work with and delicious!  For this party, I used white molding chocolate (summer packaging!) with blue and green coloring oils.  The three molds were starfish, tropical fish and seashells.  (Sorry, I don't think they are selling the seashell mold any longer.)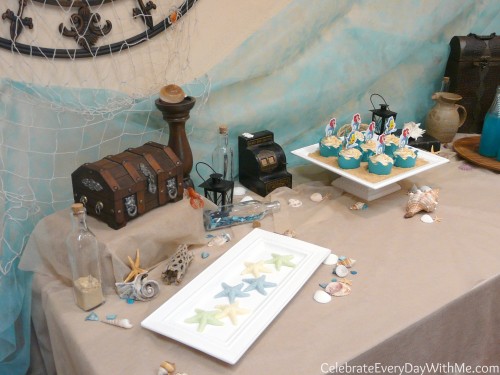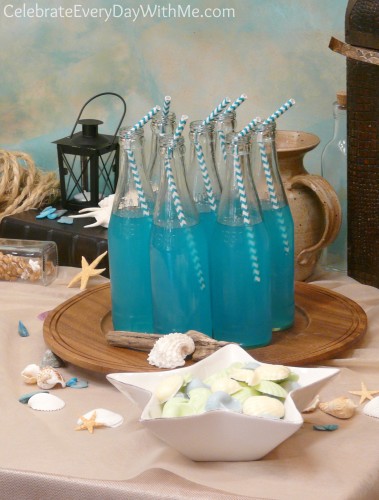 Drinks ~
Easy-peasy Blue Hawaiian punch with Shindigz chevron paper straws.  And not just any stripe…CHEVRON!  Oh yes, I loved these.
For the Kids' Table ~
I unrolled more of the turquoise gossamer (see this post for the wave), my fishing nets and turquoise stones.  A couple pails of goldfish to balance the sugar . . . or at least that is what I told myself.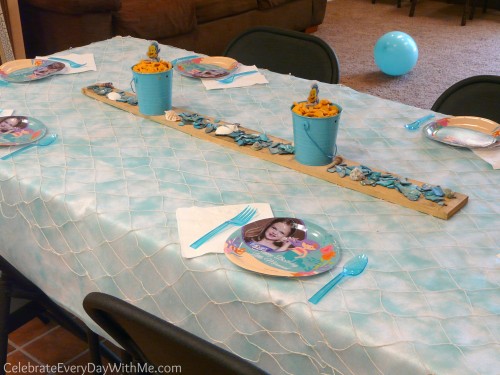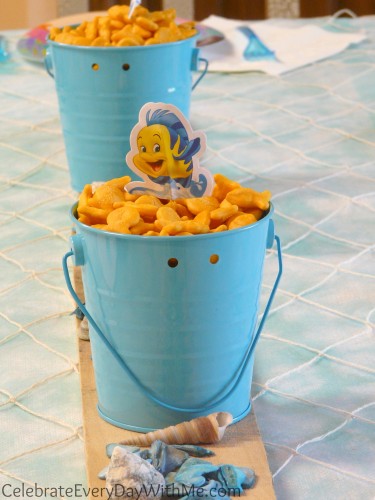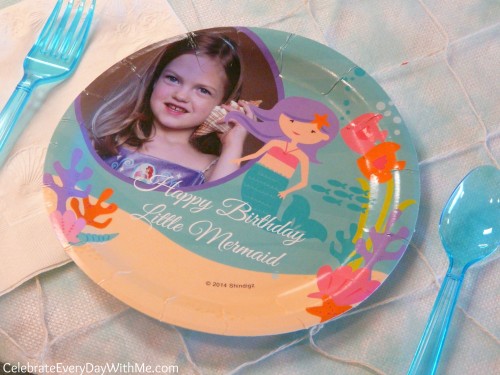 Check out these plates!  I loved seeing my own little mermaid on the dessert plates.  The mermaid princess personalized plates are just the beginning of the variety Shindigz
 offers in customizing your own party for any theme.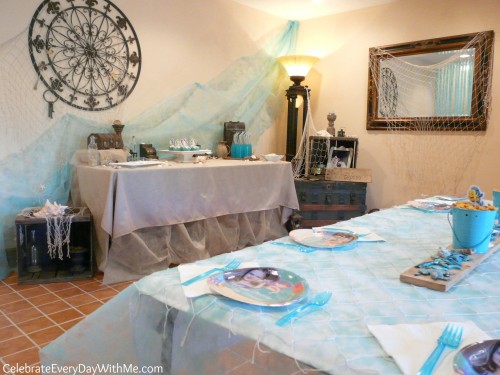 The Favors ~
Each child went home with a shell necklace, a shell key chain and a bottle of bubbles.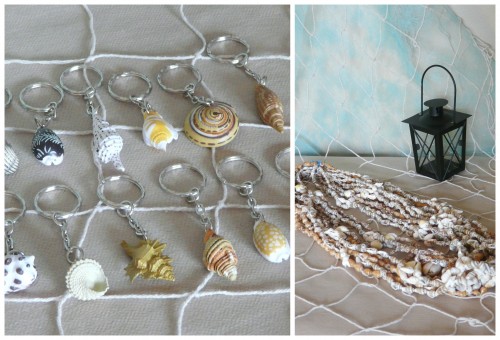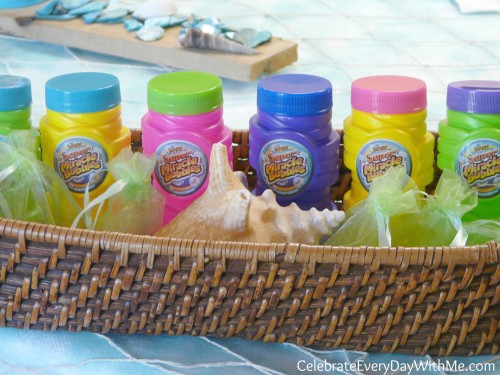 The Invitation ~ 
Made with a 99 cents shell shape and my Silhouette Cameo, these invitations were a breeze.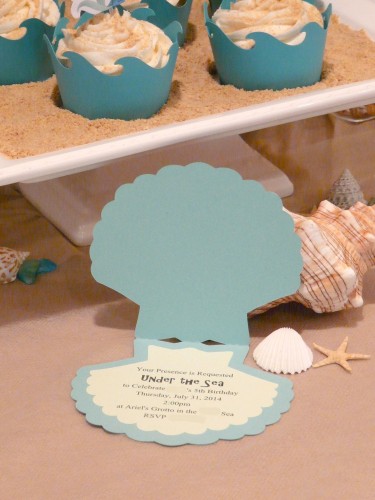 To Welcome the Guests ~
If you've been with me for awhile, you know I like to welcome my guests even before they step foot inside the house.  I picked up this sign (similar to this Amazon one)
and have used it multiple times.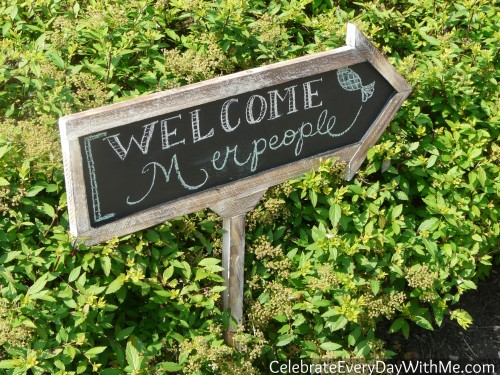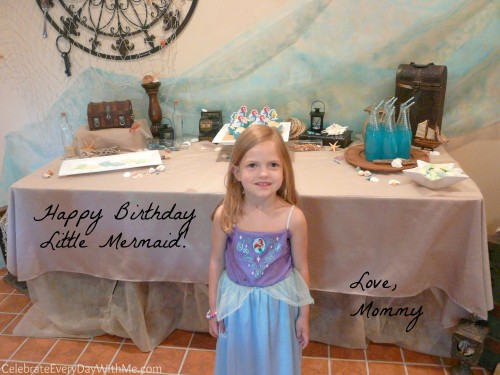 A special thanks to Shindigz
 and Chocoley who provided me with many of the products you see in this party.  You guys made it so much fun to be Under the Sea!
Have you thrown a Little Mermaid Party?  What ideas did you use?
Related Posts:  
Creating Ariel's Grotto
Little Mermaid Party Games & Activities
Disclosure:  Some of the links in this post are my affiliate links.  I was provided many of the products mentioned at no cost.  All opinions are my own and as you can tell, we loved everything in the party.