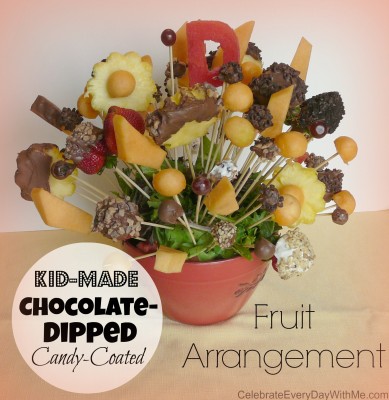 As promised from last week, here is our kid-made, chocolate-dipped, candy-coated fruit arrangement.  This makes a great gift for a family member or friend, or someone who can use a little "home-made" smile.  We made this for Dan for Father's Day knowing that some of the best gifts for him are food-related.  Now, enough of all the hyphenated words, let's get going.
You'll Need:
* Bowl & Head of Cabbage/Lettuce
* Assorted Fruit
* Cookie Cutters
* Chocolate
* Candy Toppings
* Wooden skewers, lots of them
* A Couple Fondue Skewers for Kids to Dip Fruit
* A Little Spring Mix Lettuce
After stuffing your cabbage in the bowl, begin to cut your fruit.  Pre-filling your cabbage with some of the skewers helped us a lot.  Keep the sharp side up and take care when adding more.  I got poked at least once.
Cut the fruit:  We started with the letter D for Daddy cut out of watermelon and flowers cut out of pineapple.  We would have had a lot more cool watermelon shapes, but apparently I bought a bad watermelon.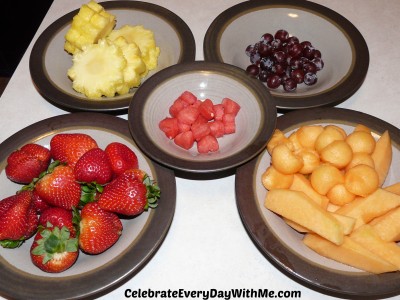 Cut the cantaloupe into wedges, scooped balls and any other desired shape.  Microwave your chocolate on a defrost setting for a minute, stir then follow with 30 second intervals until the chocolate is melted.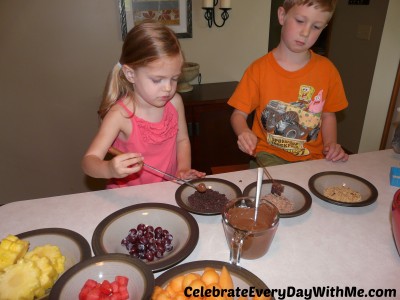 We had four toppings:  crushed oreo, mini chocolate chips, crushed heath bar and chopped walnuts.  There was a lot of snacking and testing.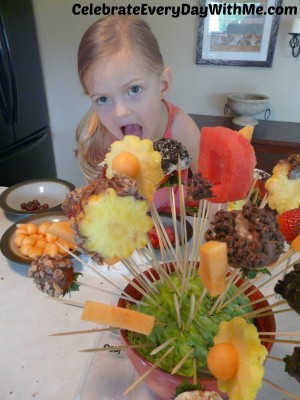 To finish it off, I added some Spring Mix to the base for a bit of a prettier look.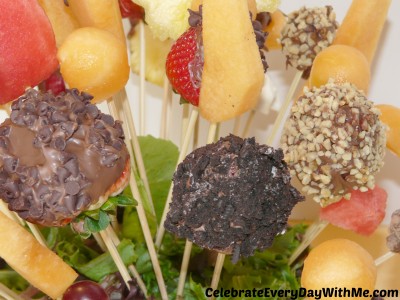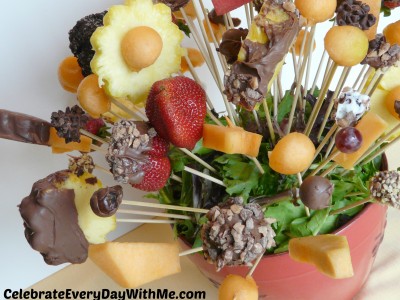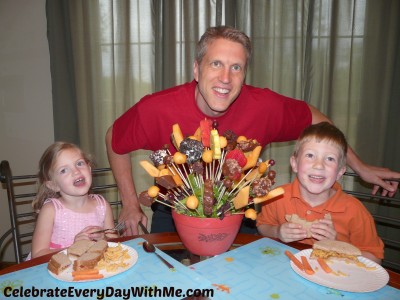 It was a fun gift . . . enjoyed by all.  And if you are wondering, yes my son wanted his leftover mac & cheese in his peanut butter sandwich.  Hmm..