Do you love a good treasure hunt?  I do!  For my son's Octonauts party, we put together a Captain Calico Jack treasure hunt and the kids absolutely loved it.   But to make a pirate's treasure hunt authentic, you need to make treasure map paper.
And it is so easy!  You can take a simple piece of white printer paper and transform it into worn, old-looking maps and you can do it in 2 simple steps.
Getting Started:  I printed my maps first.  You may want to draw your map by hand once your treasure map paper is prepared.
 Step One:  Burn the edges of the paper.  Obviously, be very careful with this step of the process.  Work in small segments and I suggest doing it outside.  😉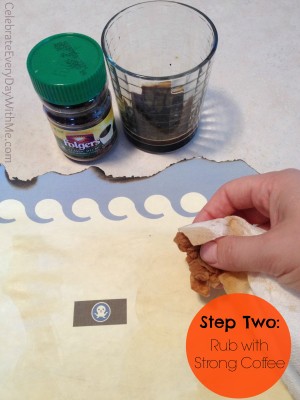 Step Two:  Make a small amount of strong coffee.  I didn't even heat it up.  I just mixed warm water and coffee grounds.  It really is that easy!
Then dip a paper towel or rag in the coffee and begin to rub it on the paper.  You can splotch it, spread it, rub it . . . create whatever look you want.  The stronger the coffee and the more you apply, the darker your paper will get.
You can add more dimension and age to your paper by rolling it or folding it.  Just crinkle it all up and you'll have the best looking treasure map paper!
Don't forget to give a point of reference on your maps.  For our Octonauts party on the beach, I made sure to include both the shoreline and the Octonauts HQ (party table) on each page of the treasure map.  The younger the kids, the stronger the points of reference need to be.
On Wednesday,  we'll be wrapping up all things Octonauts with a final glance at how we used our treasure map paper and Peso's obstacle course.  Hope to see you there!
Related Posts:
A Disney Octonauts Party (Part One)