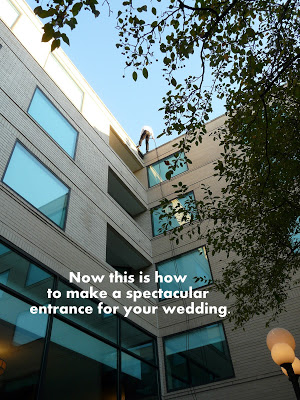 This past weekend, we celebrated my brother's wedding in Chicago.  It was a great weekend!  The bride tended to every detail and all the little touches that create a beautiful wedding.  And my brother, well, my brother had the crazy, but ever-so-cool, entrance.
Having been a wedding planner for seven years and coordinating over 40 weddings,
this is something I have NEVER seen.  
If you've been following my posts on their
bridal shower
, you know that this couple loves the outdoors, adventures and mountain climbing.  And you do have to know this for what I'm about to tell you.
The lovely, outdoor courtyard-ceremony started in the traditional way…beautiful music, tuxes and dresses.  The mothers were seated and we awaited the arrival of the groom and his groomsmen.  But in a slightly abrupt change, the piano music stopped and "adventure" music with a strong beat started blaring through the speakers.  From the roof top of the 5-story hotel, my brother appeared donning his white tuxedo shirt and silver vest.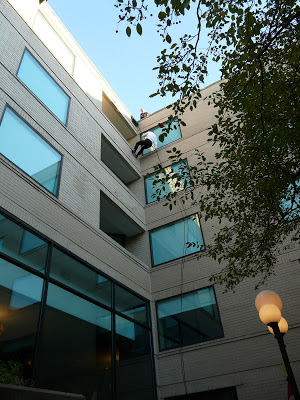 The crowd grew loud with laughter, cheers (and gasps).  My brother yelled, "Ropes," and with that, rope fell from the top of that building.  The ropes tangled slightly and didn't meet the ground, but with a couple quick shakes, the men's means of arrival reached the cement.
As our eyes were fixed to the sky, a groomsman popped over the building edge and repelled his way to the ground.  Then a second groomsman followed.  And last, but in this case, certainly not least, my brother came over the edge.  Bouncing off the side of the building in grand leaps, he quickly (and most impressively) made his way to the ground.  The ground where his feet would meet the pretty white shoes of his love.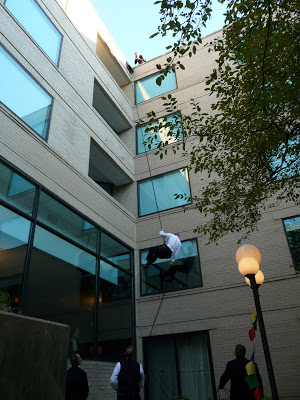 The crowd's applause and cheers couldn't be contained.  And what had begun as a chilly fall day was suddenly electric with excitement and warmth.  The men put on their tuxedo jackets and shoes and then began their short walk to take their place up front.  And just as suddenly as their entrance music began, it stopped and gentle piano music once again filled the air.
The ceremony was lovely.  The bride was beautiful and I loved seeing my brother's face when he caught his first glimpse of her.  It was a day to remember!  Congratulations and much love to Matthew & Tery!