This shop has been compensated by Collective Bias, Inc. and its advertiser. All opinions are mine alone. #ScoreMoreFans #CollectiveBias
If you love entertaining, unique serving pieces and vintage-looking decor, you will LOVE this tutorial on how to make a serving tray that looks like an old football scoreboard.  It is the perfect DIY for a fun football party.  Add some great drinks and snacks (like Coca-Cola and RITZ® Crackers), and you'll be ready to score with your biggest fans.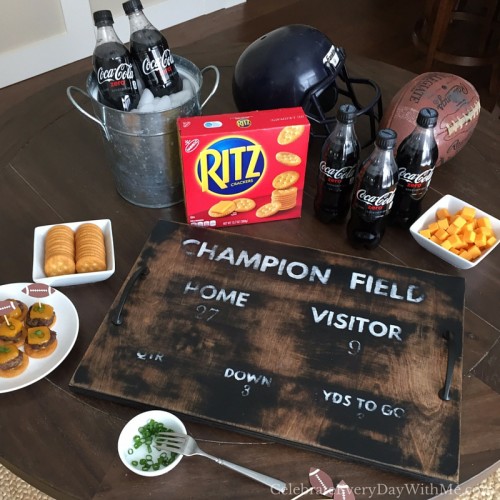 Here is What You'll Need to 'Take it to the House':
wood board cut to 14″ x 21″
scrap cardboard for staining and painting
stain, brush and rag
black spray paint
white acrylic paint with a small brush
printer and paper
chalk
pencil
scissors
hand-sander (or sanding blocks) with fine sandpaper
clear spray paint
2 handles
4 felt pads (the kind that protect hard floors)
How to Make A Scoring Serving Tray:
Start your project by staining the wood.  Because the vintage serving tray should have an aged look, you won't want fresh, light wood showing through after you sand and distress.
Pick a stain color that is a nice medium brown and when you expose the wood underneath, it will look years old and not like you just bought it at the hardware store.  Brush on your stain and then use a rag to wipe it off.  Allow the stain to dry completely before moving on to paint.
Next, add a couple coats of black spray paint.  Follow the instructions on the can and be sure that the board is well covered.
Now, you're ready to print off this text template.
Free Download >> Text Template for Football Scoreboard Serving Tray
Cut out the words and numbers and begin to place them on your wood board. 
Once you have everything in place, use chalk to mark the four sides of each paper.  You'll be glad you did this later.
Now, the fun part.  Flip over the text and color with chalk.  Cover each letter entirely, but pay particular attention to getting a good coat of chalk on the letter outlines.  The chalk will serve as a guide for painting later on.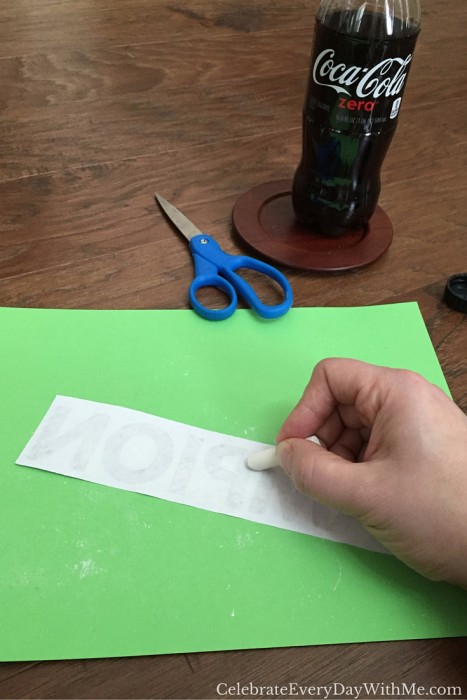 Place your text back in its place on the board and trace over the letters with a pencil.  Be sure to trace within the black ink of the text.
Finish the word completely, then . . .
Isn't that worthy of a cheer?  Next, you'll grab your acrylic paint and fill in the chalk letters.  If you make a mistake, a moist paper towel will do the trick.
In this way, work down the entire board, chalking and painting one line at a time to prevent smudging.
Great!  Your scoreboard looks complete.  But it looks . . . way too new.  With sanding blocks or more favorably, a hand sander (with fine grade sandpaper), distress your serving tray by sanding off some areas of paint.  This part comes down to personal preference.  How much would you like to wear off?
Be sure to sand all the edges to show wear.  Can you see your beautiful stain coming through?
Then with a clear coat of spray paint, put a finish coat over the serving tray.  We are almost done!
Measure the holes on the hardware to find out how far apart you need to drill your holes.  Most are 3″, however, the black pulls I bought were 3 3/4″.  Once you have the handles where you would like them, mark the holes to drill.  Double check your measurements to be sure that both sides will match when complete.
My husband braved the cold weather to drill the holes for me.  Isn't he sweet?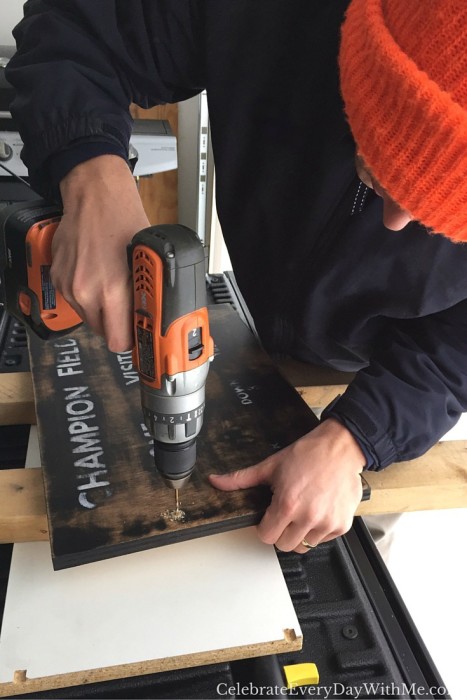 With holes now drilled, you can put in your handles.  I loved these black handles, but keep in mind, you can pick whatever style you like!
Don't forget to adhere felt pads to the bottom of your serving tray.  We don't want your table getting scratched.  I used a big size (only because we have 3-million of them from the move and new wood floor).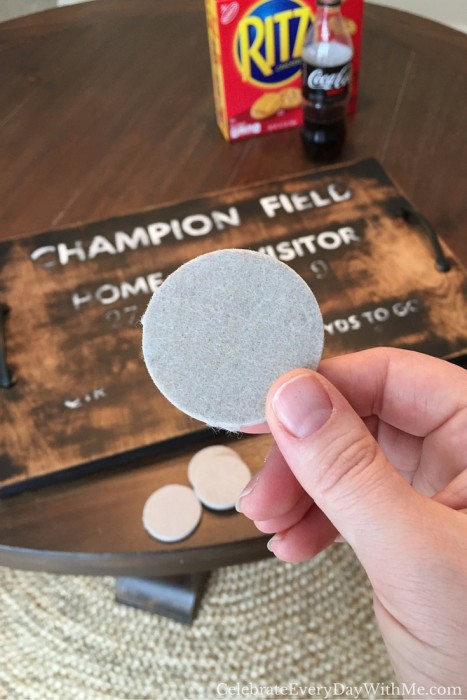 Now, you're ready to get the party started!
When I was at Walmart, I picked up Coke Zero and RITZ® Crackers.  They're great staples for a fun and easy party.  I was thrilled when I found the Coca-Cola 6-packs (500ml), 2 for $5!
And doesn't everything look fantastic with the serving tray?
My canapes couldn't have been simpler.  I took a RITZ® Cracker, topped it with breakfast sausage, melted sharp cheddar cheese and a few thinly sliced green onions.  They were delicious . . . touchdown!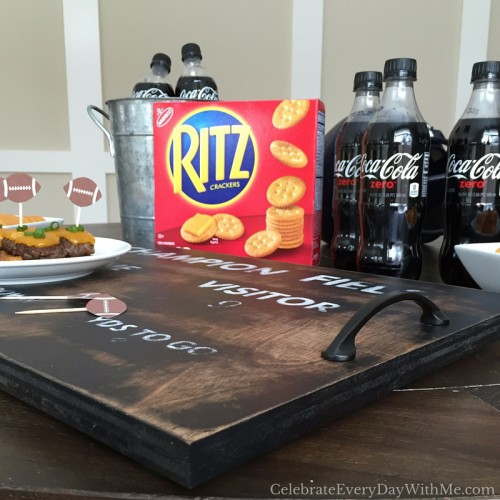 Here is where I found the Coca-Cola and RITZ® Crackers at the store:
P.S. When we're not entertaining, I put my serving tray up on my mantel with a football and it looks amazing!
Have a wonderful party celebrating the big game!  And for more football party ideas with Coca-Cola and RITZ® Crackers, check out SnacksandSips.net.
~ Kristen