Well friends, I have found another kind of party that I LOVE.  A couple Sunday's ago, I hosted a Soup Party for Dan's family of 20.  It was the perfect theme for a cold, winter day.
Have you been experiencing freezing or colder than usual temperatures?  We have had our own little arctic freeze in Ohio, even cancelling school here and there (which I love too).
Soup is such a great winter remedy.  The hot, soothing, "comfort food" . . . and did I mention, a big pot can last several days?  So why not turn a great soup (or soups) into a little party.  Invite your friends, your family or your neighbors and serve up a delicious soup.  Add the great conversation, an atmosphere demonstrating the love of Christ and you are set.
Tips to Host the Perfect Soup Party:
1.  Start your soups a couple days prior.  Not only do you not want to be going crazy at the last minute, but soups always seem to taste better on Day 2.
2.  Offer a couple options for soup.  Ok, I went a little overboard on this.  I had trouble picking which soups, so I offered four:  Chicken Tortilla, Split Pea, 4 Cheese Minestrone and Ground Turkey and Vegetable.  (See below for where the recipes came from.)
3.  Choose soups that freeze well.  I planned on making more than I needed and froze a decent amount of soup.  And guess what?  I just pulled soup out last night and have a couple dinners of soup all ready to go.  Love the convenience of freezer cooking!
4.  Label your soups so your guests know which each soup is.
5.  Have a fabulous assortment of toppings.
6.  Get a little creative.  Which toppings will go best with which soup?  Tell your guests.
As you probably know by now, the creativity and design of a party are my favorite parts.  Yes, if I could cater every single party I host, I most definitely would!  Leave the cooking up to someone else and the decorating and little touches up to me.
7.  Sour cream makes any soup creamy.  Be sure to include it among your toppings.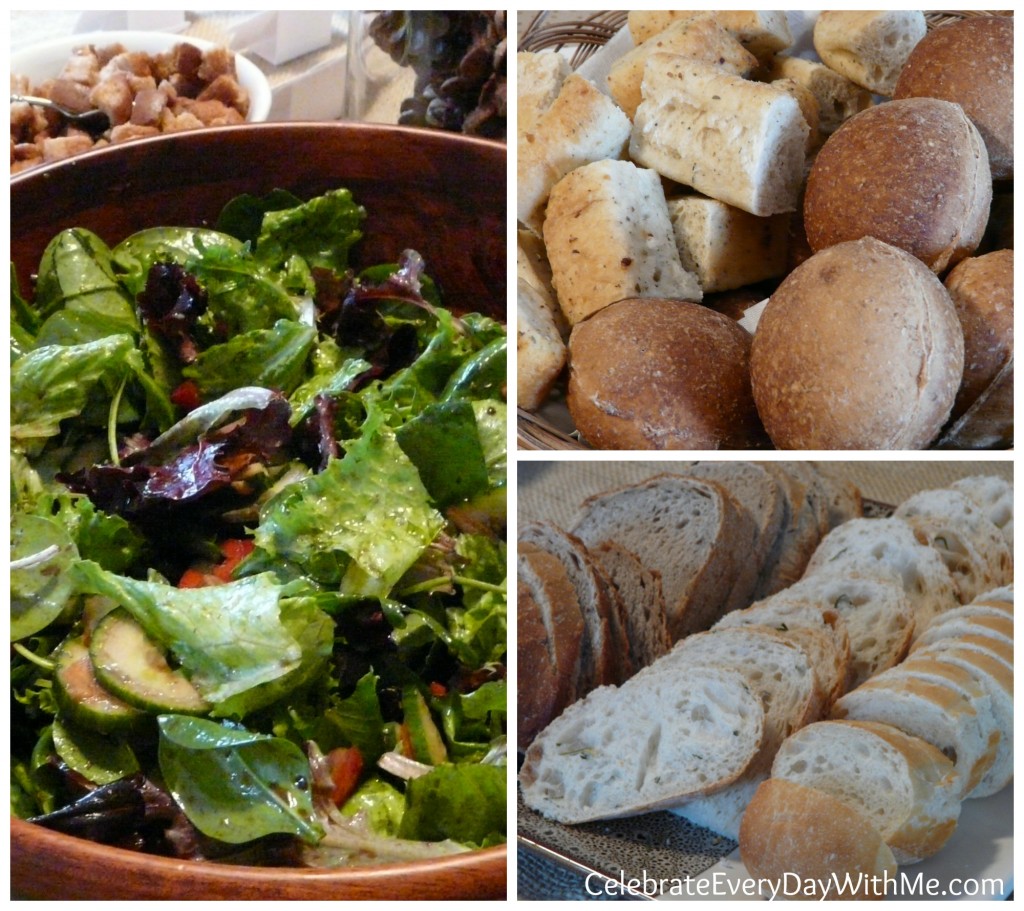 8.  Keep the sides simple.  Serve with salad and a delicious assortment of breads.  My family brought the sides and desserts, which allowed me to focus on the soups.
9.  Think about how your guests will manage everything.  I decided to use a chinet plate as a sort of tray.  With my Cameo, I cut a piece of scrapbook paper and added "Soup's On."  The soup bowl, the salad bowl and bread just fit, making it easy to carry.
I also ALWAYS like to put the silverware and napkin at the end of the buffet line.  Why carry silverware through the line when your hands are needed most?
 10.  When it is all done,  be a blessing.  Package up a bowl or two of soup (ziploc freezer bags work great), grab bread and deliver to a sick friend, a family with a new baby or someone going through a rough time.  It is a thoughtful and easy way to serve others.
Where My Soup Recipes Came From:
Chicken Tortilla –
Don't Panic–Dinner's in the Freezer: Great-Tasting Meals You Can Make Ahead
Split Pea Soup & 4 Cheese Minestrone –
Don't Panic–More Dinner's in the Freezer: A Second Helping of Tasty Meals You Can Make Ahead

Ground Turkey –
Fix-It and Forget-It Lightly Revised & Updated: 600 Healthy, Low-Fat Recipes for Your Slow Cooker
These three cookbooks stand out as among my favorites!  I can recommend all of them.
What is your favorite soup for a cold day?
(This post contains an affiliate link.  Please see the About page for more information.)