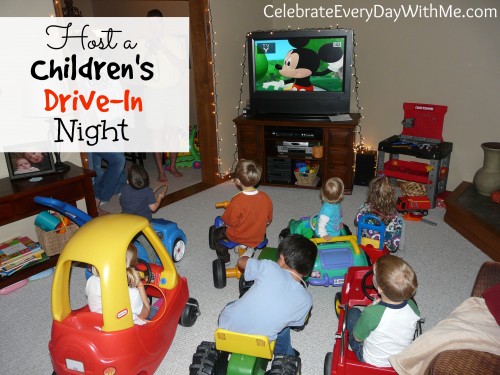 Last fall, we invited some of the neighborhood children over for an indoor Drive-In Movie Night.

 

It was relatively little work and big on fun.

 

Each child was invited to

bring their own ride-on toy inside

.

  

We had a fire truck, various cars, a three-wheeler,

 

cozy coupe and even a John Deere kid's tractor.


 
Each child was given a

movie ticket

when they arrived (which was collected as the movie was about to start) and a filled

coin pouch

with which they were to buy their concessions.

  

Parents were asked to bring a treat or snack to be "sold" to the kids.

 

We even had one family make homemade popcorn…yum!
The room was decorated with purple neon tubing and white mini-lights.

 

With our younger crowd, we chose

 

the Mickey Mouse Clubhouse Road Rally for our feature presentation.

  

(If you don't know already, you'll soon learn that I am a Disney freak!)
Checklist for Your Drive-In Night:
Make & Send Invitations

Ask each family to bring a treat or snack

Make tickets, coin pouches and signs

Have a rag handy to wipe off any grass or dirty wheels

 

🙂

Select the movie

Decorate with neon tubing and/or white mini lights

Prepare food and drinks
*Alternative Idea:

 

Host a drive-in outside using a projector and white sheet.