Grilling season is nearly here in the Midwest.  Invitations to the backyard barbecue will soon go out.  Memorial Day marks the unofficial start to summertime . . . and I love it.
Outdoor entertaining, delicious grilled food, warm conversations and kids running around in the backyard.  And did I mention less clean up?  Definitely one of the perks of grilling season.
My barbecue confession:  I am not good at making a nice-looking, evenly-shaped burger.  Nope.  Give me a table to arrange and it will look great.  But my burgers all end up looking small, lumpy and any shape other than round.
So when I had the opportunity to review the Yumms Burger Press, I was eager and excited.  Maybe now my family and guests will enjoy beautiful burgers from my kitchen to Dan's grill.  My only hesitation was to question if the press would be hard to clean (something I will answer below).
Check it out.
I loved that with the Yumms burger press, my hands didn't have to get messy.  I could potentially go without touching the meat.  For this batch of burgers however, I was using ground turkey and did mix the meat and spices with my hands.  (Go here for my turkey burger pepper & herb spice mix.  It makes any turkey burger delicious!)
This is how simple the burger press is to use.  Once your meat is ready, put the tray insert in the base and scoop the ground meat into the press.  You'll quickly get the hang of how much to use.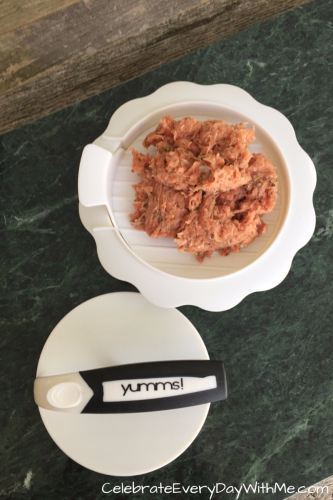 I liked to press the meat down just a bit with my spoon.  It helped me gauge the amount of meat I was using.
Then put the lid on top and press down!  (So easy, right?)
Finally, using the tray, lift the burger out.  You're ready to start grilling!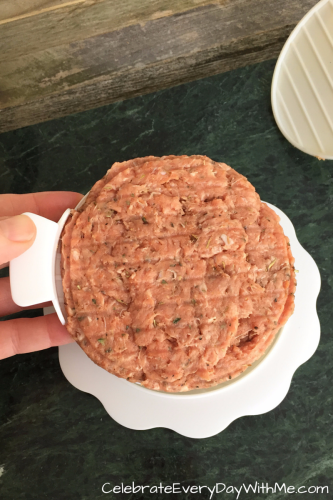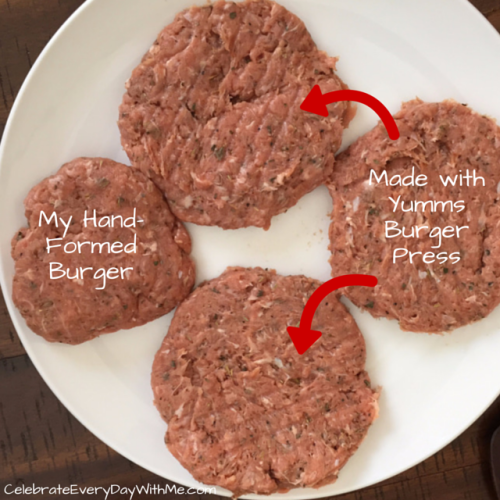 Once grilled, add some great toppings and you're guests will be thrilled to start celebrating summer with the perfect burger!
On cleaning the press:  it couldn't have been easier.  The product is dishwasher safe (and BPA-Free!) but even hand-washing it was a breeze.  I was quite pleased as washing dishes is my least favorite part of cooking or entertaining.  😉
Discount for All Readers:  
Click here to get your 10% Discount Code for your purchase on Amazon.
Now for the Giveaway:
The fun folks at Yumms want to help you make a great burger for your next barbecue.
Yumms is setting up one lucky reader with:
a burger press so you can make beautiful, even burgers
a grill mat to keep food from falling through the grate
a barbecue light so you can grill in the dark without straining to see if your meat is cooked (c'mon admit it, we've all done this)
a $25 Amazon gift card so you can grab some fun barbecue paper products, serving dishes or other goodies
Enter the Giveaway Below!
Connect with Yumms:
Website // Facebook // Twitter // YouTube
Subscribe to the Yumms Newsletter and you'll get a 20% off coupon code.
Disclosure:  This is a sponsored post and includes my affiliate links.  All opinions are my own.  See my Disclosure Policy for more information.  Yumms is responsible for delivery of all prizes to the winner.