This shop has been compensated by Collective Bias, Inc. and its advertiser. All opinions are mine alone. #RoadTripOil #CollectiveBias
Are you heading out on a road trip this summer?  Today, I have a great way for your family to break up the long drive, mark your progress along the way and have some fun.
I love road trips . . . the adventure, the preparation, the journey and the destination.  But as much fun as road trips are, we all know kids can get a bit cranky when strapped in one place for hours on end.  One thing we do for all of our out-of-state trips is to break up the journey with Border Bags.
At each state border, my kids receive a Border Bag.  This mystery bag has a little activity, toy, snack and/or treat inside.  Giving my kids a Border Bag at each state crossing not only keeps them engaged on our progress but it thrills them to discover what is in the bag.  (I especially love to watch their excitement.)  It is a great way to have fun and make memories on those long road trips.
When I was prepping our Border Bags, I stopped at Walmart not only to shop but also to get my oil changed at the Walmart Automotive Care Center.  Wow!  It is such a convenience to take care of shopping while my car is being serviced.  I love a one-stop shop!
Now, my minivan is only four years old, but it has over 80,000 miles on it.  And before a long road trip, I always make sure to get my oil changed so that the car is ready to travel.  Getting my oil changed with Pennzoil® at Walmart is not only super convenient and affordable, it is nice to know that they offer Pennzoil® High Mileage Vehicle® motor oil to help clean out the sludge lesser oils leave behind, while helping to reduce leaks and oil consumption in worn or higher mileage engines (like mine!).
This motor oil is specifically designed for new or late model vehicles with over 75,000 miles, with the mission of keeping engines running clean and going strong.  And when you're heading on a family road trip with a high mileage vehicle, clean and strong is a must.
** Pennzoil High Mileage is currently on Rollback with $4 off (39.88 to 35.88).  This link also has a store finder so you can find a Walmart Automotive Care Center near you.
So while my car was being worked on, I shopped for our Border Bags.  The first thing you need to do in prepping your own bags is to figure out how many state borders you will be crossing.  Don't forget to count your drive home as well!  We recently drove from Ohio to Florida, crossing six state borders each way.  With my two kids, that meant I needed to make 24 Border Bags.  It was crazy but fun!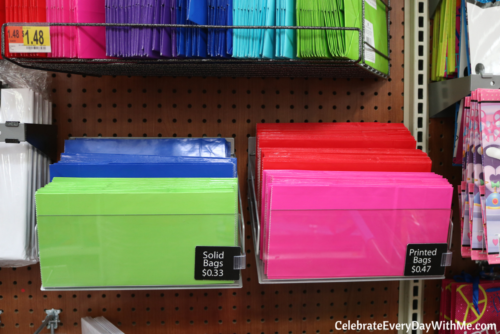 To avoid me digging through a giant bag and trying to figure out what to hand the kids when we cross a state border, each border gets its own bag.  You can use ordinary brown lunch bags or go colorful and pick up these solid bags while you're at the store.
Next, shop around and grab an assortment of items.  I usually vary the cost from super cheap to a couple mini-splurges.  I line up everything in the cart so I can see how many state borders I have covered, what snacks I still need and if things are somewhat equal between my kids.
Once at home, label the Border Bags.  I made these cute labels but you could just as easily write with a permanent marker on the bag.  By labeling the bags, each child can find the right one during the road trip without too much distraction to the driver.  In addition to labeling the state borders, I color-coded the labels so my kids' bags would not get mixed up.
With your bags labeled, it is now time to line up all your contents.  Consider which states will take longer to travel through.  Give the kids something that may occupy them more in those states.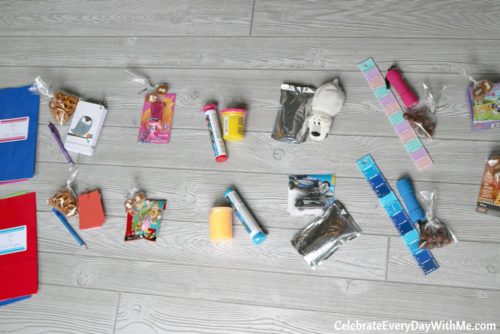 Border Bag Content Ideas: 
journals, activity books, doodle pads, word games
fun pens, smelly markers, new crayons, stencils, stickers
little figures of things they love, die cast cars
small brick-building sets
molding clay, noisy putty (the kind boys just love)
a new book to read
for night travel – mini flashlights, glow sticks
assorted snacks, candy, mini muffins  . . . things you don't usually buy is always a fun treat.  (Sometimes I simply do a really cool snack and that is the only thing in the bag.  It just depends on the length of the trip and how many bags I need.)
a fun kids' drink
I know my daughter is going to love this collapsible ruler.  I think she'll be measuring everything in the car.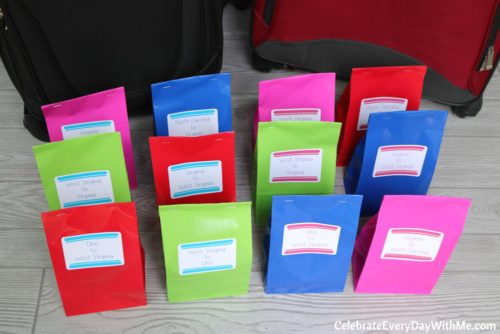 Once you have everything arranged, the only thing left is to pack and seal your bags.  I add a quick couple of staples to keep the bag closed and away from prying eyes.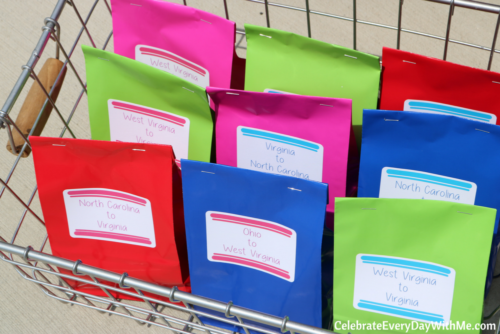 Ready to roll?  Let's go!
How do you get ready for your long road trip?  Learn more about the Pennzoil High Mileage Rollback by clicking here.  
Connect with Pennzoil on Facebook and YouTube.