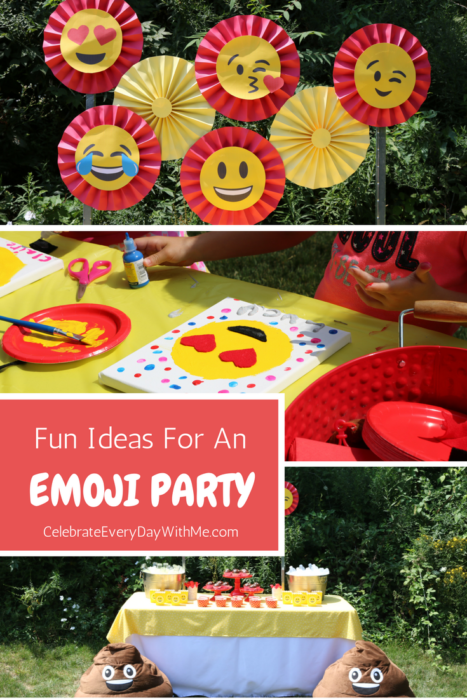 Are your kids into emojis and emoticons?  At the beginning of August, we celebrated my daughter's eighth birthday.  She is crazy about emojis and sends her daddy lots of text messages filled with hearts, funny faces and smiling piles of poo.  So it was not a surprise when she asked if she could have an emoji party.
Here are some fun decoration and game ideas for your own emoji celebration.
Emoji Party Decorations
(This post contains affiliate links for items I purchased.)
Create paper fans with scrap book paper and emoji faces for your backdrop or as hanging decor.  I will often purchase clipart so that I can get crafty and print things myself.  This emoji clipart collection cost me $2.95 from Etsy.  Totally worth it!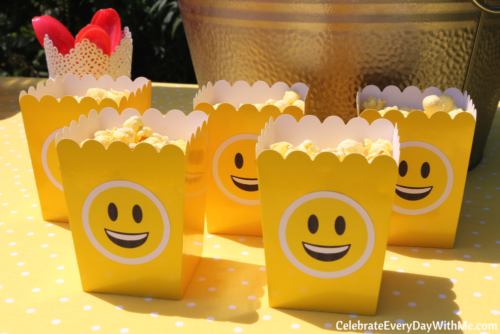 Once you have selected your colors for the party, look for containers to serve your food.  For outdoor parties, I often lean towards disposable.  There are always many color options in single use party items and you can dress them up to fit your theme.  I added an emoji sticker to the mini popcorn boxes and they looked great.  Shown below, these 8 oz ice cream cups were perfect for serving fresh fruit.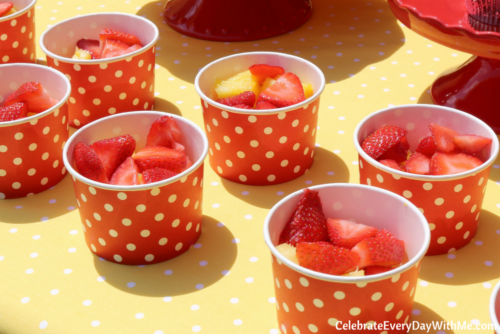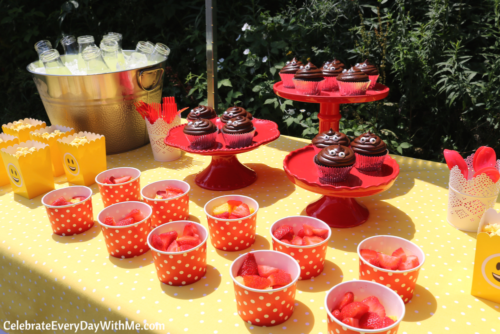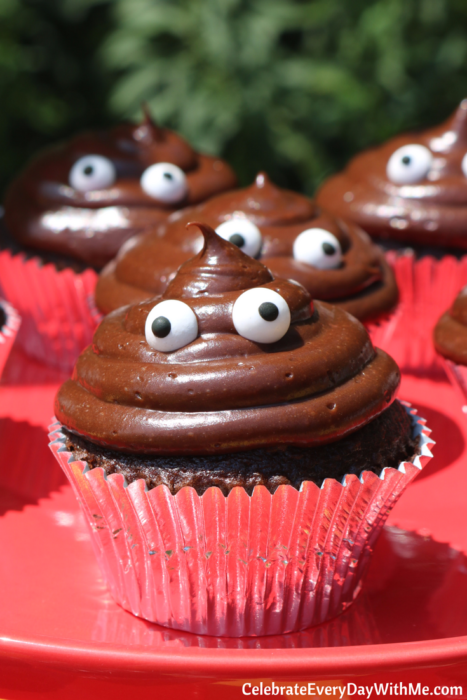 Is there a better cupcake for an emoji party than a smiling pile of poo?  And truly, it couldn't be simpler.  I used boxed chocolate cake and pre-made chocolate frosting.  I originally tried to make my own icing but I couldn't get it dark enough so I ran out and bought Betty Crocker's chocolate.  With a pastry bag and a round decorating tip, I swirled the frosting and added candy eyes.  The only thing to watch is that your frosting doesn't melt in the sun like mine did.  🙁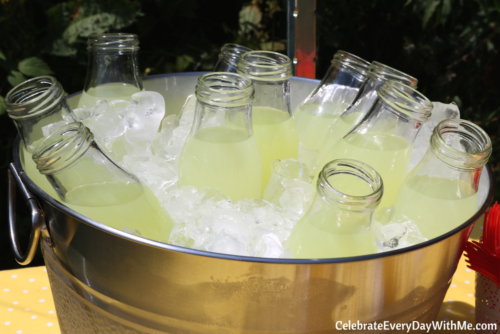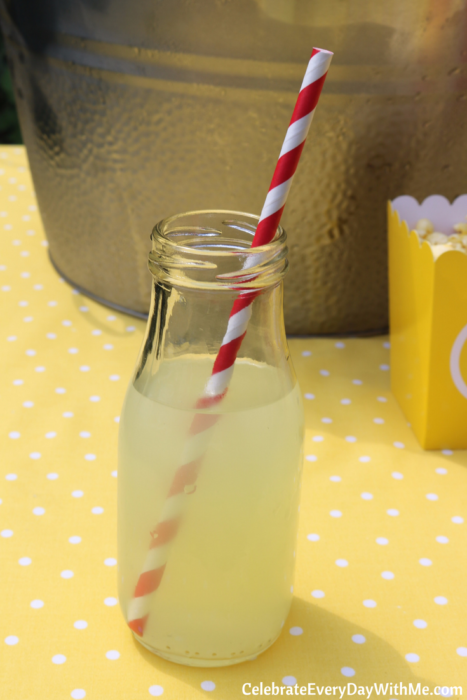 For a classic look, try serving lemonade out of milk bottles with red striped straws.  Once you make a small investment (I think I spent a dollar each) in something like these milk bottles, it is fun to use them over and over again for special events.  I also served mini bottles of water on the hot party day.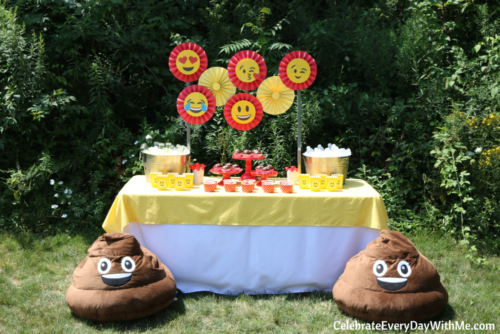 You have undoubtedly noticed the two giant poo bean bag chairs.  I couldn't resist!  I stumbled on them at Walmart and originally only purchased one.  But when I checked out and it rang up as $7.50, I had to go get another.  Don't you love a deal?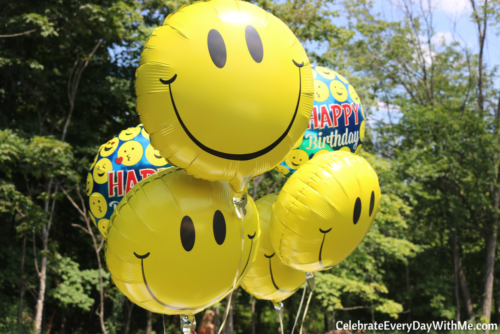 Another simple and easy idea for decor is to shop your local dollar store for balloons.  I loved these emoji balloons and they were only a buck each.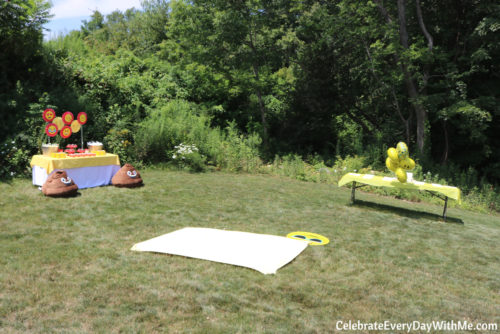 Emoji Party Games & Activities:
Because we had a mix of old school friends, new school friends and family at the party, I knew we needed an ice breaker game.  I do not like it when parties are clicky.  So we were intentional that the girls blend well from the beginning.  If you are in the same situation, pick a game or activity that helps the children get to know each other.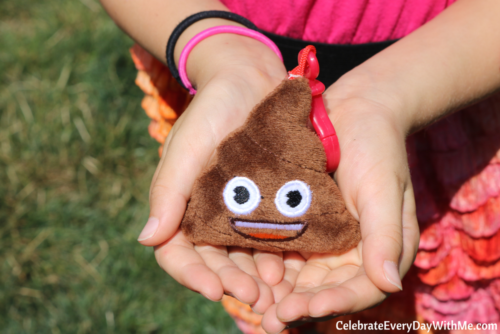 Pass the Poo
The girls sat in a circle and we passed the poo key chain around.  When it was a girl's turn to hold the poo (boy, that just sounds wrong!), she was asked to share her name, her favorite thing to eat for breakfast and her favorite summer memory.  Right after all the answers were shared and throughout the party, I asked the girls questions to test their memory.  I was impressed how well they remembered each others' names and favorites.  *Incidentally, it helped me greatly to scribble down the girls answers so I could make sure I asked about each girl at some point during the party.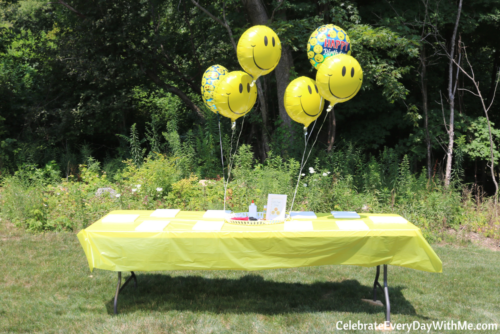 Painting (and Gluing) Emoji on Canvases
This was probably the favorite of all the activities.  I purchased white 8 x 10 canvases and with a compass and pencil, drew a light circle on each.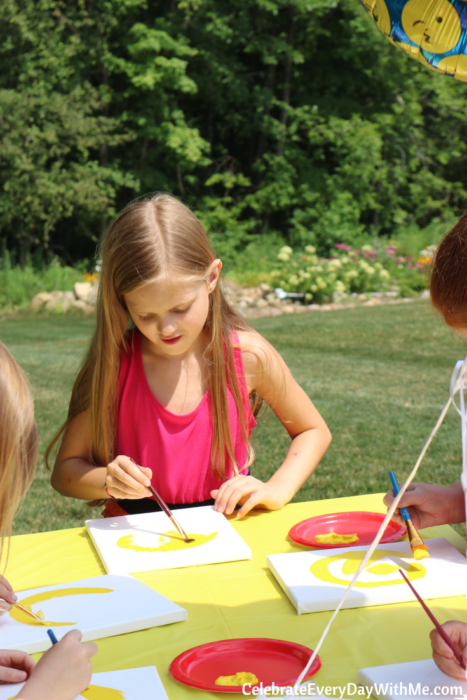 The girls painted the yellow faces for their emoji and then we allowed the canvas to dry while doing other activities.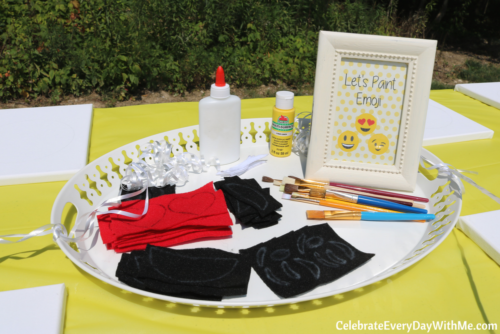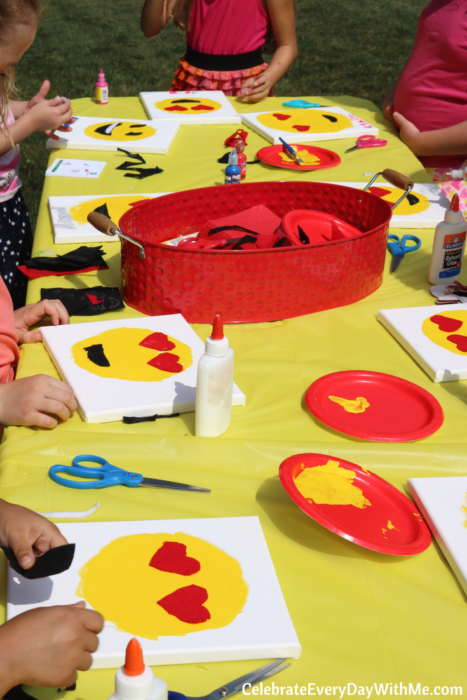 Once dry, we returned and glued felt faces to the canvas.  The majority of the girls chose the heart eyes which I suspected would be the most desired.  Before the party, I had traced the shapes for a couple different faces so all the girls would have to do is cut the felt and glue.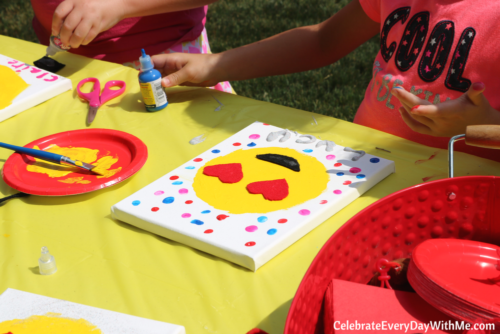 I also gave them puffy paint with which to write their names.  Most of the girls were unfamiliar with puffy paint and ended up making their names too thick . . . which lead to smearing and making other fun designs with the paint.  It all worked out!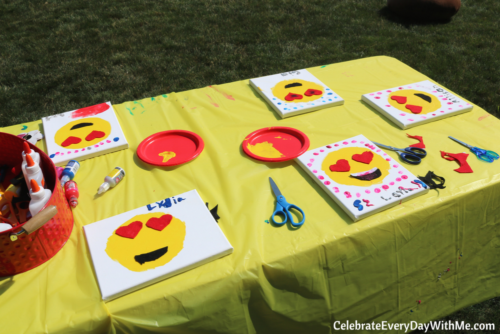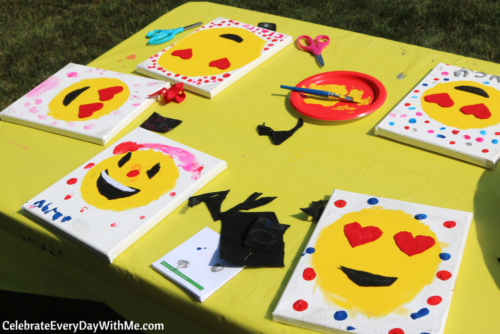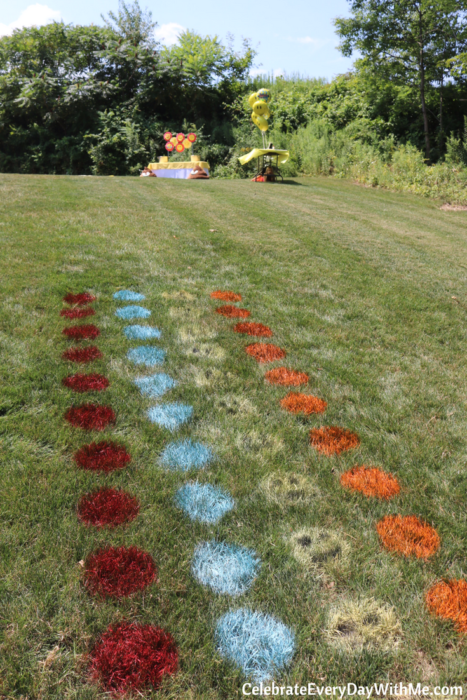 Emoji Yard Twister
My daughter loves twister, so we decided to play a little emoji yard twister.  With spray paint and a circle template, I painted circles on the grass.  Then, I used a smiley face template made with the Etsy clipart and my Cameo for the yellow circles.
We renamed each color for added emoji fun:  Red – the angry emoji, blue – the crying emoji, yellow – the happy emoji and orange – the confused emoji.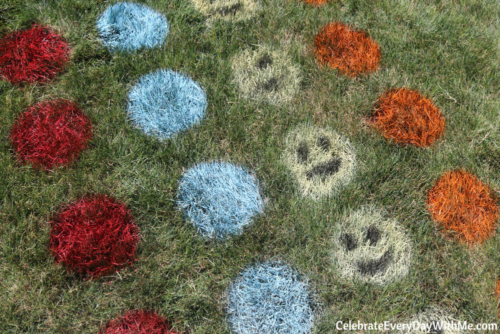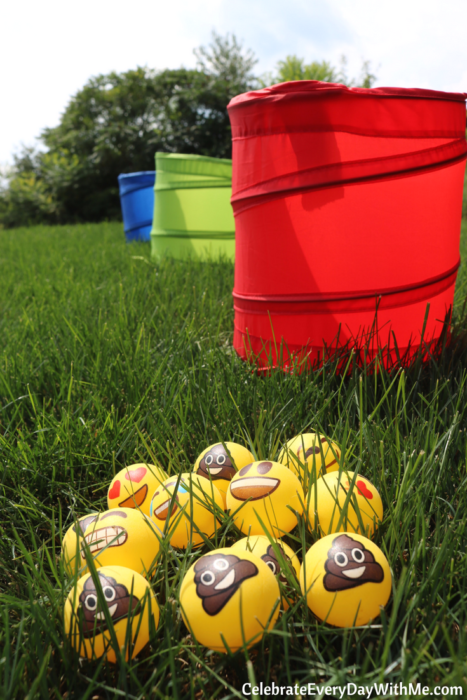 Emoji Ball Toss
We stumbled on these emoji ping pong balls at the store and my daughter came up with a simple points-based ball toss game.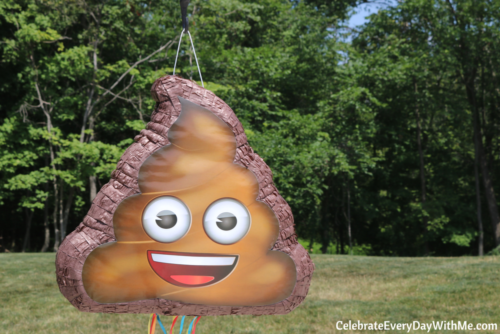 Emoji Pinata
We filled this Poop Emoji Pinata with candy and emoji erasers.  As always, pinatas are a hit at kids' parties.  Keeping with my yellow and red color scheme, I used these favor bags for the kids to collect their pinata loot.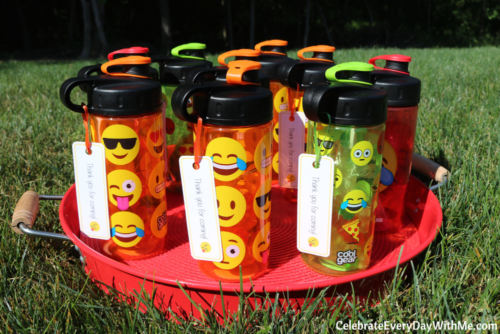 The girls went home with their emoji canvas art, pinata goodies and these bottles, filled with gummy bears inside.  It was a fun party!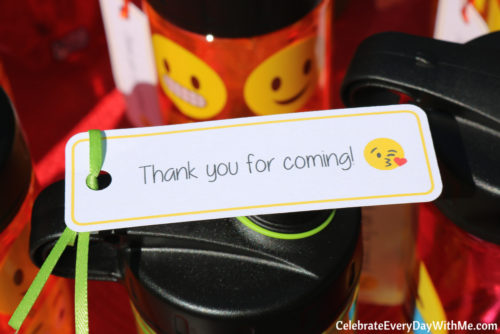 Are you planning an emoji party?  What decor and activity ideas have you found?