This shop has been compensated by Collective Bias, Inc. and its advertiser.  All opinions are mine alone. #TheNewFanFavorites #CollectiveBias
The big football game is getting close!  My husband is watching loads of football and I'm busy prepping for a little watch party.  Of course, my husband is in it for the game itself and the food.  But my fun is thinking through themed decor and easy snacks.  Today, I am sharing how to make a great burlap banner, strung on eyelets (grommets) that will add a touch of rustic decor to your football party.
And for this tutorial, I've made it super easy for you!  I have the templates all ready to go and I will be sharing my secret for burlap banners that don't curl or fray.
Here is What You'll Need to Make a TOUCHDOWN Burlap Banner:
Burlap Sheets (see below for explanation)
Printed Templates (for best results, print the pennant on card stock and the letters on copy paper)
Scissors
Pen and Pencil
1/4 inch Large Eyelets & Eyelet Tool
Hammer
A Piece of Chalk
Black Acrylic Paint and Brush (a blunt, straight edge is easiest)
Jute
Download the FREE templates here:
Touchdown Banner Pennant Template
Touchdown Letters for Burlap Banner
To begin, print the templates and cut out the pennant template along the line.  Printing the pennant on card stock will allow your template to stand up to more use.  (Wait until later to cut the letters.)
My secret tip for burlap:  If you want pennants that hang well, forgo the bolt of traditional burlap.  Instead, pick up a pack of burlap reinforced sheets, which won't curl or fray.  They are found in the scrapbook section of the craft store and can be bought as 12×12 sheets.
Trace the pennant template on the sheets of burlap and cut out nine pennants.  If you are using 12×12, you will be able to fit three flags on a page.
For the first pennant, you may wish to mark where you would like the eyelets to go.  I marked only the first one and eye-balled the rest.
With scissors, you will need to cut a small "X" where the eyelet belongs.  Do this by folding the burlap over in each direction and giving the material a little snip.
TIP:  Practice cutting and adding an eyelet to a scrap piece of burlap first.  You may find that to fit the eyelet properly, you may have to make larger snips.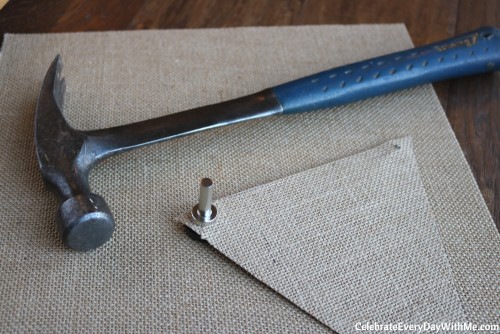 Check the package instructions for adding the eyelet.  Basically, you will fit the two coordinating pieces of the eyelet on the top and bottom of the material at your cut hole.  Give it a little squeeze to know you have it in place.  Then, put the tool on the eyelet and hammer the eyelet closed.  (If you have a different type of tool, follow the manufacturer's instructions.)
I LOVE doing this!  Be careful to watch the surface on which you are working.  Inserting eyelets with the tool and a hammer can crack tile and damage your favorite wood table.  And that would be so very sad.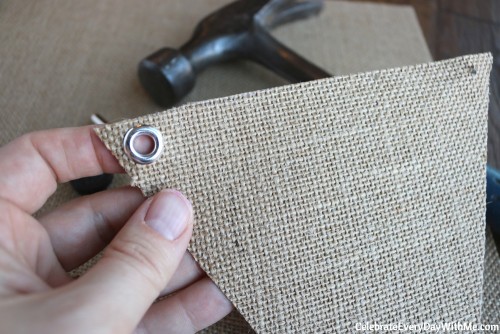 This is what the pennant will look like when done.  Isn't this the coolest?  Let's be honest with each other . . . aren't you asking yourself what else around your house could use an eyelet?
Now, you are ready to start with the letters.  Do not cut out the letters along the line.  Rather, give yourself as much border as the template allows.
Turn the letter over.  If you used copy paper for the letter template, you will be able to see through to the lines.  Chalk good coverage over the lines of each letter.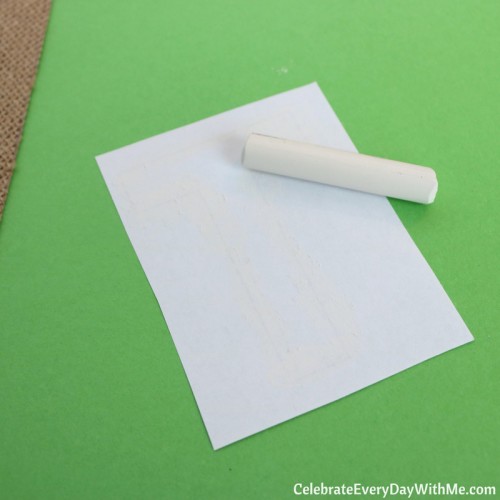 It is a bit challenging to see in the photo, but you may notice I gave the letter a thick outline of chalk.
Next, flip the letter over and place it on the pennant.  With a pencil, scribble over the outline of the letter.  Try to only scribble on the line itself and inward on the letter.  Why scribble?  If we were working with wood, drawing over the outline of the letter once would do the job.  But with burlap, it needs a little more love to make our chalk outline show up.
TIP:  If you want your letters to be in the same spot on each pennant, measure down from the top of the pennant to the top of the letter and do so consistently for each letter.
Voila!  Now, you are ready to paint.
Paint the border of your letter first and then focus on filling in the rest.  Be sure to cover the chalk with black paint.
Last, string together your burlap banner with jute and place in a spot for all to see.
I hung my TOUCHDOWN banner from the mantel, right above my snacks and other football paraphernalia.  I wanted to keep my snacks simple, so while I was at Walmart, I picked up Cape Cod Potato Chips and Emerald Nuts.
These Cape Cod Kettle Cooked Potato Chips are delicious and crispy.  We couldn't stop eating them!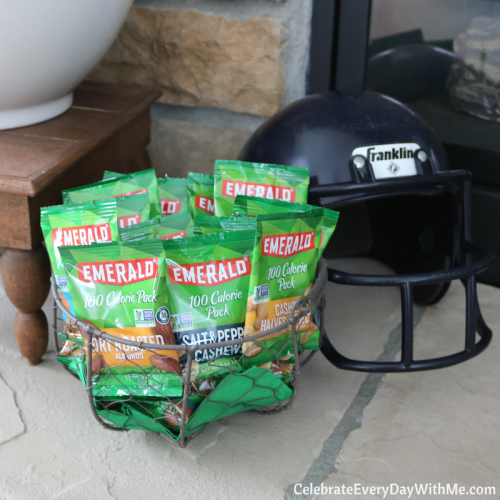 For the Emerald Nuts, I bought the individual 100 Calorie Packs in Dry Roasted Almonds, Almonds & Walnuts, Cashew Halves & Pieces and Salt & Pepper Cashews.  Two things I love about individual servings as a party food:  there is something fun about grabbing a food that is all yours and I like that I can set it out well in advance of my guests' arrival.  No spoiling!
I also served two kinds of cheese cubes and soda with fun, striped straws.  Easy peasy, right?
Here is where I found the chips and nuts at the store:
I am thrilled how everything looked.  This burlap banner may be hanging here for quite a while!
Will you be hosting for the big game?  What will you be serving to keep it simple?  Get more ideas here.