I participated in an Influencer Activation on behalf of Influence Central for Reebok and Finish Line. I received product samples and a promotional item to thank me for participating.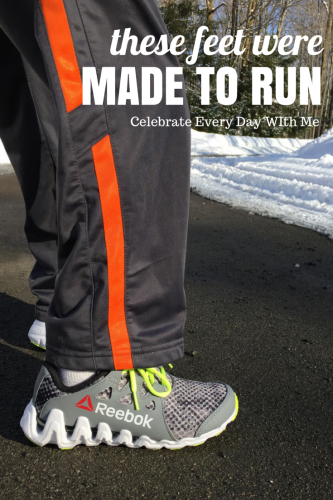 What does a stretch of pavement and a new pair of tennis shoes mean to a 7 year old?  If your kids are anything like mine, it means it is time to run!  We have been trapped inside for long enough and the sight of pavement means the snow is melting and Spring is on its way.
Are your kids ready to hit the outdoors running?  My son loves outdoor recess, riding his bike or racing his sister.  The other day when we saw the road, armed with his new tennis shoes, all he wanted to do was run.  It was freedom.  He was so excited.
Now first, let me tell you that I am not the mom who usually spends a lot of money on shoes for my kids.  I believe in good support and the right fit, but I have usually taken the cheap route.  And it has NOT been working for me.
Case in point:  I have replaced my son's shoes twice in the last six months and not because of growing feet.  The first $15 big box pair of shoes developed a hole – yes, a hole right in the toe.  Looking down at his feet, you could see that wiggling big toe poking through the sneaker.  The next pair didn't even last a week.  The cross tie ripped right off the velcro side, reinforcing to this mama that for shoes, you get what you pay for.
Enter Reebok ZigTech Big N' Fast EX shoes.  I ordered the shoes from Finish Line and was excited when they arrived after a couple days.  My son was excited about how they looked:  zig zag side and bright green laces.
He put them on and we found a stretch of pavement.  And he ran.  And he ran.  And he ran.
Then he jumped.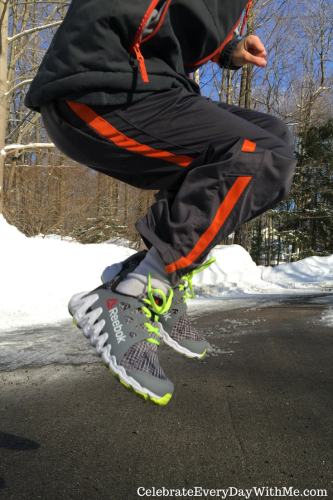 When I asked my son what he thought of his new shoes, his answer was "AWESOME!"
My Mom-Thoughts on the Shoes:
The Reebok Zig Tech Big N' Fast EX shoes are excellent quality.  They are sturdy, robust, yet light.  Seriously, I must have forgotten what a good pair of sneakers felt like, because these things are great and they look pretty cool too.  I am willing to bet these Reeboks will keep up with my active boy for a long time.
What is important to you when buying shoes?  Do you spend extra money to get a quality pair?
Connect with the brands here:
Reebok on Twitter, Facebook and Instagram.
Finish Line on Twitter, Facebook and Instagram.