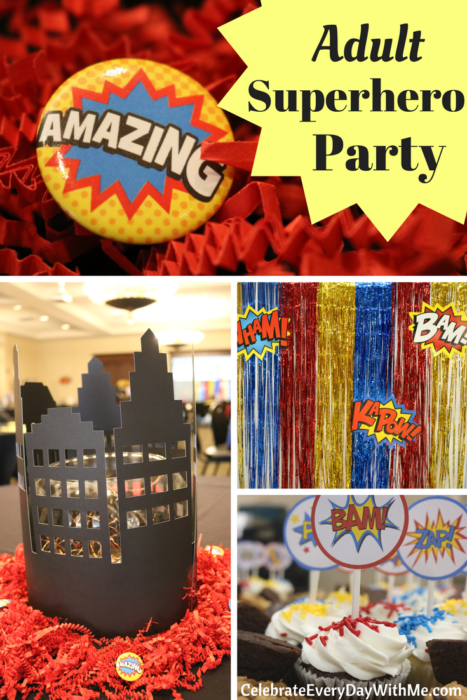 (This post contains affiliate links.)
You may be tempted to think that a superhero party theme is just for kids.  But let me tell you, it is a great party theme for adults too!
Last weekend, our PTO hosted a Parents' Night Out.  The fundraiser is a fun evening of dinner, entertainment and all kinds of auctions and raffles to raise money to support our elementary school.  This year's theme?  Superheroes!
I headed up the decorations and loved it!  With the busyness of preparing for the book launch these last couple months, all the party planning and crafting was a perfect creative outlet and stress reliever.  My husband thought I was nuts for taking on the event decor with everything else on my plate, but when I explained that this is FUN for me, he was completely on board.  (He's my superhero!)
So what do you do for an adult superhero party?  The venue was a local church's banquet room.  My main objectives were a centerpiece that had some glow, a fun backdrop and props for a DIY photo booth and surrounding decor that added to the feel of a fun night out without being ridiculously expensive.  Here is what I came up with:
Centerpieces
With a color scheme of primary red, blue and yellow, the black tablecloths made the most sense for a striking look and one that would allow color to pop.  I used my cameo to cut the black cityscapes.  The venue had the glass bowls and I filled each one with three strands of LED battery operated lights.  The shredded paper (basket filler from the Dollar Tree) and the superhero mini buttons made the cityscape stand out from the tablecloth and added some fun.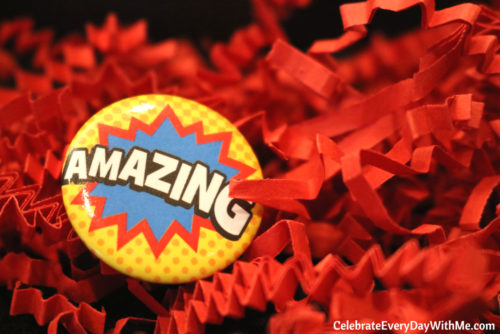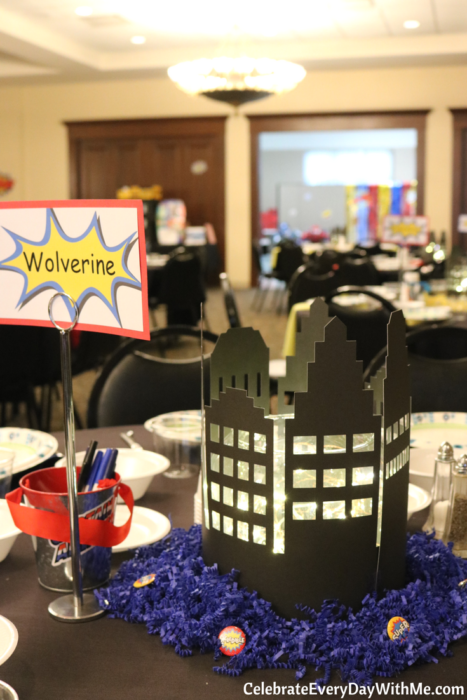 Superhero table names were the obvious pick!  And as you'll see below, we coordinated napkins to the shredded paper color.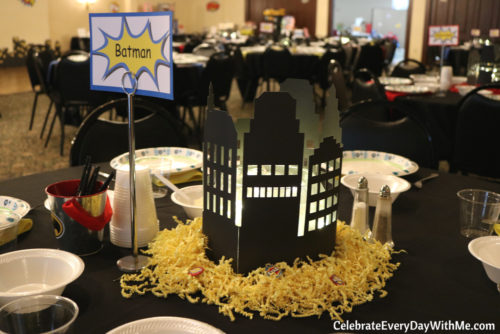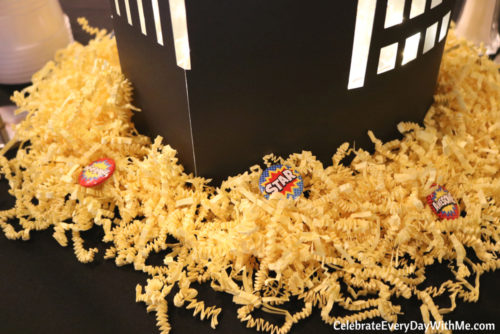 DIY Photo Booth
For the photo backdrop, I bought four of these fringed door curtains and added large superhero signs.  (We cut up the two of the curtains to make center sections fuller.  We also put white paper behind the fringe to make the colors stand out better.)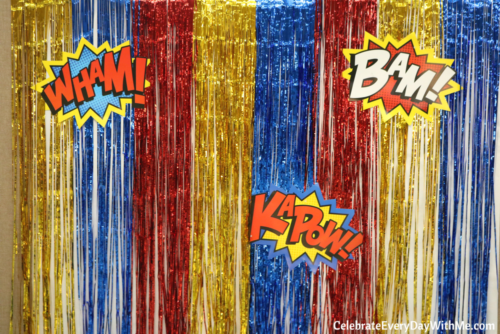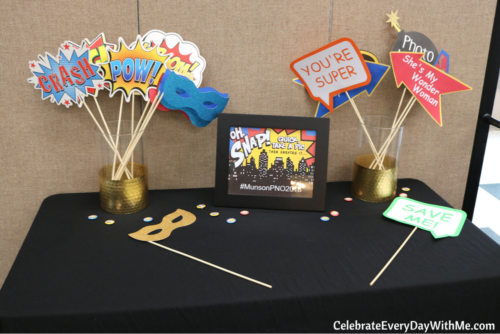 Props were made from smaller superhero signs and a handful of ones I made at home with my cameo.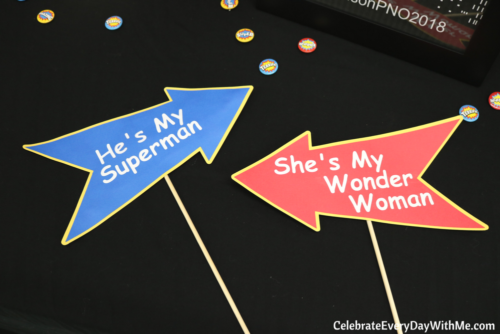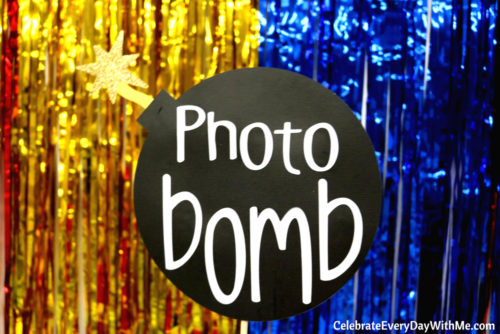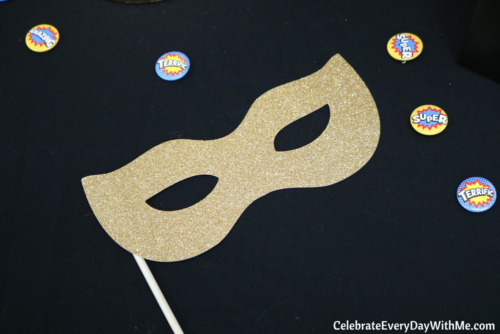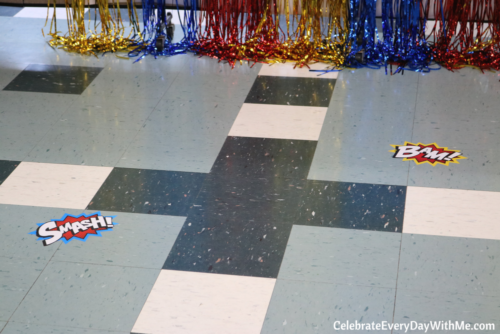 Leading up to the photo booth as well as on the dance floor, I added superhero floor decals
More Room Decor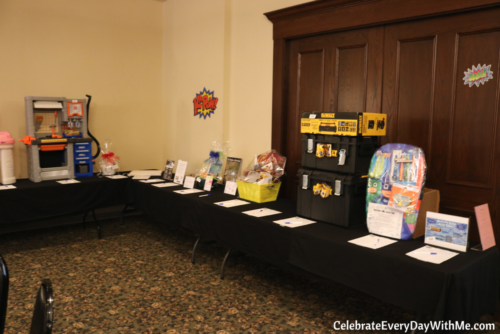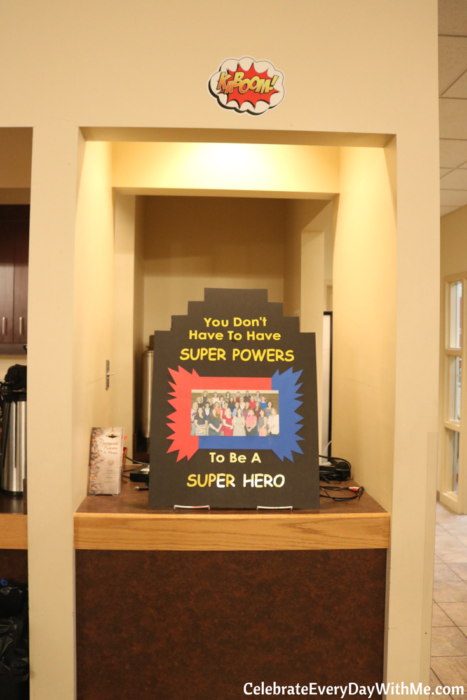 The large and small superhero signs were placed all over the room.  The school staff board above was something I wanted to make to honor our school staff and teachers.  "You don't have to have super powers to be a super hero."  So true!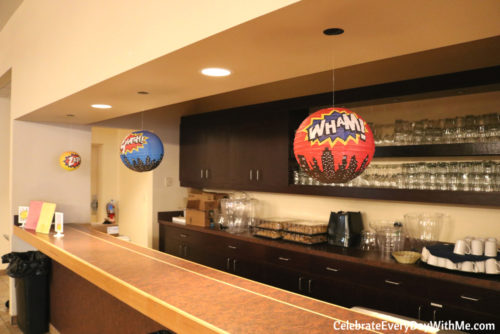 I loved these paper lanterns hanging over the bar.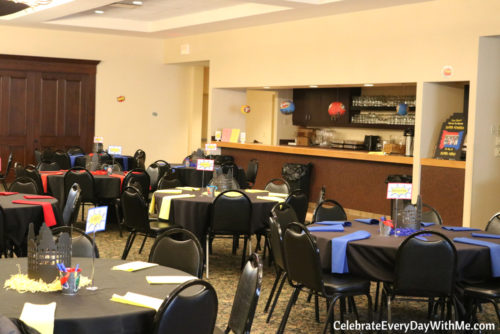 The cityscape – this was one of my favorites!  I had intended these boards to be behind the raffle items on a table, leaning against the wall.  But because of the wall jetting out here and there, there were no tables flat against a wall.  So I put the cityscape along the dance floor and was really pleased how it turned out.  When the lights were dimmed for the evening, the "city" looked awesome.  I'll share a tutorial soon on how to make these!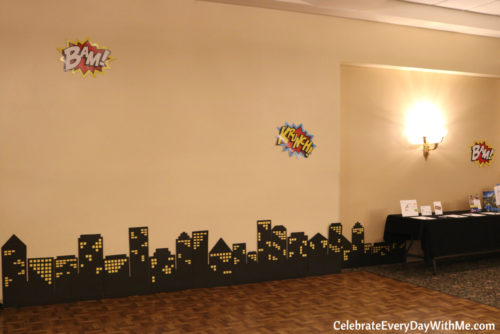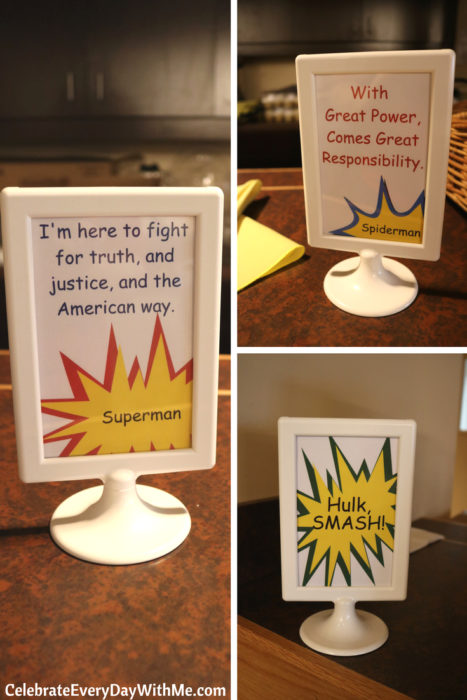 Do you know how many famous quotes there are from superheroes?  I weeded through a lot and settled on these and placed the 99-cent IKEA frames on the bar.
Little Extras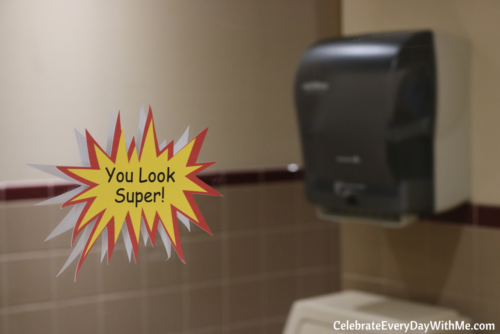 Alright, I couldn't resist!  I put a "You Look Super!" cut-out on the mirror of both bathrooms.
Each table received their own dessert platter.  They looked so good and gave us another opportunity to tie into our adult superhero party theme.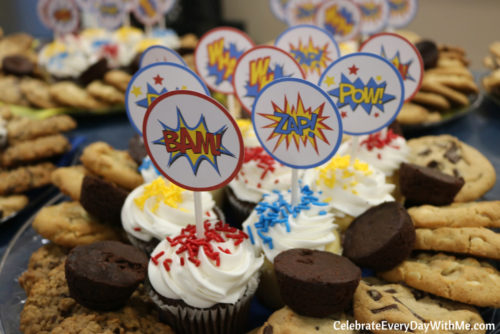 It was a fun night!  The party organizers did an amazing job.  I couldn't believe how many items they collected for all the auctions and raffles.  What a great event to support our school and give the parents a fun night out.
Oh and something else I loved:  if guests wore a superhero t-shirt or a cape, they received a bonus five tickets for the chinese auction.  How fun it was to look around the room and see adults get into the superhero party theme!
Party Products Used: