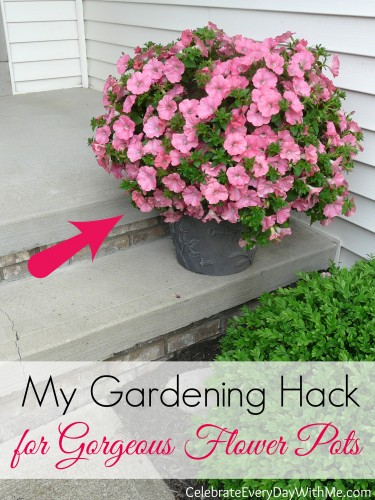 Welcome to Entertaining Fridays!  I am so glad you are here.
You may be wondering what gardening has to do with entertaining… 
Well, let me assure you that the two can be combined.  When you are entertaining, have you ever put a beautiful bouquet of flowers on your kitchen table?
Flowers are welcoming, inviting and a sign of hospitality.  I am hoping, in the next house, I can have a gorgeous cutting garden filled with blooms to snip and fill my house with the sight and scent of lovely flowers.
But let's step back from our kitchen table where we do so much entertaining and head out to the front porch where our guests first start.
Why not welcome our guests to the door with gorgeous, full flower pots?  But let's do it without all planting, spacing and waiting for blooms to fill out.  
Don't laugh.  This is my gardening hack!
I start with this:  Large pots with ugly wear all around the top edge that I don't want to see.  Oh, and let's not forget the weeds…
I buy two hanging baskets and set them on top of my pots.  (I actually buy 4 to get an amazing deal and use the other two for this.)
I could dig in to the dirt and place the hanging basket within the walls of my planter, but this is a hack and I want easy and fast . . . not to mention the amazing height.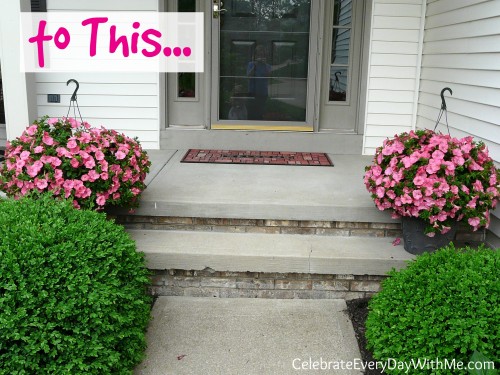 I then remove the hooks from each basket and that brings me: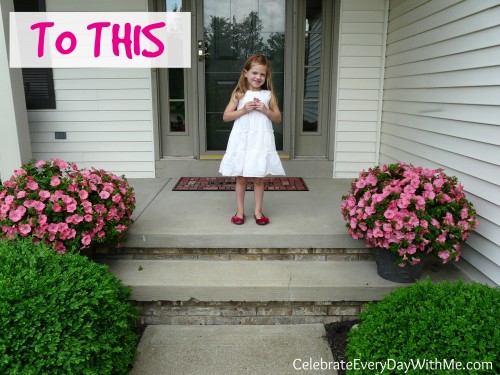 The Back Story:  This started because we are selling our house and I didn't want to wait around for my pots to be full and gorgeous.  With this gardening hack, you have:
no planting
no spacing out individual plants
no waiting for gorgeous and full flower pots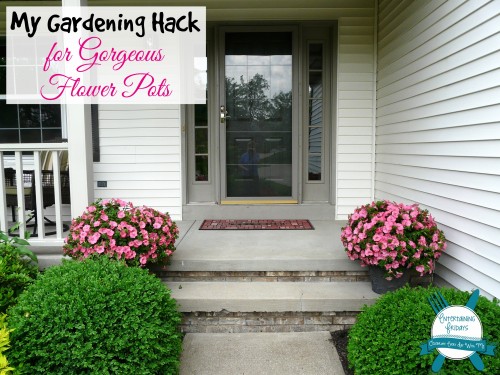 What do you think?  Do you have any good gardening hacks?  I'd love to hear!
Next week for Entertaining Fridays, I will be answering Heidi's question on creative seating when space is a problem.  See you then!