This shop has been compensated by Collective Bias, Inc. and its advertiser.  All opinions are mine alone. #BlissfulMoments #CollectiveBias
Years ago, I remember sitting in our pediatrician's office for my child's annual check-up.  After the exam and exhausting my list of questions and concerns, the pediatrician turned to me on the way out and told me I was doing a good job.
Just a few words of encouragement touched me in a way he could never have imagined.  It was something I needed to hear.  And even now, in a world of questioning so much of what I do as a parent, those words still stir my heart.
Motherhood is tough work.  There are hard decisions, trying times of figuring what is best for YOUR kid, fielding different opinions . . . and oh yeah, discipline.
Sometimes you just need to hear that you're doing a good job.
So let me tell you, sweet mom, that you are doing great.  You are a blessing to your kids and to those around you.  And although you are probably exhausted and weary at times in this journey of motherhood, you are important, valuable and precious.  Thank you for all you do to serve and love your family.
Encouragement is a wonderful thing.  So often, we see moms tearing each other down because of opposing views on child-rearing.  I mean, seriously, have you seen some of the social media comments when someone talks about breast-feeding vs. formula, spanking vs. no spanking, behavioral issues . . . and the list keeps going on.
What if we could be encouraging other moms in their journey instead of bringing them down?  What if YOU could be the one who gives words of encouragement to a mom when she needs to hear it most?
Maybe that mom behind you in line at the supermarket is exhausted because she has been up with a colicky baby or with a super sick child (which was me last weekend).  A friend of yours may have a kid who is struggling with behavior, school work or adjusting to changes in family life and that mom is questioning the best approach to handling the situation.  Both are in need of encouragement.  Even moms facing everyday challenges of motherhood could use a smile from someone who understands.
Do you want to be the mom who encourages other moms?  I know I do!
Today, I have a simple idea to be a blessing and offer words of encouragement to other mothers.  And trust me, it is easy!  I even have a free printable to help.
So, the first step is deciding who you will encourage.  Are you in a moms' group or Bible study?  Maybe you can encourage some of the moms on your street or at the bus stop.  Is there a special group of  mothers with which you frequently get together?  Start brainstorming.  With a simple and kind gesture, you could be speaking words of love and encouragement to a fellow mama's heart.
I decided to send a note and treat to the young moms at my church, those with kids in the Nursery and Toddler Rooms.  I remember back to those baby and toddler years.  They were super fun, but also super tiring.
So here is what I did:  At Walmart, I picked up boxes of Betty Crocker™ Sweet Rewards, the new soft baked bars that are a fun and yummy treat for a busy mom.  If I still carried a diaper bag, you'd find a stash of these bars in there!
There are three varieties:   Chocolate Chip Cookie Bar, Caramel Brownie Bar and Butterscotch Blondie Bar.  Because I wanted to provide a variety for the young moms, I bought all three kinds.  And of course, I had to sample each one so I could tell you which was my favorite . . . which, incidentally was the Butterscotch Blondie Bar . . . hello, my new sweet friend!
Now if you're like me, you'll want to gather your materials and plant yourself on the couch with a cup of tea and an old movie.
Here is what you'll need:
Betty Crocker Sweet Rewards Bars
printable tags (download below)
a pen
scissors
hole punch
jute or a pretty ribbon

Before you get too cozy, download and print these tags:  Blessing & Encouragement Tags
Note:  if you have the option on your print preview screen, be sure to UNCHECK "Fit to Page."  This will allow your tags to be slightly larger and print as created.


And don't forget to sample the bars yourself.  😉


Next, you will need to cut out the tags and punch the holes.


Sign each tag with your name and if you'd like, you can get personal by writing the mom's name at the top, if it fits your situation.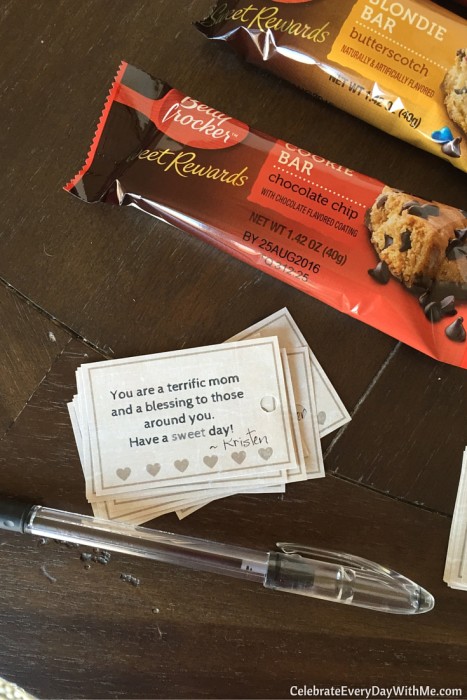 Punch a hole in the wrapper of the Sweet Rewards Bar.  * * Take care not to break the seal * * You can feel the ridges of the packaging.  Punch within those.


Last, tie your tags to the bars with your jute or ribbon.


Then, you're all set!


I put the bars in a basket with a rough-edged note and will be leaving it in the Toddler Room for the sweet moms to enjoy right away or stick in their bag for on-the-go.


Here is where I found the bars at the store, in the cereal aisle:

Have words of encouragement meant something to you as a mom?  Who can you encourage today? Click here to be inspired and find your blissful moment.