This shop has been compensated by Collective Bias, Inc. and its advertiser. All opinions are mine alone. #MyTuesdayValentine #CollectiveBias
It was a blind date 15 years ago.
A date I agreed to reluctantly.
A date that turned out to be one of the best decisions I ever made.
So into the foyer of my mom's house stepped this super tall guy, a whole head above my own (and I have always been considered tall for most girls).  Little did I know where it would all lead . . . a match, a marriage, two kids, and doing faith, family and life together.
This past December, I was listening to a radio talk show and the host asked his audience to think about who, in the past year, had made you a better person.  There was no question of the first person I thought of . . . my husband, Dan.  He is kind, funny, generous and hard working.  He is filled with faith, character and integrity and causes me to be a better version of myself.  He is my valentine.  He is my love.
Since Valentine's Day is only a few weeks away (on a Tuesday this year), I knew I needed to start thinking of something special for my husband.  I decided this year, I would use an arrow theme.  You know I can't resist themes!  I would make cute arrows to attach to Dan's gift.  And even cooler, having already selected this theme, I was super excited when I found this American Greetings card at the store.  Arrows!!  Plus a beautiful and sincere message.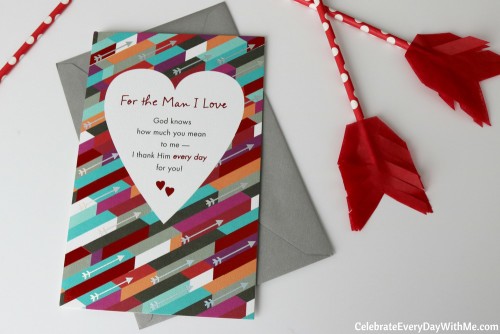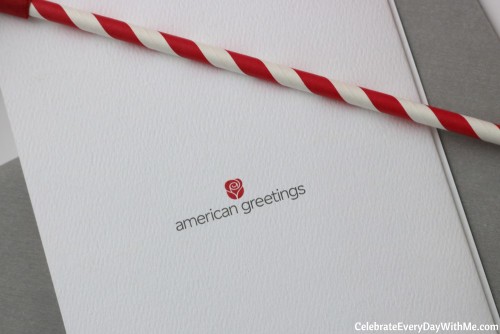 I love how a card is a simple way to connect with those you love.  Life is pretty complicated.  Valentine's Day doesn't have to be.  This year, be sure to tell that special someone just how much they mean to you.
Need help thinking of what to write in a Valentine's Day card?  Check out this post from American Greetings.  They are working to make the world a more thoughtful and caring place.  And they don't just have paper cards, check the American Greetings site to pick up fun printables to help you manage your February calendar and shopping list.  I'll show you at the end of the post how I am using their 8×10 printable.
For today's tutorial, I will be showing you how to make these sweet valentine arrows in two different styles.  Do one.  Do both.  They look perfect tied to a pretty box with Valentine's wrapping paper.
What You'll Need:
Patterned paper straws
Card Stock (red for the arrow and a scrap piece for a template)
Red Tissue Paper
Scissors
Glue
Crafting knife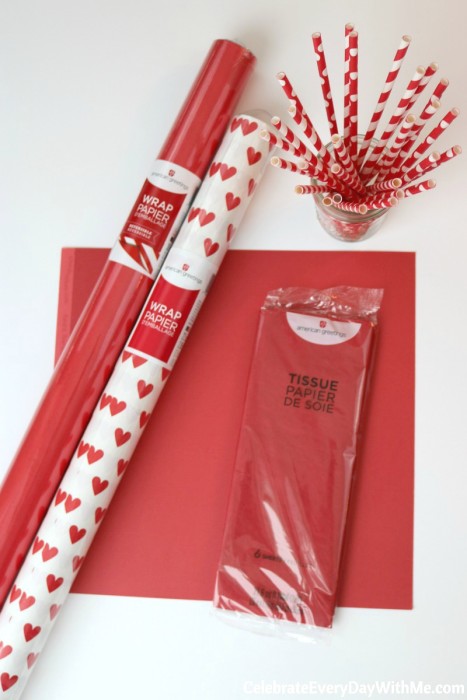 When I was shopping at the store, I also grabbed the wrapping paper for my husband's gift.  I wanted to be sure it coordinated well with my arrows.  The red wrapping paper was perfect but I couldn't resist buying the heart paper as well.  Isn't it adorable?

How to Make DIY Valentines Arrows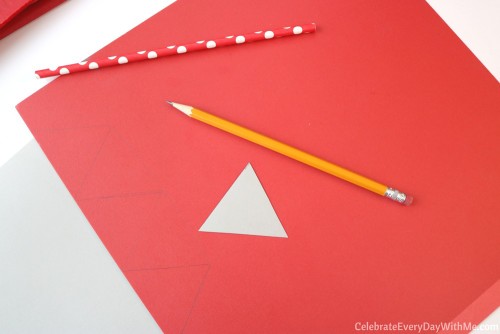 Cut out a triangular piece of card stock as a template for your arrow tip.  Then trace the template on red card stock as many times as you need.
Cut out the arrow tips and set aside.
Next, create a template for the tail (Tail Style #1).  I hand-drew the shape and then cut out four sheets for each arrow.  Save yourself a little time and cut through the entire stack of tissue paper for multiple arrows.
Separate the pieces so that you have piles of two sheets each.  One stack will be for the top of the tail and the other for the bottom.
Add a line of glue as shown above.
Lightly press the straw on to one of the stacks.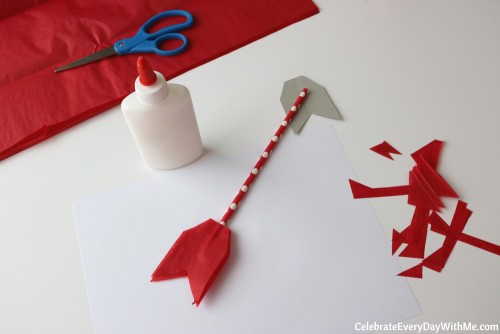 Then follow with the other side, covering the straw.  In the event that the glue doesn't press through to the second piece of tissue paper on a particular side, just add a dab of glue to hold it down as well.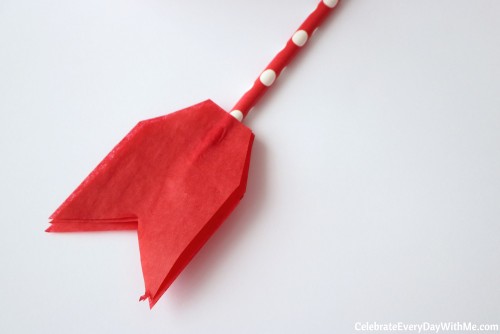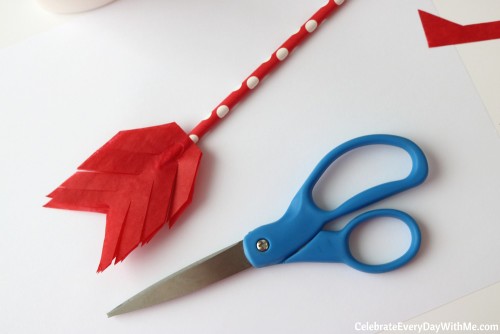 To finish up this tail, cut slits on each side of the tissue paper.
Tail Style #2:  Cut a full stack of tissue paper (opening the package and unfolding, but not separating any sheets).  I cut the length to be about 3.5″ and the width was just over 3″ or simply what was between the creases on the tissue paper.
Cut even slits in the tissue paper, taking care not to go too close to the top.
Add a line of glue along the top.
Then, roll the straw in the tissue paper.  Wipe any excess glue that squeezes out at the end.
Separate the tissue paper to fluff the tail.
Now that all our ends are done, let's move on to finishing the tip.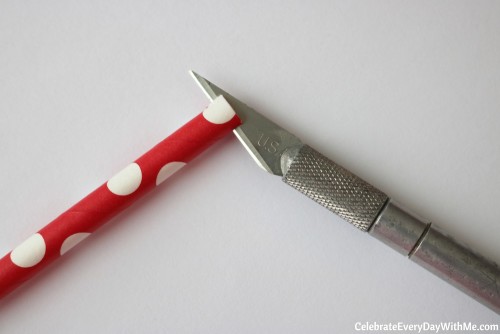 With a crafting knife, cut a slit in the middle of the top of the straw.  Before you cut the straw for Tail Style #1, be sure that the tail is lying flat on the table and cut the slit parallel to the table.  This will allow for your tip and tail to both lay flat on your gift.  For the fringe–wrapped arrow, it does not matter.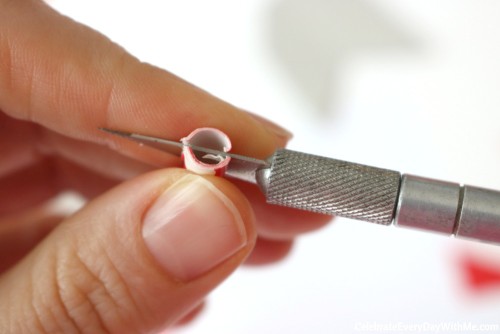 Slide the arrow tip into the slit.
The arrows are now complete!
When I began to wrap my husband's gift I had forgotten that the packaging said the wrapping paper was reversible!  Aren't the stripes fun?
I used bakers twine to tie my arrows to the gift and added a little note to carry through my theme.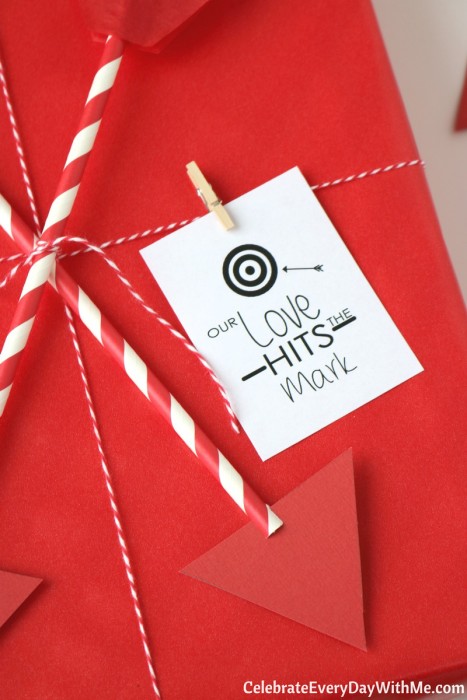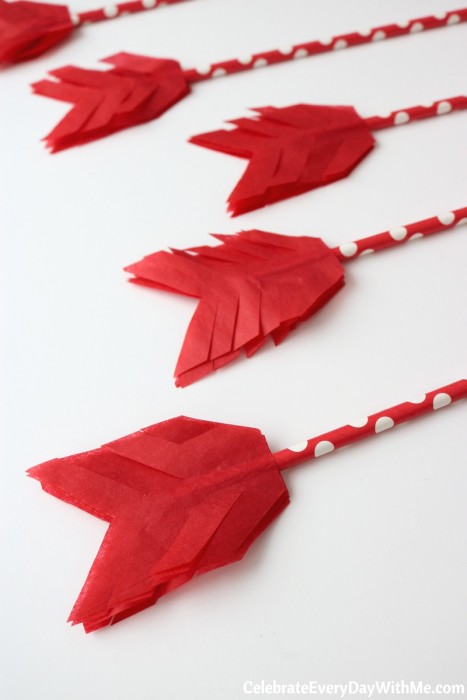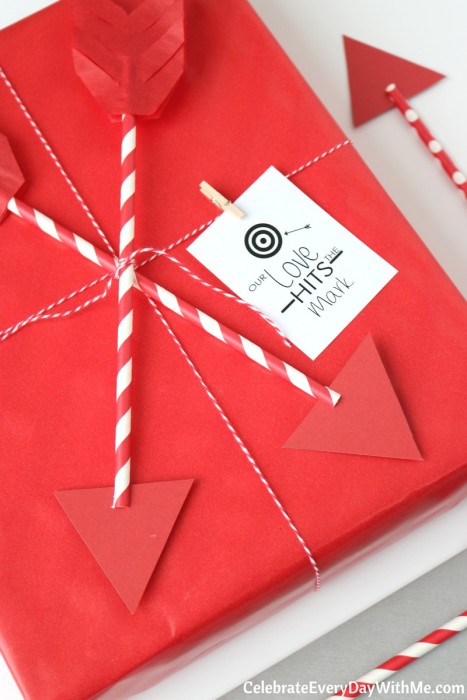 Now of course, I couldn't only pick up one card, I also wanted to buy my sweet kiddos cards to celebrate Valentine's Day!  Here are my picks:
I know my daughter will love the butterflies and sweet message, and my son will think the punch-out airplane is super cool.
As I mentioned earlier, Americans Greetings also has cute (and free) printables to help with your February celebration.  Be sure to check them out!
Printable Shopping list with tear-off "loves notes" perfect for leaving around the house, in lunch boxes, etc.
Mobile/desktop wallpaper (to keep Valentine's Day top-of-mind)
Printable 8×10 Valentine's Day frame-worthy quote
Printable February calendar
See below how I am using the 8×10 printable in my Valentine's Day decor.
How are you celebrating Valentine's Day?  Check out American Greetings for more inspiration or click here to find a store near you that sells American Greetings products.