This shop has been compensated by Collective Bias, Inc. and its advertiser.
All opinions are mine alone.  #EasyBracketParty #CollectiveBias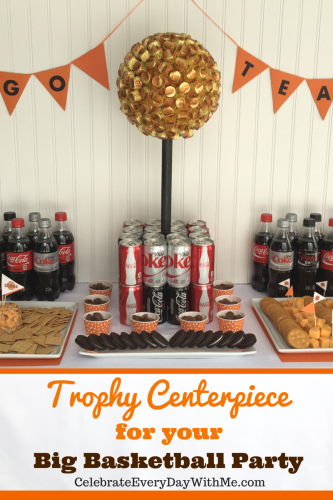 The college basketball games are upon us!  This is my husband's favorite time of the year as far as sports go.  And I love it because it is a great excuse to throw a party.
Today, I have some fun ideas for your own big basketball party, including this great trophy centerpiece made of Reese's Miniatures and Mini Coca-Cola cans.  It is a win-win on your table.  And all my party snacks came from Giant Eagle, my one-stop-shop for all food and drinks.
So fill out your bracket and let's start celebrating the big tournament.
How to Make a Trophy Centerpiece for Your Basketball Party
What You'll Need:
1 1/2 Party-Size bags of Reese's Peanut Butter Cup Miniatures
4 8-packs of Mini Coca-Cola Cans (32 mini cans total – do not take apart)
8″ Styrofoam Ball
1″ Dowel (I cut mine to 21.5″)
Toothpicks
Orange & Black Spray Paint
Metal Hanger
Stretch out the hook of your hanger and poke it into the styrofoam ball.  This will allow you to spray paint evenly (without covering your hands in the process).
Spray paint your styrofoam ball and dowel, orange and black respectively.  If you have a particular team you are rooting for, go ahead and use their colors and show your team spirit.  Allow the paint to dry, then pierce the ball with the dowel to create your hole for later.  My dowel went into the styrofoam about 3 1/2 inches.
Using toothpicks, begin to attach your Reese's Miniatures to the styrofoam ball.
Work in a circular pattern around one of the Reese's miniatures.  It will look much better than working in lines around the ball.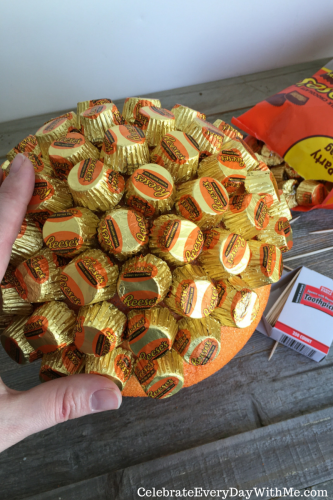 When you get closer to the bottom, put the ball on the dowel and continue covering the styrofoam in Reese's cups.  I found it easier to angle the lower toothpicks more horizontally (almost parallel to the ground) than sticking straight out of the styrofoam.  It helped keep the bottom candies in place.
Your basketball part of the trophy is done and now, on to the base.
Cut one pack of mini cans in half.  You need to create two 4-packs.  This will help your trophy stand up nice and tall (and keep it sturdy).
Place the two 4-packs on top of each other and fit your dowel down through the plastic.
Separate out all the remaining cans.  Surround the base with the rest of the cans in a pattern of your choice.  Your trophy is ready.  Game on!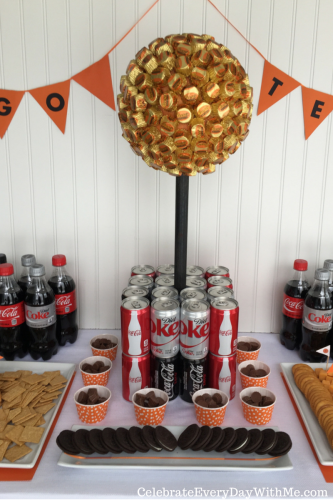 Here is how I decorated the rest of my table for our Big Basketball Party: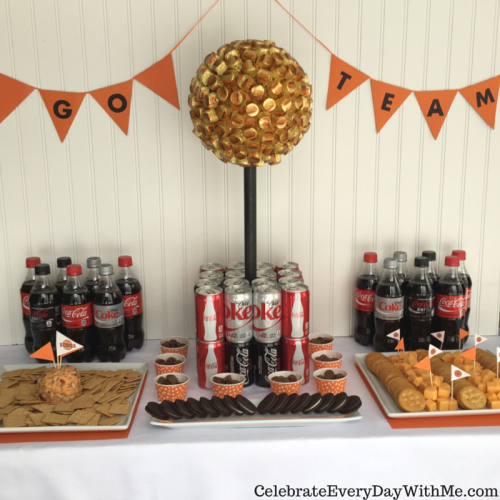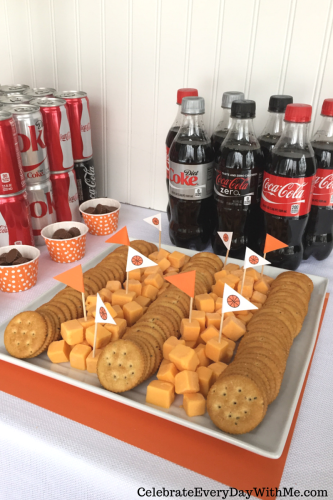 Ritz Crackers and cheese cubes.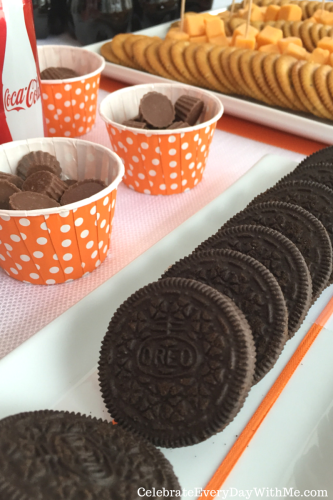 Yummy OREO Cookies (who can resist?).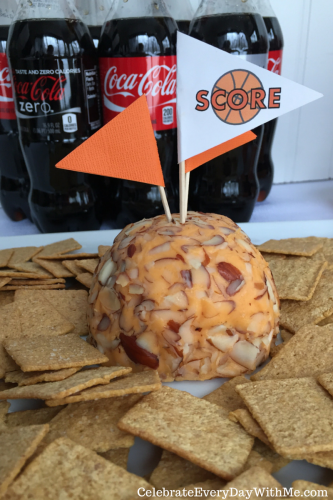 Original Wheat Thins and a cheese ball.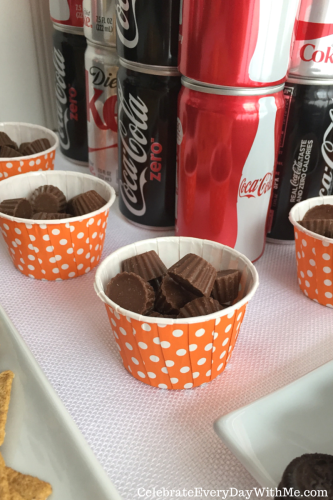 Reese's Mini Peanut Butter Cups in these cute cupcake liners.
Drinks:  In addition to the mini cans of Coke, Coke Zero and Diet Coke, I also had the 1/2 liter bottles.  Don't forget the orange and white striped straw!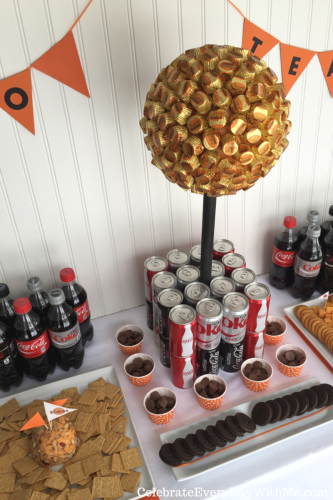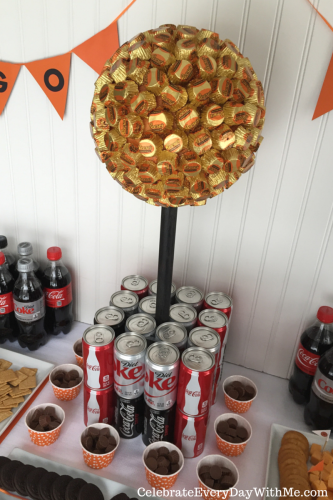 Everything was delicious!
 (Where you can find the drinks and snacks I used.)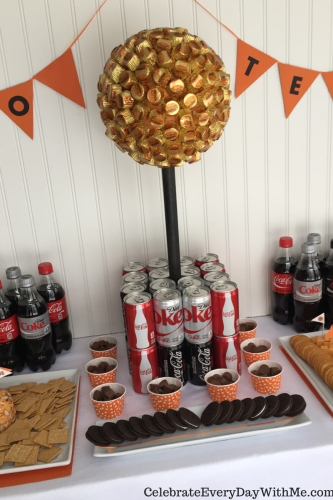 How do you celebrate the Big Tournament?  I'd love to hear!  Leave a comment sharing your family traditions and what you will pick up from Giant Eagle.  
Find other great #EasyBracketParty ideas at Giant Eagle Meals Made Easy!