Hi Friends!  Welcome back to Entertaining Fridays.  
The weather is cooling down and Fall is truly here.  It is the perfect time to get back into the ritual of tea.  I love keeping my Tea Caddy well stocked and ready to open up to guests at our home.  Enjoying a cup of tea together is a great opportunity to connect with your family, friends and neighbors.
So put the kettle on, let's get started on our DIY Tea Caddy.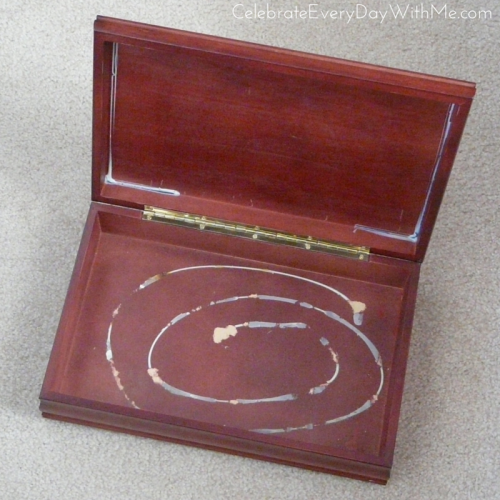 Do you have any wooden boxes around the house?  For my tea caddy, I used a jewelry box that I picked up at a discount store for about $3.  Depending on the nature of your box, start by pulling out any dividers or lining.
Use a metal putty knife to scrape any remaining clumps of industrial glue.  I dented the box a bit, but it would soon be covered up.  No worries!
Next, select two complimentary sheets of scrapbook paper, cut to size and lightly glue in place.  I loved the whimsical look of the flowers on top.  You can't tell in the photos, but my base paper is metallic, keeping the bottom light, fun and shiny.
Next, head to your local Home Depot or Lowes and pick up some lattice.  Yes, lattice.  It is the perfect size to separate your tea bags.  As you can see in the picture, I used 1/4 x 1 1/8″.  It came in a long piece and Dan cut it into the lengths I needed.
I kept my lengths long enough to have to push down in to the tea caddy.  With the tight fight, I needed no further reinforcements.  If you have trouble with this, try switching your pieces around.  Your box may not be perfectly square and you may find that some pieces of lattice work better in different spots.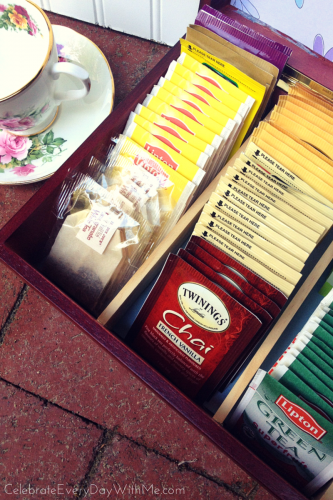 The last thing to do is to fill your DIY tea caddy.  I keep one row for decaf teas, another for green teas, flavored teas and traditional flavors.  If you don't have a current stash of teas, consider buying a couple boxes with friends and splitting them up.  You don't need a whole tea caddy of just one or two flavors.  The fun in selecting which tea you'll enjoy is in the variety.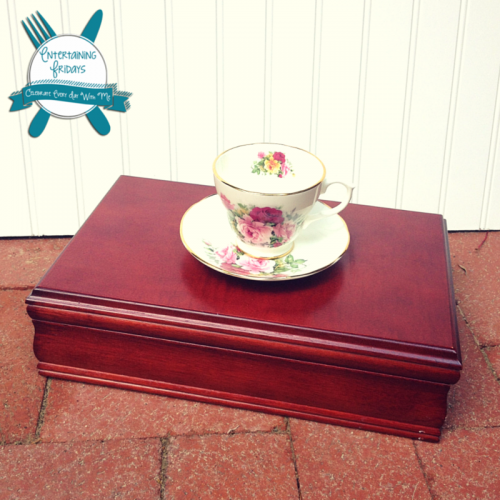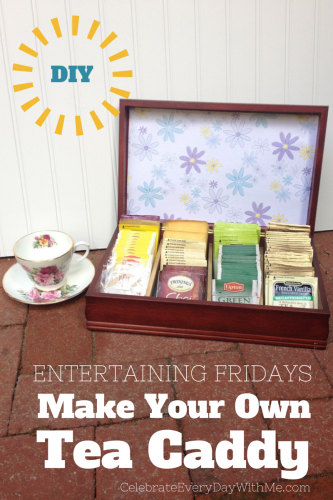 Some of my favorite teas in bags (affiliate links):
Green Tea
Lipton Green Tea, Superfruit Red Goji with Rasbperry
Bigelow Green Tea Chai
Black Tea
Bigelow Tea Spiced Chai Black Tea
Twinings Chai Tea, Pumpkin Spice
Herbal Tea
Twinings Honey & Vanilla Chamomile
Enjoy!