Last week, I shared the first part of my daughter's Disney Princess Party.  Do you have a little princess in your house?  With our love for fairy tales (and Disney, of course), it was the perfect little party for us to throw to celebrate Sweet Girl turning four.  Here is the rest of the party:
A Grand Entrance ~ When each little princess arrived, we played royal fanfare music from the Kingdom Rock VBS cd
 and Sweet Boy proudly announced each princess.  The girls came in royal dresses and were too cute!  Of course, when my mother arrived, my son announced her as the Queen Mother . . . .  She was completely delighted in her title.
The Princess Photo Booth ~ This couldn't have been easier (or cheaper).  I spray-painted a frame that I had used for a previous party, added the "Princess in Training," and used this adorable princess throne that I purchased at a garage sale when Sweet Girl was one . . . for $2.00!  Jackpot!
Decorate A Crown ~ For our first activity, the girls enjoyed decorating crowns (made by my Cameo
) with crayons and stickers.  They looked so cute with them on!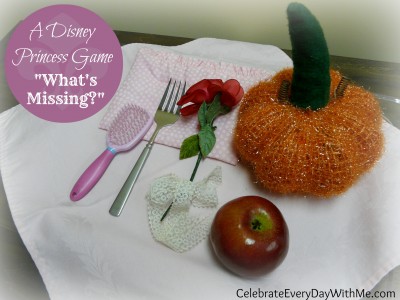 Disney Princess Game:  What's Missing? ~ I sat down on the floor with the girls and told them how each of the princesses had sent something to remind us of their story.  They helped guess which item belonged to which princess.
Cinderella sent the pumpkin.  Snow White, the apple.  Belle sent a rose and Ariel, a dinglehopper (fork).  Rapunzel sent her brush for her very long hair and Sleeping Beauty sent a little pillow.
I laid all the items on the floor.  The girls closed their eyes and I removed one item.  Then with eyes open, they had to guess which princess item was gone.  They did very well and were very engaged in the game.  And it was so simple.
Thanks so much, friends, for stopping by to see the fairy tale ending to our Disney Princess Party!  You can see part one here or check out how I glam'd up our princess goblets.
What party games have been your favorites over the years?