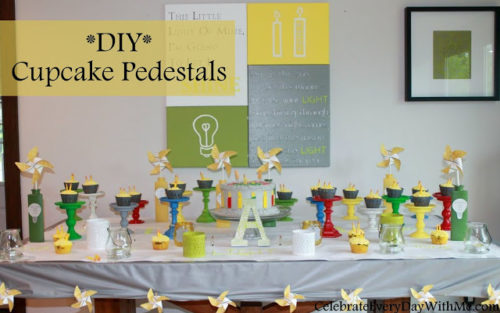 Do you have a celebration coming up?  Would you love to create something that will draw interest to your table and make you look like a party planning genius?  If so, check out these adorable (and colorful) cupcake pedestals from Marcy's "This Little Light of Mine" Party.  If you missed the series, you can start here.
I love the assortment and endless possibilities with these stands.  You could make a single color to fit a theme or a variety as in Marcy's party.  The pedestals could hold appetizers, single-serving sides or other desserts.  Put a cluster of three to five as the centerpiece of your dinner table.  Or simply use them to highlight a decoration for your party.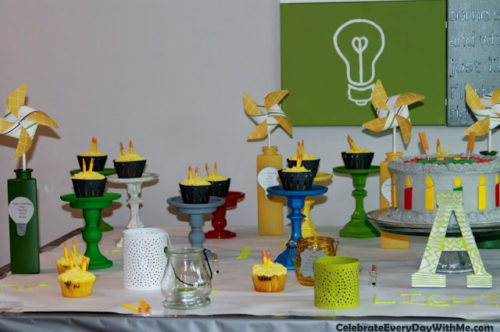 Marcy's Instructions for Cute Cupcake Pedestals:
1.  Purchase a variety of crystal candlesticks and candle plates.  (She bought hers at Walmart.)
2.  Clean the candlesticks and plates by wiping them with rubbing alcohol.
3.  Paint two coats of acrylic paint on each part and let dry for one hour.
4.  Place the candlesticks and plates in a cool oven.  Set the oven to 350 degrees and bake for 30 minutes.
5.  Turn the oven off and let cool completely.
6.  Remove from oven and use E6000 glue to adhere the plates to the stands.
Now you have adorable cupcake pedestals.  Happy Entertaining!