This post contains my affiliate link. Please see my Disclosure Policy for more information.
Hey Blogger Friends!  I have something awesome to share with you today.
Have you been there?  And by there, I mean the feeling of being chained to your blog.  (I'm not talking about the fun of blogging, I am talking about the logistics of blogging.)  Not scheduling enough.  Trying to get all your Facebook and Twitter posts out when they need to get out.  Changing one post on your editorial calendar resulting in an avalanche of resetting social media posts.  Hopping on at just the right times to pin that image, but forgetting to do it and finding yourself completely frustrated that you can't do it all.  Yeah, me too!
This is why I am so excited to tell you about CoSchedule.  CoSchedule is a drag-and-drop editorial calendar for WordPress that puts your blog posts and social media messages on the same schedule.  What does this mean?  …FREEDOM!
A CoSchedule Review & 7 Ways it Means
Freedom for Bloggers:
1.  Awesome Integration with WordPress = We are Free to Work on What We Want
CoSchedule integrates beautifully with WordPress.  I can be writing a post and scroll down to schedule all my social media posts without even leaving WordPress.  No new tabs.  No other websites.  No extra clicking.  No signing in.  Now, we can save time and can focus on the real work.
2.  Ease of Scheduling = Freedom of Attention
I had gotten to the point where I was waking up super early, publishing a post and then trying to hurry through all my social media posting before my kids woke up.  I did occassionally use another scheduler, but it didn't give me all the options that CoSchedule does.
Since using CoSchedule, I may not even think about a post when it goes live because I know that it is being shared on Facebook an hour later, tweeted at set times throughout the day and shared on Pinterest at the times my audience is on.
CoSchedule makes it easy and now we can be free to spend our attention elsewhere . . . like the sweet kiddos who live in our houses.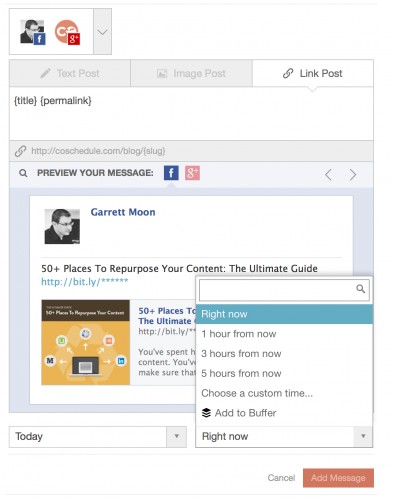 3.  We Can Schedule Pins = Freedom to Be Offline During Peak Pinterest Times
Update 9/2014:  CoSchedule was having problems with scheduled pins and has since removed the feature until they can guarantee quality service in this area.  I am still using their services and hoping it comes back soon.
Wait, did you catch this?  YOU.CAN.SCHEDULE.PINS.  Yes, I see you doing the happy dance.  It is true.  We can finally schedule pins to the board of our choice at anytime we like!  No more stressing about trying to be present and online at peak times.
4.  We Can Drag & Drop Posts on our Editorial Calendars = We Are Free to Change Our Minds
All the husbands of female bloggers should applaud at this moment.  As scheduled as you may like to be in blogging, things come up that cause us to add in an extra post or reschedule something for another time.  With CoSchedule, you can drag and drop on the CoSchedule calendar.  And what's even more amazing, depending on how you scheduled your social media shares (hours/days from publication vs. choosing a date and time), your social media posts either move automatically or you can drag and drop them as well!
It is so easy to change your mind and reschedule!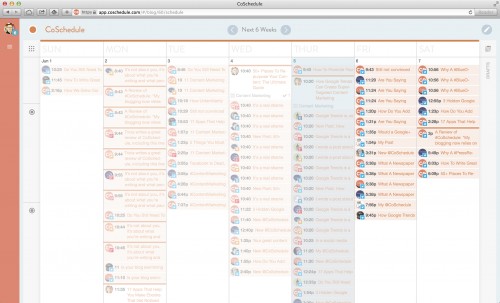 5.  Good Tech Support = Free from Frustration
I had one little glitch with my account so I emailed support.  I heard back in a very reasonable amount of time and they were so kind and helpful.  I was quite impressed.  Their support team wants you to have a terrific experience.
 6.  CoSchedule is Easy to Learn = Free from a Long Learning Curve
CoSchedule does a really nice job of getting you and up going very quickly.  The software makes sense and you can catch on easily.

7.  Analytics = Freedom to Improve 
If you're a blogger, you probably know the value of analytics in showing you what is working and what is not.  With CoSchedule's analytics, you can see what posts are getting shared across which social media outlets.  This kind of information is immensely helpful when you are trying to improve.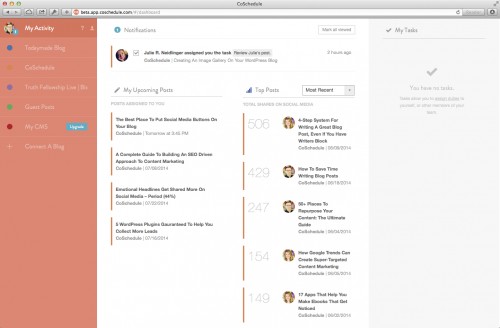 Now, you may be thinking that this all this freedom sounds great, but what is the cost?  CoSchedule is only $10/month.  With its ability to integrate with WordPress, Twitter, Facebook, LinkedIn, Buffer, Pinterest and even Google+ Pages, I think it is $10 well spent!
Interested in Learning More?  Click here to join me in blogging freedom!
 Can't see the video?  Go here.