Today, we are featuring a clown birthday party from Mariana O. in celebration of her son's first birthday party.  I think you'll love her attention to detail and creativity in presentation of her amazing-looking truffles.  And guess what, she is sharing one of her recipes with us!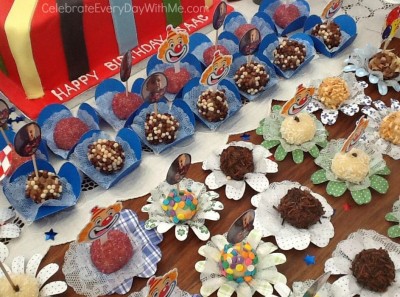 One of my favorite things about Mariana's party is the variety of truffles she served.  (They are called Brigadeiros in Brazil, where Mariana is from.)  All the different flavors and toppings look so yummy.  For presentation, Mariana bought a variety of flower shaped paper from a craft store and curled the ends.  She also added a little cellophane circle between the paper and the truffle.  Mariana scattered truffle toppers throughout the table, using photos of her son, Isaac and clown faces.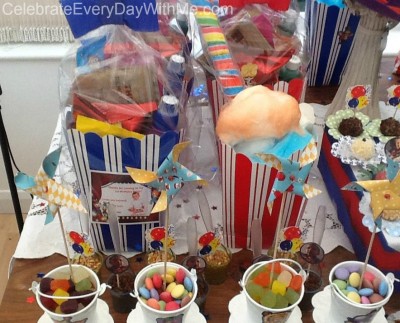 Mariana's Chocolate Brigadeiro (soft Brazilian Truffles)

1 Tsp Butter, plus more for greasing hands

1-14oz Can of Sweetened Condensed Milk

2 Tbs Cocoa Powder

Chocolate Sprinkles

In a medium saucepan over medium-low heat, melt the butter.  Add the condensed milk and cocoa powder.  Cook the mixture until it thickens enough to clearly see the bottom of the pan when stirring, about 15 minutes.  The consistency should be firm enough to stay together.  Pour it directly into a dish and let cool to room temperature, about 15 minutes.

With lightly greased hands, roll the brigadiero between your palms to form 1 1/2-inch balls.  Roll them in your favorite chocolate sprinkles and place them into small paper cups.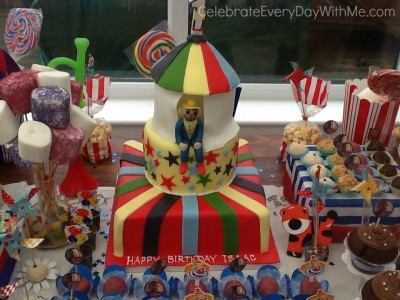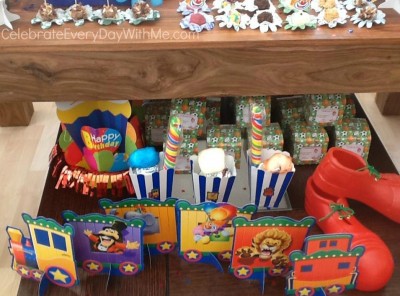 Would you like to serve Mariana's truffles at your next party?  She is in the midst of starting a child's birthday party business featuring favors and brigadeiros (the Brazilian truffles).  If you would like to contact her for more information, you can email her at mari_olivier AT hotmail DOT com.  She is based in Miami, but can ship across the U.S.
Thanks for sharing your party with us, Mariana!