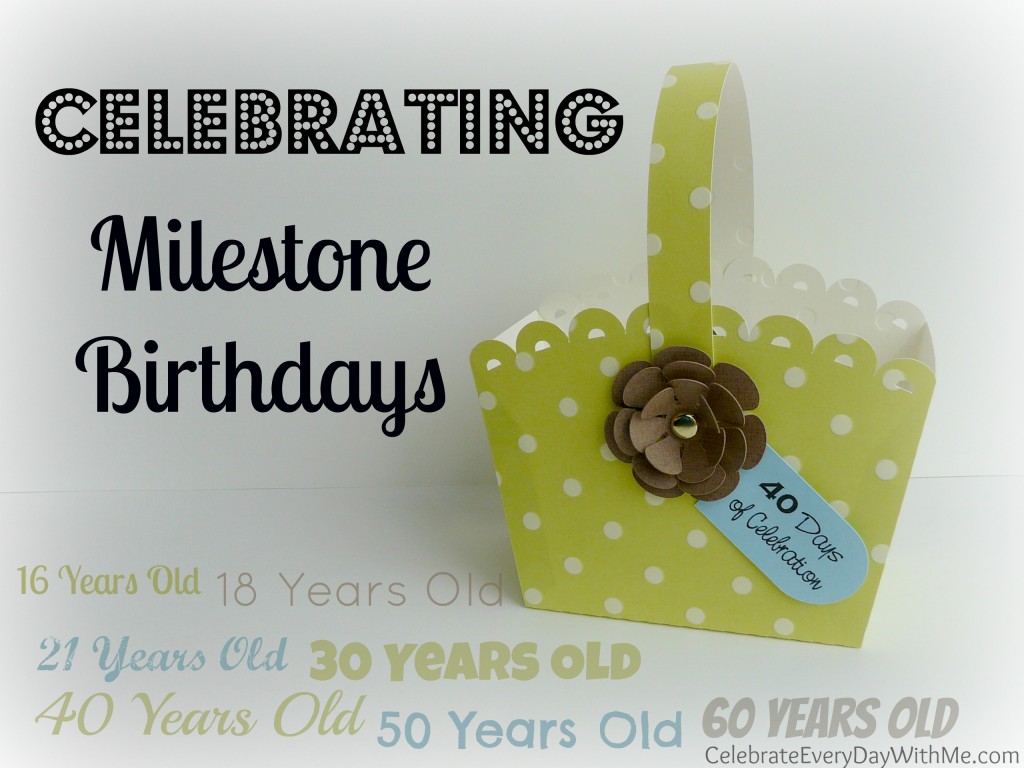 Do you have a milestone birthday to celebrate soon?  I think you'll LOVE this idea that Marcy put together for her sister-in-law, Lydia.  For Lydia's 40th birthday, Marcy emailed out family and friends and invited them to participate in 40 days of celebration.
Each person was assigned one of the 40 days prior to Lydia's birthday and they were to send a card, drop off a gift, whatever the person was inclined to do to help celebrate and show their love for Lydia.
Lydia was kind enough to give me a list of everything she received and I think you'll enjoy the variety!
Lydia's 40th Birthday:  40 Days of Celebration
Day 1 – Birthday poem and '40 sucks' suckers to start things off.
Day 2 – Text message from a cousin in Florida (which confused Lydia since it was still 39 days until her birthday)
Day 3 – Harry & David cocktail napkins with lime salt for margaritas.
Day 4 – A beautiful iron lantern with candle.
Day 5 – Home cooked meal with delicious dessert.
Day 6 – Funny card  and then on the day of her birthday,  moonshine bread arrived from the same Tennesse relative.
Day 7 – Homemade bagels, card with old photos and a story to go with it.
Day 8 – Fun gift bag full of movie candy and popcorn . . . also including movie theater gift card.
Day 9 – Help with yard work (on their new house), breakfast and Lydia's favorite cookies.
Day 10 – Pretty scarf and card.
Day 11 – A beautiful purple orchid.
Day 12 – Double gifts for this day:  40 rolls of toilet paper with 40 dollar bills taped to them, along with the funniest card.  Also, frozen coffee and homemade pretzel bread from another relative.
Day 13 – Delicious chocolates!
Day 14 – Adorable shitzu card from Lydia's dog's babysitter.
Day 15 – Gift card for PF Chang.
Day 16 – Tupperware water bottle filled with Godiva chocolates.
Day 17 – Herb garden, tomato plants, a pretty vase, purple sheets and a set of crab leg crackers (perfect timing for her crab leg birthday dinner).
Day 18 – Really good ground coffee and a pretty pink pocket book.
Day 19 – Card, cool plant and gift card to HomeGoods.
Day 20 – More delicious chocolates (you can never have enough)
Day 21 – Amish fry pie and lots of Beatles stuff including a post card that Dan (my Dan, her cousin) gave Lydia on her 21st birthday.  She gave it back to him at age 30 and now she will have to find a place to keep it until he is 50 (yikes!)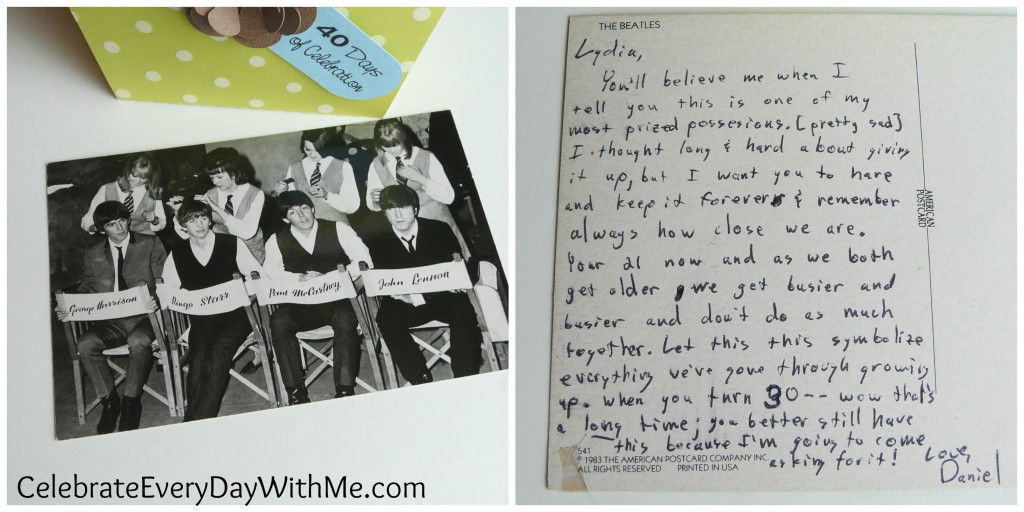 Day 22 – Flowers for her new flower beds from her mom and chalk messages on her drive from nieces and nephews.
Day 23 – Bag of goodies:  colorful napkins, dipping oil, favorite spices and serving dish.
Day 24 – Gerber Daisy plant and gift card to the Cheesecake Factory.
Day 25 – Wonderful smelling homemade bar of soap.
Day 26 – Olive Garden gift card.
Day 27 – White roses, chocolates, decadent chocolate cupcakes and a gift card to a local pizza shop.
Day 28 – Comfy Nike flip flops!
Day 29 – A trellis made by Lydia's father.
Day 30 – Lots of gifts from her grandmother, including tuna steaks.
Day 31 – Original piece of artwork.
Day 32 – Two pretty bracelets.
Day 33 – Cake pops (so good that Lydia even shared with her husband!)
Day 34 – Beautiful flowers sent to work from her brother . . . even said "Happy 30th!"
Day 35 – Another brother promised to come put in a faucet to water all her flower beds . . . Lydia is still waiting.  😉
Day 36 – Drink mix and a funny card, plus cookbooks!  *Party at Lake too.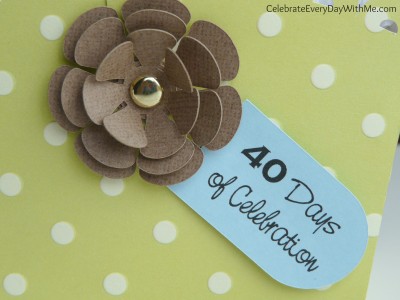 Day 37 – Pretty purple plant.
Day 38 – Homemade card by nieces and a bottle of wine
Day 39 – Marcy sent 40 balloons filled with dollar bills to work.
Day 40 – Sweet card from Lydia's husband, DQ Buster Bars specially ordered with chocolate ice cream . . . and the promise of a new puppy.
Well, isn't that just awesome?  What a fun way to show someone how much they are loved!
Do you have a great idea for a milestone birthday?  Share it with us!