Disclosure:  I participated in an Influencer Activation on behalf of Influence Central for Carson-Dellosa.  I received product samples and a promotional item to thank me for my participation.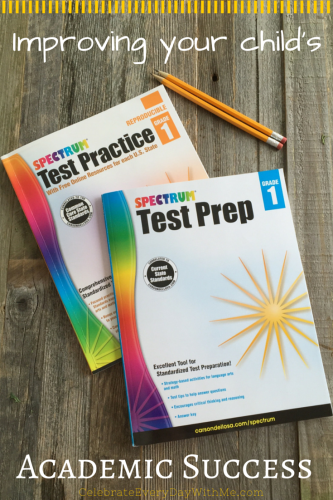 I am always looking for something to celebrate.  Parties, birthdays, special moments with your kids, family fun . . . and I realize that not many people (or virtually none) would consider the taking of tests as something to celebrate.   But that is what I am taking time to talk about today.  Because your child's academic success is definitely something worth celebrating.
As a parent, don't you find yourself wanting your kids to be good at things?  Beyond character, faith and integrity, as a mom, I want my kids to learn certain skills.  I would love if my son acquired my husband's awesome basketball skills.  But if my son wants to have a great jump shot, it will take practice.  If my daughter wants to play the piano well, that too will take practice.  And whether it is something I want for them, something they want for themselves or something that will help them succeed in life, doesn't every parent desire to help their child succeed?
So let's talk standardized tests.  Yes, those tests from school that track your kid's and their school's progress and scope of instruction.
Last year, my son took his first standardized test.  He did very well, however there were a couple areas where I was surprised he didn't do better knowing his comprehension of the subject.  It was his first standardized test, and I wondered had he been used to the length, the format and the style of the standardized test, if he would have scored higher in those couple areas.
Not all kids are good test-takers.  What if we could help our children become better test takers by preparing them with tools that teach them how to follow directions, to understand different test formats and budget their time wisely?  What if we could equip them with strategies for avoiding common test taking mistakes?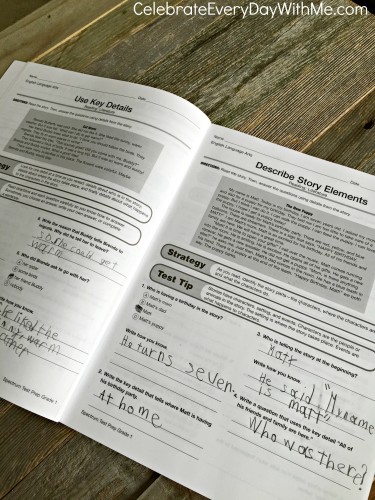 Are you interested?  Count me in.  I am my kids' advocate and cheerleader, and I want to help them in whatever way I can.  And for many children, practice would help them become better test-takers.
Over the last two weeks, I have been working with my son using Carson-Dellosa's Spectrum Test Practice and Spectrum Test Prep for first grade.  These grade-specific workbooks are designed to help students prepare for standardized tests and help them learn how to become a successful test taker.
The Carson-Dellosa Publishing Group was founded by teachers and has a 35-year history as the leading supplemental education provider for teachers, parents and students.  I have been quite pleased by the scope of material covered, especially the reading comprehension.  It is training my son to look for key details as he reads a story and recalls information to answer questions.
The Test Prep books feature practice aligned to Common Core Standards.  And no matter what you think of Common Core Standards, this is still what your children are being tested on.  Practicing and improving your child's test taking skills can alleviate anxiety, build confidence and equip them with strategies for taking standardized tests.
I was impressed with the variety of strategies and test tips shared in the Test Prep book as well.  Tips included telling the student to create a picture in his mind as he reads a story to trying to think of the mathematical answer before reading the choices.  One test tip in the language section was simply:  "Some words have more than one meaning.  You can use other words in the sentence to find the meaning."
In addition to test preparation, I think keeping these workbooks handy when heading to appointments, when I know the kids will be waiting for awhile, is a great idea and a good alternative to playing games on a cell phone.  😉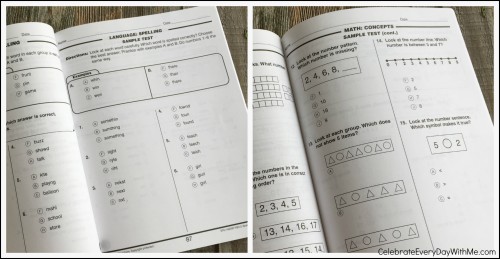 Learn More About Carson-Dellosa on their website, Facebook or Twitter.