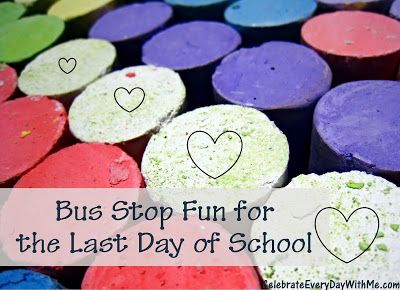 The last day of school is right around the corner.  This precious idea will have your kids stepping off the bus to a little chalk lovin'!  Last week, I shared Ali B's Breakfast Block Party idea for the last day of school.  Today, she is sharing another tradition that can be used for the first or last day of school.
Ali's kids (finishing 1st and 3rd grade) get picked up and dropped off at the end of their driveway.  From the garage door all the way to the street, Ali draws a path of chalk hearts to greet her girls when they get off the bus.  On the first day of school, she'll write, "Welcome Home 3rd Grader!" or on the last day of school, "Happy Summer!"
What a precious way to celebrate the last day of school!  Thanks for sharing, Ali!