You all know it is hard for me to resist a do-it-yourself or build-you-own style food bar.  I love them!  I love how they appeal to a variety of tastes and can be customized to each person's own opinion of greatness.  Maybe it just comes from having (or being) a picky eater, but I love when you can add your favorite toppings to whatever you're eating.
I created this baked potato bar for my kids' joint family birthday party.  The weather was perfect so I set up everything outside.  We had tables for 30 people on the driveway (which of course I forgot to take pre-party photos of!).  But here is the buffet, bonus kids' food station and drink area.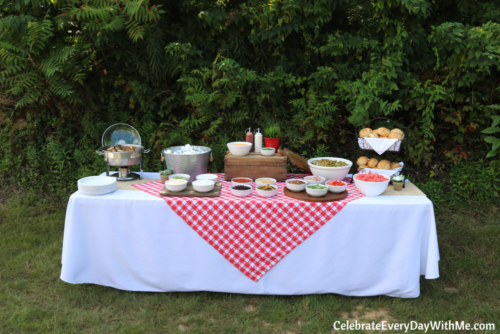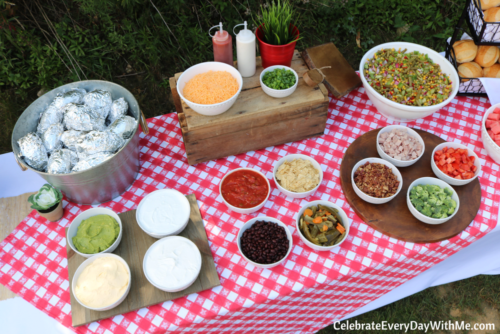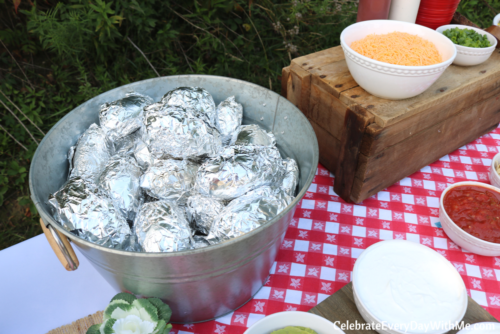 Baking the Potatoes:  After washing about 70 medium sized potatoes, we pricked them with a fork.  Then, my daughter and I rubbed them with olive oil and sprinkled with sea salt.  Once wrapped in aluminum foil, we baked them in crock pots (along with one roaster oven from my sister in law).  For the crock pots, we baked the potatoes for about 8 hours on low until tender.  (You can also bake on high for 4.5-5 hours.)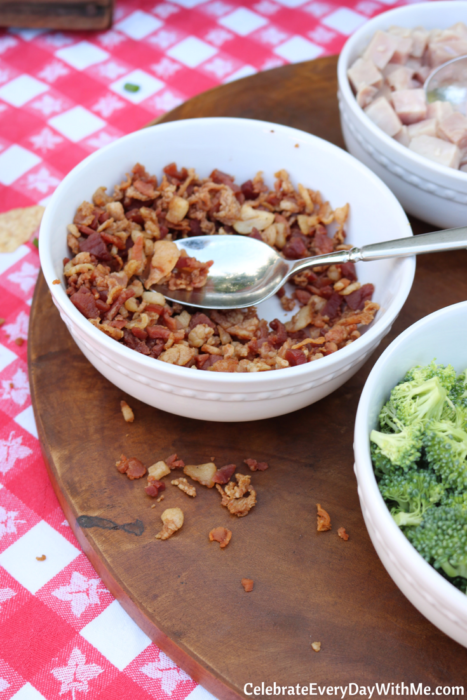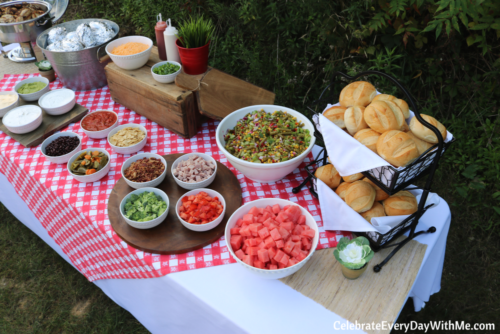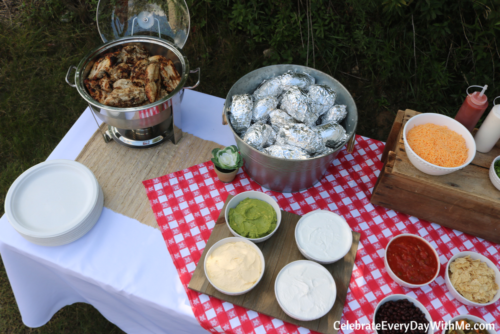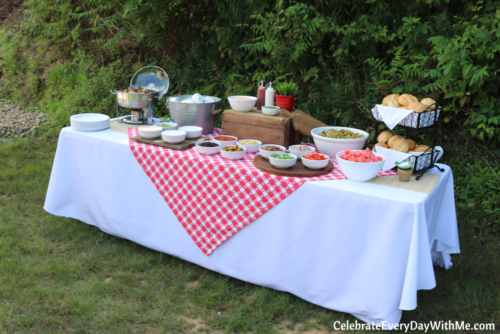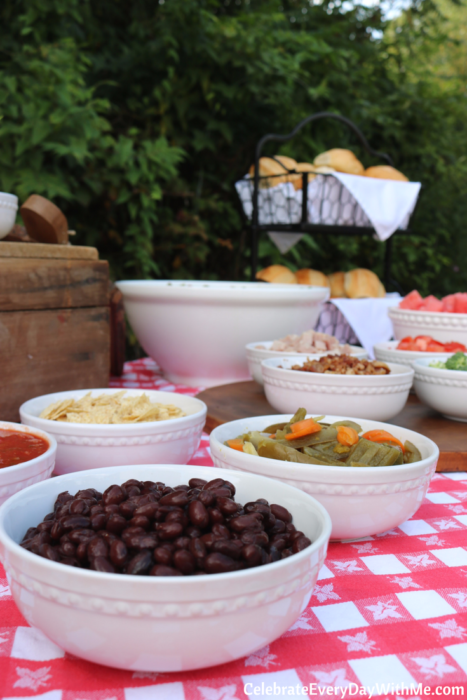 Baked Potato Bar Toppings:
Guacamole
Butter
Sour Cream
Greek Yogurt
Shredded Cheddar Cheese
Green Onions
Salsa
Black Beans
Lightly Crushed Tortilla Chips
Pickled Jalapenos and Carrots (most commented on!)
Bacon
Cubed Ham
Broccoli
Tomato
Ranch
Hot Sauce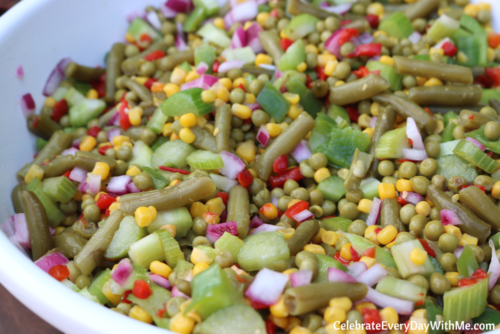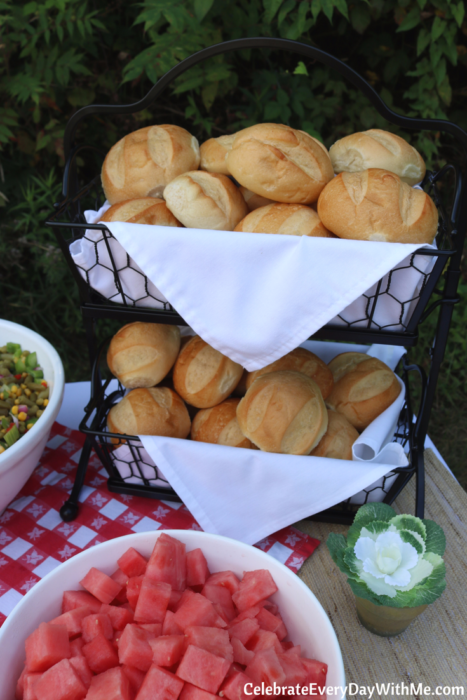 We rounded out our meal with grilled chicken, bean salad, watermelon and dinner rolls.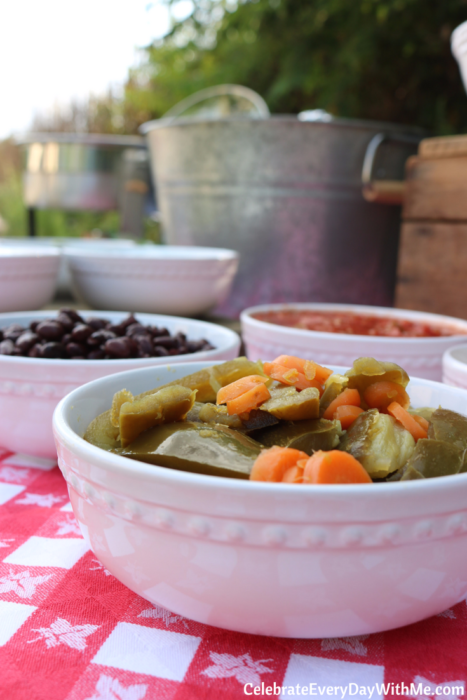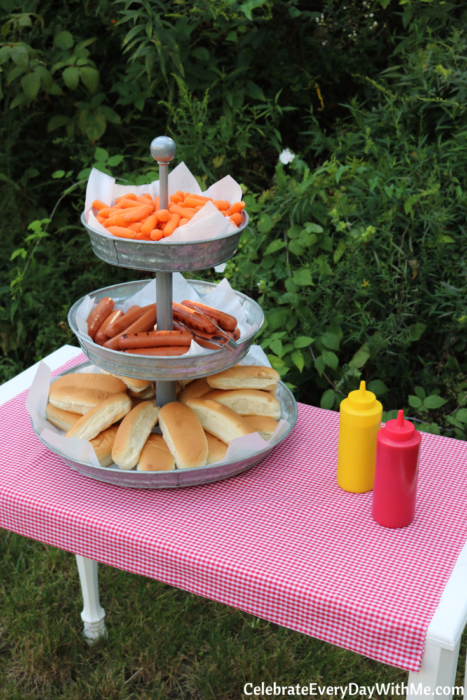 I also served hot dogs and baby carrots for the kids.  Just in case . . .
I used our Lemonade Stand for the beverage station, serving blue punch and assorted flavored waters.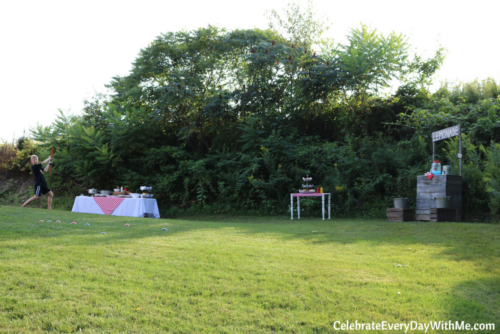 I love outdoor parties!  Don't miss my Jedi Knight ready to strike in the photo above.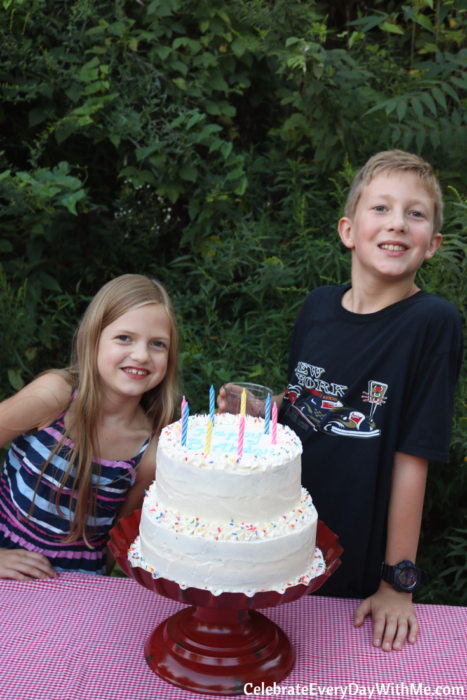 Happy Birthday, kiddos!
Have you tried a baked potato bar before?  What are your favorite toppings?