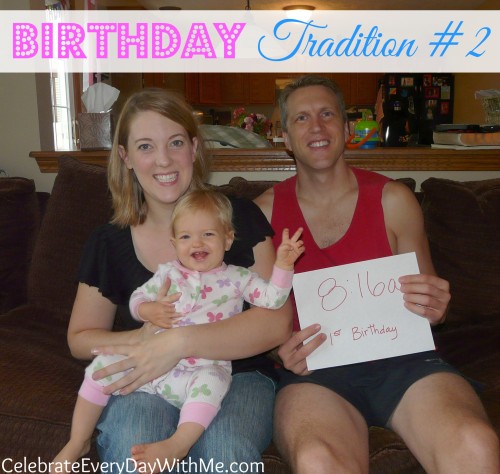 First, let me say that I am very glad that my children weren't born in the middle of the night!  Because our next birthday tradition is to take an annual photo at the time of our kids' birth.
As the mom, that time of birth was a special moment.  Hearing if it was a boy or girl, hearing the first cry, seeing that little body for the first time…how incredibly precious it was.  And I want to remember that moment, that time, every single year!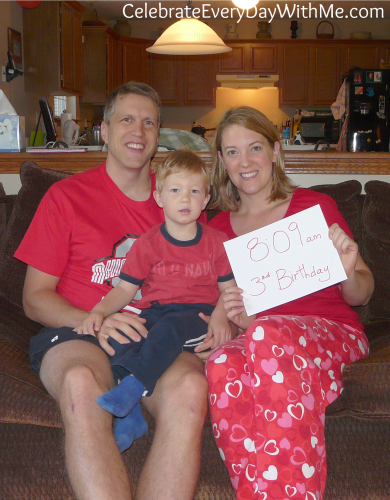 Now, a little preparation goes a long way here . . . A little preparation being the tripod set up and the sign made.  (Yes, I'll admit to writing a couple signs because I didn't like the way the first one looked!  And I have run around the house like a mad woman because the time sneaked up on me.)  It also helps to be familiar with the timer on your camera!
What if your kids aren't with you at that exact minute?  I may have to deal with this when Sweet Boy starts Middle School.  If possible, talk to them on the phone at the time or as close as possible!  One year, my mom and I each had someone take a picture of us talking on the phone to each other.  Silly, yes.  Memorable, yes!
I love how traditions create great memories!
Related Posts:
Birthday Tradition #1
Birthday Tradition #3
Birthday Tradition #4
Birthday Tradition #5
Deals & Freebies for Your Next Birthday Celebration
Birthday Party Planning & Cake Ideas