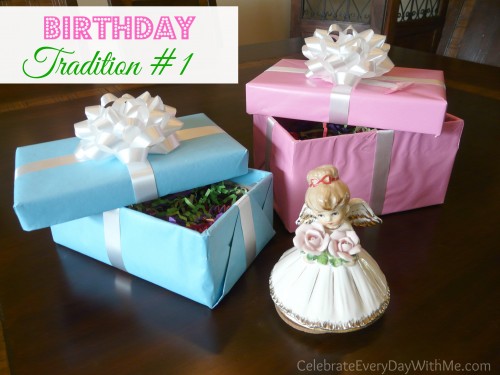 I love birthdays!  And as I mentioned last week, we are in "Birthday Mode" in my household.   So over the next couple weeks, I will be sharing some of my favorite birthday traditions.  If you have any you would like to share, please send them in!   I would love to hear how you make birthdays special!  Email: kristenATcelebrateeverydaywithme.com.
Birthday Tradition #1:  Waking up with the Birthday Box & Song
Each birthday upon waking, our children are greeted with a musical angel playing "Happy Birthday" and a little gift in their Birthday Box.
This particular musical angel is from my childhood.  I remember the anticipation as I would hear the music coming down the hall and eventually into my bedroom.  It's a fun way to wake up!
The Birthday Box is the first gift the kids open.
It is made so that it can be used over and over again every year.
Sweet Boy and Sweet Girl each have their own box.
A word of advice to parents of small children:  don't leave the box sitting out too long … your child WILL tear into it!  

Incidentally, age is not an issue.  I was greeted with these items each birthday until I moved out as an adult!

If you're looking for your own Happy Birthday Music Box, I found these adorable musical cupcakes on Amazon!  If I didn't have my family heirloom angel, this is what I'd pick out! ($19.95 each)