As you may know by now, I am a saver.  I save everything related to memories.  I have fun things, weird things, big things, small things.  To my husband's dismay, everything runs past my "but maybe I will want to look at it someday or show the kids."
So today's post is all about saving the precious memories of your baby in a neat and contained way.  (Ok, I saved more than what is in the memory box, but contrary to what my husband tells people, I did not save the first messy diaper!)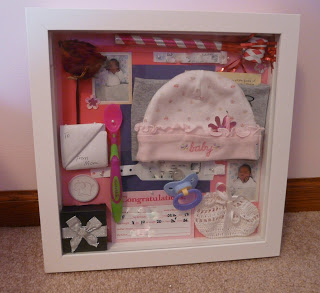 Here is the combined list of what I included in these Memory Boxes:
One of the Roses Dan gave me when getting home from the hospital.
Mommy & Baby's Hospital Bracelets
Baby's Hospital Photos
A Chocolate Cigar Dan handed out at work
Baby's First Spoon
Ribbon from a Candy Bouquet sent to our home
A Pacifier
Baby's Hat
Noise Maker from 1st Birthday
Diaper Dash Contest T-Shirt
Baby's Hand Print on Clay
Winnie the Pooh/Elephants/Flower Cut Outs from Shower Gifts
The Note Dan gave me when getting home from the hospital.
The Candle/Monkey from the 1st Birthday Cake
Baby's First Shoe/Bootie
The Hospital "Congratulations" Card that hung on the Bassinet
My Two Favorite Things in the Box:
A Note I wrote to each baby while in the hospital or just home.
A Gift from Mommy & Daddy to be opened on their 16th Birthday. (I can't post what it is, but if you email me, I will let you know what I chose:  kristen(at)CelebrateEveryDayWithMe(dot)com)
Things I Still Want to Add:
Silver Dollar from Birth Year
Dan's Letter to Baby (Written, but needs to be recopied.)
When shopping for a Shadow Box, be sure to consider the size, especially depth.  Mine is 13.25″x13.25″x2″ (including lid in dimensions) and I still had to cut into the back foam to fit the gift in.  I picked mine up at a discount store, but Amazon
carries an assortment of shadow boxes
.
(This post contains an affiliate link.  Please see the About Page for more information.)