For the last year, my mother has been talking about this yummy popcorn cake that a friend of hers made.  And for the last year, I have been wanting to give it a try.  Finally, I made it for our Memorial Day picnic and it was a hit!
What I loved:  the taste, of course (you'll want more!), how easy it was (unless you didn't buy enough marshmallows and have to pack up the kids and run out to the store at 7pm at night just to buy another bag, a'hem), and the kids can jump right in to help!  Here is the recipe.
Popcorn Cake
8 quarts popped, salted, butter flavored popcorn
1 pound small spice gum drops
½ pound salted Spanish peanuts
1 pound small marshmallows
½ cup Crisco oil
¼ pound butter
1.  Mix popcorn, gumdrops, and nuts in large container (My mom's friend uses a roaster but I don't own one.  So I found my largest Tupperware container.  It's huge, right?)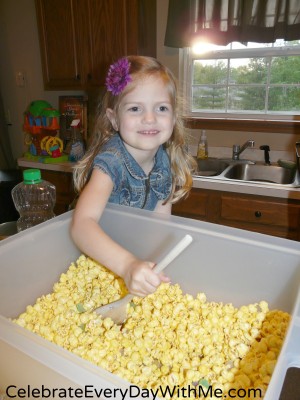 2.  Melt butter, oil, marshmallows in pan, stirring over low heat just until marshmallows melt.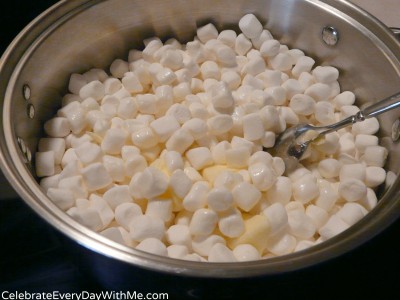 3.  Pour over popcorn mix.  Blend Well.  It is very hot, be careful!
4.  Pack lightly into molds (bread pans, bundt pan, angel food cake pan, etc.).  You'll need to work fast before the marshmallows set up.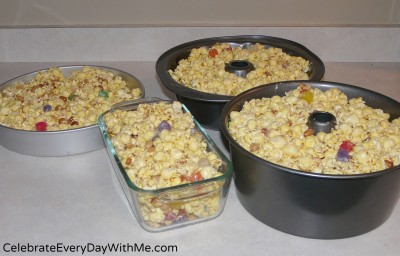 One batch of this recipe made all this popcorn cake!  I used a bundt pan, angel food pan, bread pan and an 8″ cake pan.
5.  Let cakes cool and then cut into slices to serve.  The popcorn cakes will keep fresh for a month or more if wrapped tightly.
 Enjoy!  What are some different kinds of "cakes" you've made?  
Linked up with:  Cheerios & Lattes, Tutus & Tea Parties