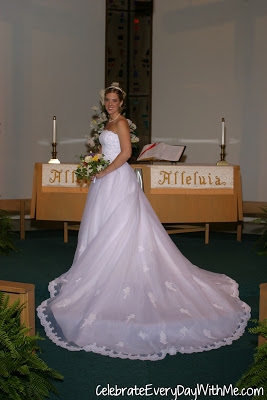 When I was a little girl, I saved my coins in one of those giant Coca-Cola bottles.  Did you have one?  I threw all my extra coins and sometimes even dollar bills in it too.  Over time, I decided (in a very early-teen kind of way) that I would use the money saved to buy one of two things:  my wedding dress or a dog.  Opposite ends of the spectrum, I know.  But a girl's gotta have a dream.
So over the years, the big bottle grew heavier and heavier.  I kept up with rolling and even came up with a clever little way of not having to dump the entire thing when I wanted to know how much I'd saved or roll up the coins.  I rigged a large bag under the lid so that when I threw coins in, they sat in the bag instead of falling all the way to the bottom where everything was neatly rolled.  Yep, clever.  (Why can't I still be as clever now that I have kids??)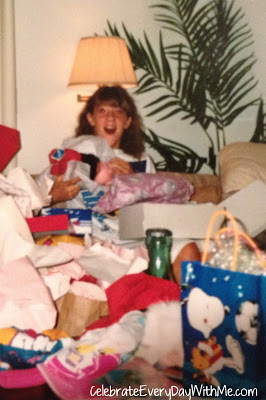 My 12th Birthday – Can you find the Coke Bank in the picture?
Then came 2002 when I met Dan.  We were set up on a blind date by his cousin and my mom.  After my mother found out from the cousin that he was a Christian too, she casually mentioned to me about going out on a blind date.  To say that I was excited about this would be far from the truth.  I didn't want to be set up.  But after a couple hours, a softened heart replied that it would be ok.
He called and asked me out for coffee (of which neither of us drink).  And about two years later, he proposed . . . another cool story for another time.  So the wedding planning began.  We decided our engagement would be 6 months and this was my pre-wedding planner days, so I was learning as I went.
For those of you who know wedding budgets, you know how much they can vary.  I had a tight budget.  It was definitely a decent amount of money, but by no means luxurious.  However, when you are inviting about 400 people, that money has to stretch!  Before I lose you to the insanity of 400 people, you should keep in mind that my husband's local family is over 100 people.  We invited the family kids because we really wanted the fun, family atmosphere.You should also know that my husband is one of those people who makes friends everywhere we go.  (Seriously, the joke is that he can walk into a gas station . . . although who does that nowadays . . . and come out knowing the name of the clerk and a good portion of the man's life story.)  It is one of those things that I find endearing about him, except when I'm trying to leave somewhere and he is "in conversation mode."
But back to the Coke Bank.  So obviously, I would be needing a wedding dress before needing a dog.  I added up my total of coins and I came up with $402.  Not bad . . . unless you're trying to buy a wedding dress instead of a dog.  I went to many bridal stores.  I tried on a lot of dresses.  But found nothing in my price range, especially when you consider that you have to buy a veil and slip too.  I shopped the sales, the discount racks . . . but nothing.
I kept praying about it, believing that God would help me find the right dress for the right price.  And that was when I heard about the Making Memories Bridal Gown Sale through Brides Against Breast Cancer.  They have gown sales all over the country and proceeds go to help programs supporting cancer patients and their families.  Gowns are donated by retailers, designers, manufacturers and brides.

It was there that I found my wedding dress.  The gown was beautiful!  Strapless, detailed bodice, poofy skirt and a perfect-length train.  And guess what?  My total for the wedding dress, slip and veil was $397.  Only God could have worked that out so perfectly!
Taking my coins to the bank!
God gave us so much favor though other people"s kindness while we were planning the wedding.  When I think back to the way He provided, I stand in awe.  But even greater than the provision of my dress, was the man that God gave me.  Someone I waited a long time for . . . who had a heart for Him, was kind and full of integrity.  Someone who makes me laugh still to this day. And next month, we will have been married for eight years.  God is good!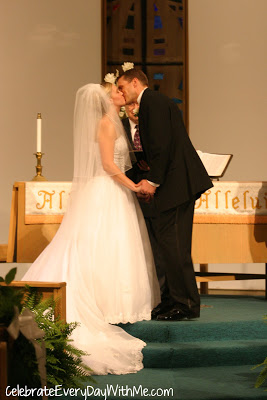 Want to see my favorite picture from the wedding?  This is it!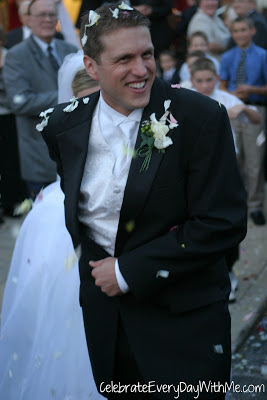 How has God provided for you?  Leave a comment and share a story.