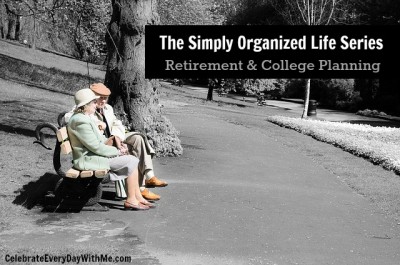 I know this isn't the most exciting of topics to talk about.  Even now as I write this, I am tempted to hit snooze.  But that is not going to help us on our way to a Simply Organized Life.  No, if there is anything we've learned, a well-ordered life doesn't happen while we passively sit by.  
And at the end of this year, I'm looking forward to celebrating a Simply Organized Life for the things that I can control.
So let's pry our eye lids open and roll up our sleeves.  I promise to be short, sweet and share some great resources.
Retirement Planning:  
Question #1:  Have you thought about your retirement and what it will take to retire?
Question #2:  Are you contributing to your retirement (other than Social Security, which by the way I'm not counting on!)?
Question #3:  Have you set up regular contributions?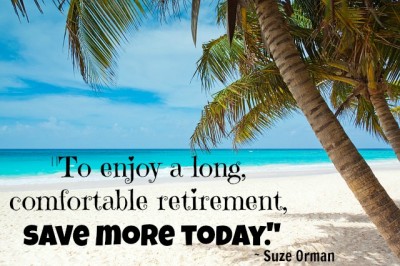 Here is what Dave Ramsey has to say about retirement planning:  Invest 15% of your household income into Roth IRAs and pre-tax retirement plans.  While we have automatic contributions, my family is not where we need to be.  So, I am continuing to make this 15% investment a goal.
And since good organization doesn't involve re-inventing the wheel, check out Dave's great article on the truth about retirement or launch his retirement calculator.
College Planning:
Have you had the opportunity to start saving for your children's college education?  Always use tax-favored plans and ones that leave you in control.  This is definitely another area we need to grow in!  Read Dave's Do's & Don'ts here.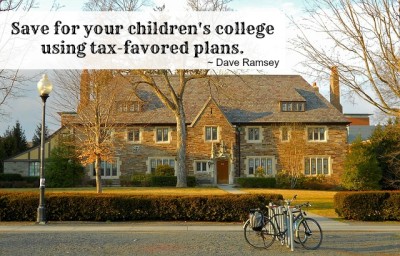 Curious which comes first:  Contributing to retirement or kids' college?  Yes, another article!  Read this to find out why Dave says Retirement is the first necessity.
I cannot more highly recommend Dave's Financial Peace University to you.  It was instrumental in getting our finances not only working for us, but bringing us peace instead of stress.  But if you can't do the class right now, check out Dave's Complete Guide to Money: The Handbook of Financial Peace University
 (affiliate link).
This post is a part of Path to a Simply Organized Life: A 12 month journey.  To start at the beginning, go here.