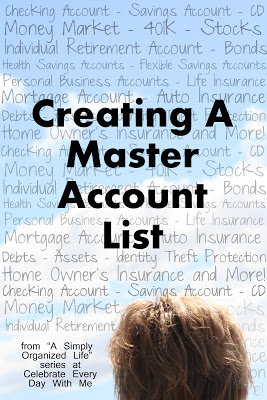 As I get older (let the jokes fly) and as life changes happen, I am noticing that we no longer have the simplicity of just a couple accounts.  Before I was married, I had one bank account, one 401k and one easy to manage health insurance plan.  Suddenly I blinked and now we have multiple banks, multiple retirement accounts thanks to job changes, multiple assets and multiple everything.
My husband's company was bought last summer which means I have an HSA from last year and an FSA for this year.  Add to it the new IRA account which only means my brain is starting to feel a bit fuzzy.
So for our 12 month Path to a Simply Organized Life, our starting task is to create a . . . Master Account List (did you hear the heavenly booming voice like the one from the cheesy commercials?)
This Master Account List will contain helpful information for each account you hold all in one place.  It should include:  the name, type, account number, company and contact number.  You may also want to include the date and approximate value.  If you have an online account, be sure to include your username and password.  (Many suggest you don't store this kind of information on your computer.  Go with pen and paper to be safest.)
What to include:
Bank Accounts (Checking, Savings, Money Markets, CD's, etc.)
Retirement Accounts
Stocks & Bonds
Personal Business Accounts (this could be very encompassing)
Health Insurance Policy
Health Savings Accounts or Flexible Savings Accounts
Life Insurance Policies
Auto Insurance
Home Owner's Insurance
Identity Theft Protection
List of any Debt (Mortgage, Auto or other)
Large Assets You May Have
Want to use my form?  Download and print it for free here.
The final part of your assignment is to copy this form and put in three places.  1.  A safe place in your home.  2.  With your will (if you don't have one, you will after next month) 3.  With the executor of your will (to be placed in their copy of your will).  I will tell you why I suggest this next month.
This post is a part of the The Path to a Simply Organized Life.  To see the entire plan, go here.