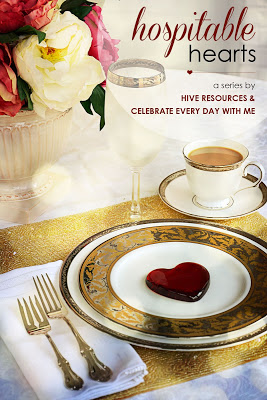 Do you like entertaining?  Maybe you already consider yourself a hospitable person.  Or maybe the thought of opening your doors to welcome guests over for dinner simply overwhelms you.
I am excited (ok, I'm super excited) to be partnering with Melissa Deming of Hive Resources next week for a great series on hospitality.  We'll be covering things like how hospitality relates to our faith and practical tips to becoming a fabulous hostess.
Plus, we have a special guest post from women's author Mary DeMuth on her new cookbook, The Irresistible Table.  Doesn't this sound exciting?  

Here is what we'll be serving up next week:
You won't want to miss a day of this series.  So be sure to connect with Melissa on Facebook and Twitter before Monday.
Melissa has a sweet heart for the Lord and for others.  She is a seminary graduate and has a degree in Journalism (this girl can write!).  Most recently, she and her family have been helping to start a new church plant in Pittsburgh, PA.
Hope you'll stop on over for a visit each day and enjoy a look at having hospitable hearts.