Take a look at this fantastic John Deere Birthday Party submitted by Lynnette H. for her four year old son, Jacob.
The party was held at a friend's Maple Sugar House, perfect for sporting the outdoorsy theme.  The menu included all-American offerings of:  Fried Chicken, Potato Salad, Pasta Salad, Baked Beans, Watermelon, a Vegetable Tray and Chips.
The tables and boxes are covered in a John Deere green plastic table covering.  Notice the visual interest created by using different levels on your buffet table!  (To read my post on Setting Your Buffet Table Like a Pro, click here.)
Lynnette economized by making all the decorations herself.  Instead of purchasing the pre-made John Deere party pack, she went with green basic items and accessorized with accent colors and her own printed party stationery. She pulled from her son's toys and tractors, her own John Deere Longaberger baskets.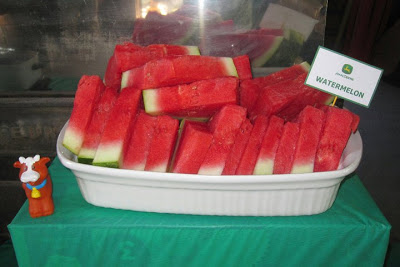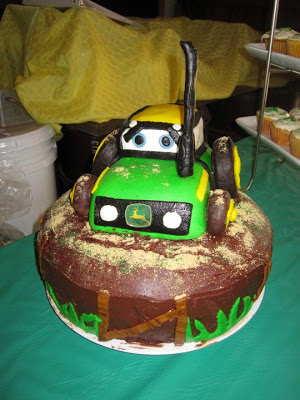 This chocolate cake was made by a local home bakery.  The tractor is covered in marshmellow fondant and chocolate covered donuts made the wheels.
Fun & Games:  The kids enjoyed a Tractor Pinata, Pin the Tire on the Tractor (hand-made by Lynnette) and of course, Tractor Rides.  They also filled up a Puddle Pool which was a huge hit with the kids.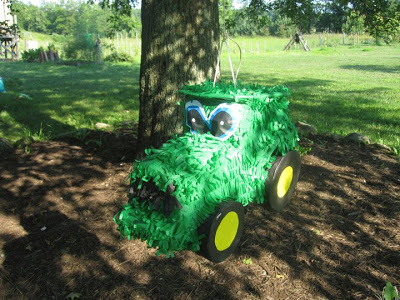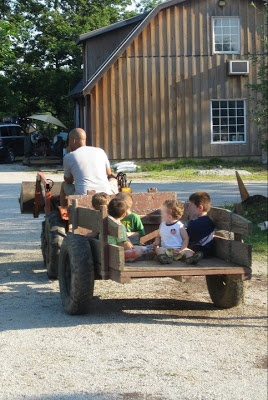 Yep, nothing runs like a deere.  Great party, Lynnette!
Do you have a party you would like to share?  Submit your party to kristen (at) CelebrateEveryDayWithMe (dot) com.