Have you ever spent 10 weeks with a group of ladies, delving into the Word, sharing deeply and growing together?  I spent about 10 years with the same lovely group of women doing one Bible Study after the next and loving it.  There is something special about studying the Bible in depth while experiencing the fellowship of other ladies hungry for the things of God.
My mom recently wrapped up Beth Moore's Bible study, "David: Seeking a Heart Like His."  (This is the updated version of Beth's study, "A Heart Like His.")  My mom loves entertaining as much as I do and had the thought of hosting an Afternoon Tea with her group for the final session and I had the pleasure of helping…(planning, crafting and serving.)
And yes, I actually served the tea for her.  I was, however, a bit surprised when she rang a bell to beckon me to the table.
Welcome to my life.  😉
Creating "A Heart Like His" Tea Party
This Bible study is on the life of David.  (Incidentally, if you haven't done a Beth Moore Bible study before, they are wonderful!  Go now and get one.)
For A Heart Like His tea party, we wanted to pull elements from David's life.  If you ever do a party based on a character (Bible or otherwise), know the story.  Know your character's life, his challenges, his friends and his passion.  Details woven through the party are like little gifts presented for your guests to open.  We wanted to create a party rich with details of David's life and ultimately pointing to his heart for God.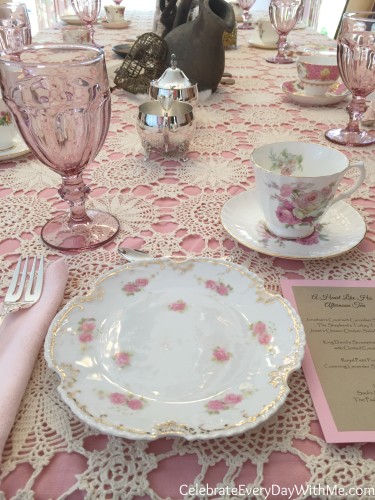 First, I chose a key image that would be carried through all the stationery of the party.  The crown.  David was a king.  This image appeared on the invitations, the menu card and the favors.
The Invitations –
With my Silhouette Cameo (This post contains affiliate links), I made these invitations and wrapped them with ribbon and wool yarn.  Invitations can set the mood for your party.  With this invitation, our guests knew to expect something a bit more formal than sandwiches for a picnic.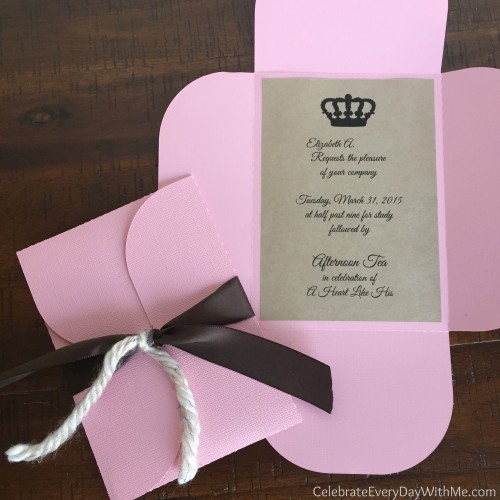 The Centerpiece –
I was most excited to set a tablescape that would bring to mind memorable aspects of David's life.  Here is what I included:
A Scroll with "A Heart Like His" and the Crown Image – I made this with a small dowel and cap ends from the craft store.  I wanted to pull in the reminder of ancient times, scrolls and royalty…as well as formally presenting the theme.
Wool Roving – David was a shepherd.
A Wired Heart and Unfinished Wood Hearts that I stained – David was known as a man after God's own heart.
"HEART" letters that I picked up from a craft store and wound with wool yarn.
A golden box with fancy jewelry – reminding us that David was a king.
A shofar – a ram's horn that would have been used in David's day to call others for worship, battle and more.  David was a worshiper and a warrior.
5 Smooth Stones – David fought Goliath with his slingshot and five stones.  
Incidentally, we also played harp music during the tea because David was a harpist.
The Menu –
Our menu included:
Jonathan's Covenant Cucumber Sandwiches
The Shepherd's Turkey Triangles
Jesse's Chosen Chicken Salad Sandwiches
King David's Scrumptious Scones
with Clotted Cream & Jam
Royal Petit Four Hearts
Crowning Lavender Shortbread Cookies
Tea
Saul's Spiced Apricot
The Psalmist's Peach Melba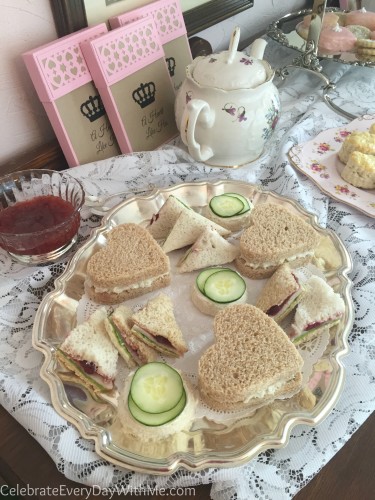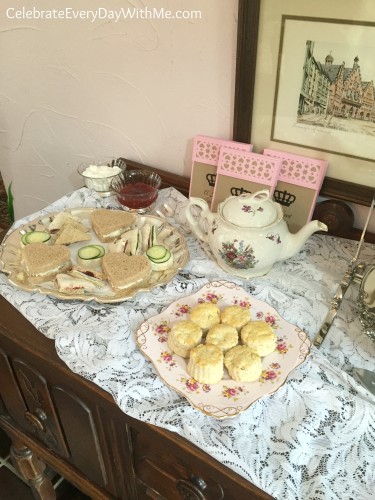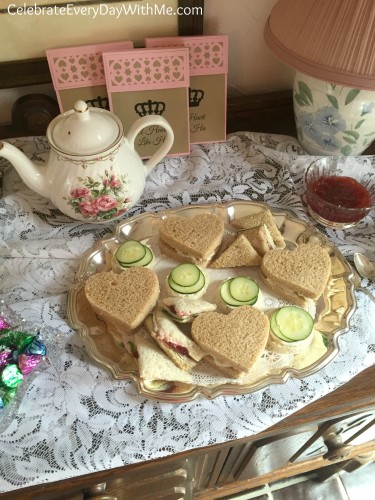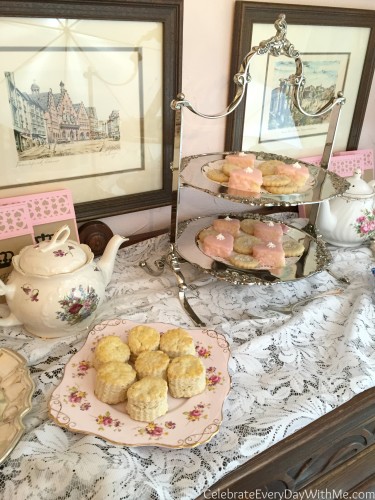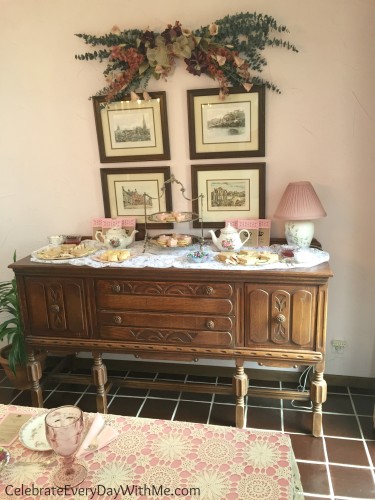 The Favors –
My mom's guests took home a sweet box to remind them of their study and the tea.  Inside was a laminated copy of Psalm 51  (They spent a lot of time on this psalm during one of the video sessions.  My mom wanted them to have a laminated copy.) and a "tea bag" with Bible verses on each side and an individual bag of Honey Vanilla Chamomile tea.  (The Bible mentions David eating honey.)
The verses were:
"Taste and see that the Lord is good."  Psalm 34:8 and "Your Words are sweeter than honey."  Psalm 119:103 (paraphrase)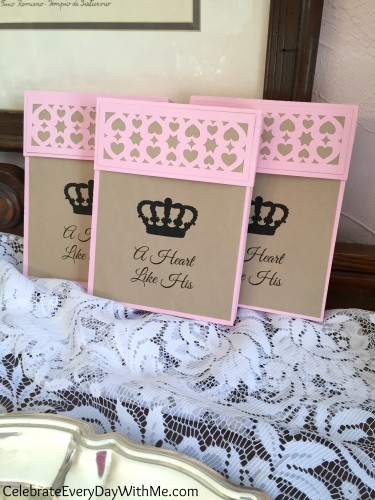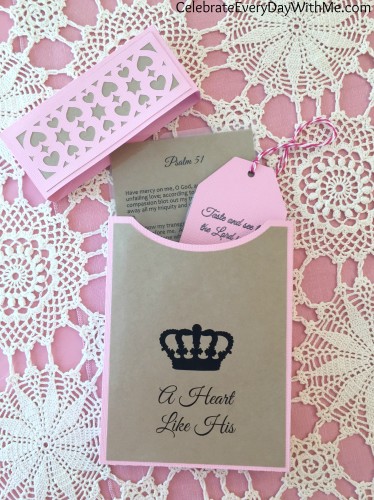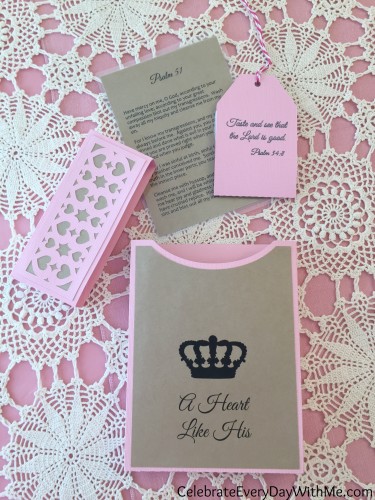 It was a beautiful afternoon.  The ladies enjoyed the Afternoon Tea and it was the perfect celebration to the end of a great study.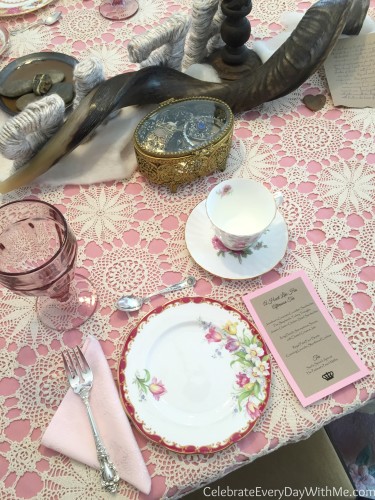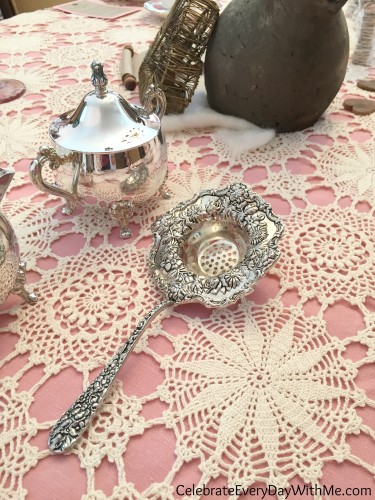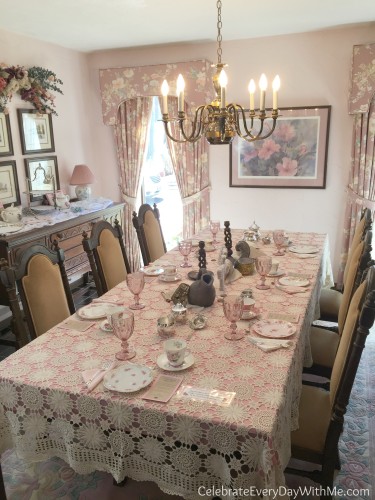 Are you in a Bible Study at the moment?  How can you celebrate the conclusion of the study?