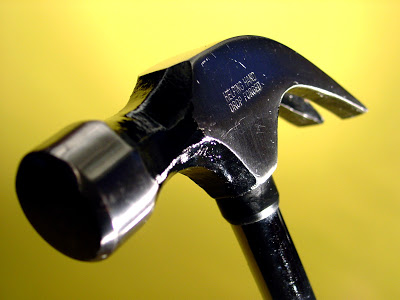 First, let me tell you that if you asked my husband how handy he is around the house, he'd probably hesitate, tilt his head a bit and tell you, "not so much."  I think he doesn't give himself quite enough credit.  But knowing this, will help you understand the story you're about to read.
A few years ago (whoa, four actually!) in our mail box, arrived a handy man-type magazine offer.  The comical part was that it included mailing labels for Handy Man Dan (our last name.)  We enjoyed a good laugh over it, knowing it was a slight reach to call my husband a Handy Man.
But a couple weeks passed and it was easily forgotten until one chilly December day.  Our first born was only a few month old and Dan had been down in the basement to change the filter on the furnace.  Late into that night, I woke up with such a chill.  Something wasn't right.  The air was simply too cold and I had a new baby in the house.
I nudged Dan awake (no easy feat) and asked him to go check the furnace.  He was gone for quite awhile!  But in the course of time, I heard the heat come one and in a few short minutes, Dan was coming up the stairs.  When he appeared in our room, I jumped to my feet, threw my arms in the air and proclaimed, "You're a Handy Man!"
He silently got into bed and uttered, "You don't want to know how I fixed it."  He continued, albeit shamefully, to tell me that when he put the filter in earlier, he hadn't put the furnace door back on.  And apparently, there was a trip switch.  The furnace wouldn't run without the door on.

Well, that story is forever ingrained in my mind.  But just recently, Dan performed some excellent handy man task and when he returned into the room, once again I declared, "You're a Handy Man!"  To which his soft response was, "No, I'm a praying man."
Hmmm.  Simply and easily said.  You see, when something minor goes wrong or I've lost something, my first reaction isn't always to take it to the Lord.  But that is my husband's first response.  And I am often and beautifully amazed how quickly and surely, the Lord answers his request.  God is so good!  I really think He delights in answering my husband's prayers, just as He does with yours or mine.  My need is to be more aware of His awesome presence and interest in my little life . . . and simply ask.
"So I say to you:  Ask and it will be given to you; seek and you will find; knock and the door will be opened to you."  ~ Jesus in Luke 11:9