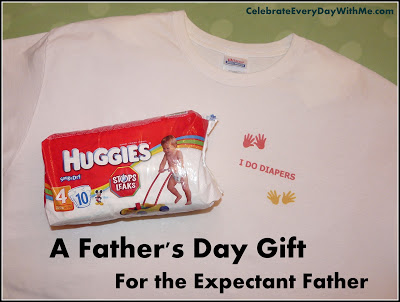 Father's Day is just around the corner.  Next week, I'll be sharing this year's theme and gift idea for Dan.  (Last year was the "Following In Your Footsteps" t-shirt.)  The kids and I are having fun getting everything ready. . . I only hope a 2 & 4 year old can actually keep the secret.  So far, so good.
But maybe you have an expectant dad in your life and would like to give a little surprise gift for Father's Day.  This is what I wrapped up for Dan when he was thrown a surprise baby shower at work for our first child.
I picked up a pack of diapers and made this customized "I Do Diapers" t-shirt on Vistaprint.  (They had the hand prints, I just added the text.)  It was a hit when he opened it up in front of the crowd.  His reaction was perfect since he wasn't expecting a gift from me.  Well, he wasn't even expecting the baby shower!
And better yet, the expectation was laid.  Daddy would do diapers . . . and he did!  (And for this, I am very thankful.)  So have some fun with your Daddy-to-be on this Father's Day!  Celebrate his upcoming role as Dad.