Here is the final installment of our Dr. Seuss Party!  We'll finish the series by talking about the activities and games we played with my son's preschool class.  What fun we had!
When choosing activities, I kept a couple things in mind:  It was important to me to have something the kids could start when they arrived while waiting for the other guests.  I also wanted to alternate active and passive activities as much as possible.  Here are the activities:
One Fish Two Fish – Sorting by Color


Each child was given a cup of Goldfish Color Crackers and four fish bowls.  They had to put the colored crackers in the corresponding fish bowl.  And of course, they were welcome to eat the crackers when they were done.  I created these laminated fish bowls to use.  You can download and print my "simplistic" drawings here.
A Cat in the Hat's Hat
This was one of those activities that "had to be done" (ha!) to be an authentic Dr. Seuss party, however, it required extra help from the moms.  For each child, I prepared 6 strips of red felt, 2 pieces of cardstock, and a band of poster board.  Glue and a couple staplers were also needed.  The moms measured their child's head with the poster board and stapled it at the right size.  Kids glued the felt on the two white sheets of cardstock and then moms stapled the two pages to each other at the top and to the band at the bottom.  The kids looked adorable in their hats! *Great group photo!!
Cat in the Hat, I Can Do That! Card Game


I loved this game!  The point is to draw a blue, red and yellow card which when put together gives a task to complete.  For example, (1) to hop (2) to the front door (3) with the "fish" under your arm.  I did tweak it to suit a group of 3 and 4 year olds by simply having the children take turns drawing a card and placing them on the paper in the right spot.  Then instead of having just one person complete the task, everyone did it!  (Hence, the extra homemade foam fish bowls.)  They kids had a lot of fun completing their silly tasks and let me tell you that the crab walk was a riot!
A Reading of a Favorite Dr. Seuss Book
After the silly game, we took a break for Thing One and Thing Two Cupcakes and Pink Ink Lemonade.  (Go here to see the post on our Dr. Seuss food.)  But what would a Dr. Seuss party be without a reading of one of his books?  I asked the kids what their favorite book was and then told them that Mr. Brown Can Moo! Can You? was my favorite.  So we enjoyed reading it and making ALL the sounds!  
A Little Intermission Music & Dancing
While not Dr. Seuss-oriented, we had a blast getting our wiggles out by dancing to
Shake Your Body Down
 by Laurie Berkner.  You can buy the
Amazon MP3
 or listen for free on
Spotify
(which is what we did).
A Green Eggs & Ham Movie
And last, but not least, we watched a short movie of Green Eggs & Ham on YouTube.  It is not very long and quite cute.  It was a great way to end the party.  The room was filled with kids' laughter and the kitchen, with fun mom-conversation.
Having trouble seeing the video?  
Go here
.
The Favors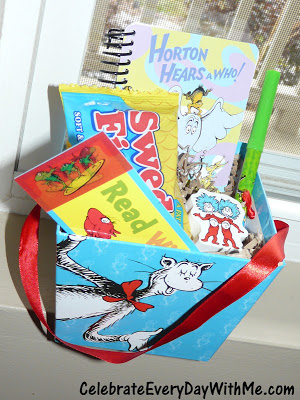 And this takes us back to where it all started.  It was last August that I was in Target's Dollar aisle and discovered all the fun Dr. Seuss items.    Right then and there, I knew I had to have a Dr. Seuss party.  And that is what I did . . . eventually!
Related Posts:  
Dr. Seuss Party Decorations
Dr. Seuss Party Food
Send a Dr. Seuss Party Invitation (It Rhymes!)
The Wrapping Paper Secret to Party Decor
(This post contains affiliate links.  Please see the Disclosure Policy on the About page for more information.)