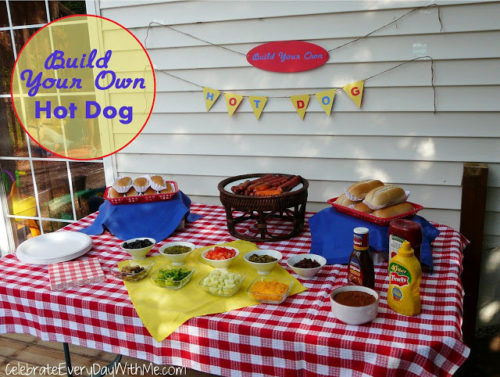 Happy National Hot Dog Day!  
When I was looking on the calendar for fun and silly holidays to observe this month, I saw it.  National Hot Dog Day.  Knowing how much Sweet Boy loves hot dogs, I knew this would be one day we'd most definitely be celebrating.  And it just so happened that our great friends would be in town for the weekend.  Yep, I was smelling grilled gourmet hot dogs with all the fixin's!

We served "gourmet" hot dogs from a local butcher for the adults and Oscar Meyer dogs for the kids.  The sides were:  chili, cheddar cheese, bacon, tomato, onion, green pepper, cucumber, jalapenos, relish and olives with condiments of ketchup, mustard and barbecue sauce.
The banner was quickly made with my
Silhouette Cameo
.  I wanted to keep with red and yellow (the colors of ketchup and mustard!) and use blue as an accent.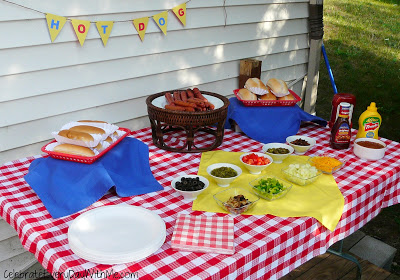 Boxes covered with a linen napkin raised the buns and one of my favorite stands set up the hot dogs.  Incorporating different levels on your buffet table is appealing the eye.  (Read
Setting Your Buffet Table like a Pro
.)
The creme and black cherry sodas were a special treat.  (And I need the bottles for an upcoming party.)  Win-Win!
The Hot Dog Bar made for a fun summer dinner.  The grill was going.  We ate outside.  We sipped sodas along with our dinner.  Everyone enjoyed building their own hot dogs with all the fun options. Although, I think my husband was the only one to go for cucumber on his hot dog.  From the preparation side, a hot dog station is an easy dinner to make and serve.  Definitely something I would do again . . . even if it isn't National Hot Dog Day.