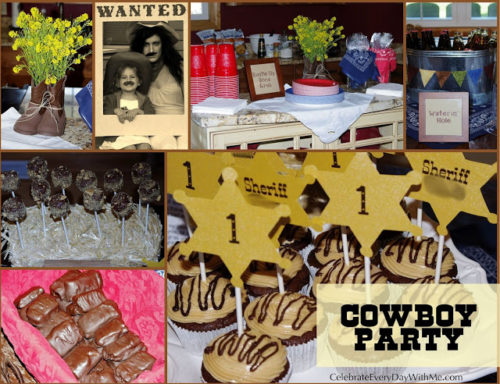 Today, we're checking out a first birthday celebration as we look at this fun Cowboy-themed party for Cherise T's son.  You will love all her homemade treats and themed touches for this party.  Giddy up, let's get started (with the desserts, of course)!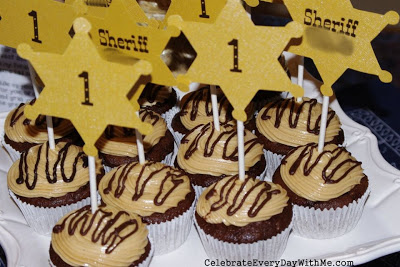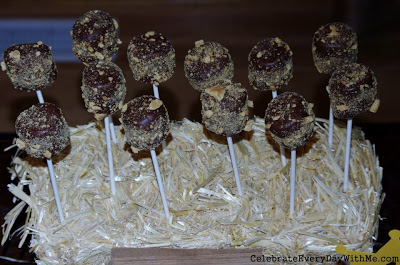 These cupcakes are making my mouth water!  Aren't they gorgeous?  They are devil's food cake filled with a peanut butter cup and chocolate cream filling.  Topping it off is whipped peanut butter frosting with chocolate drizzle.  Cherise made the cupcakes toppers with vinyl lettering from The Preppy Polka Dot and her own computer-made template.
Just below the cupcakes are s'mores on a stick.  Yum!  I love the hay bale they are stuck in.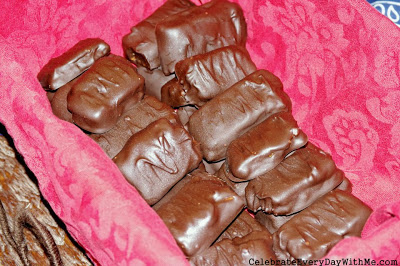 Homemade Butterfinger Bars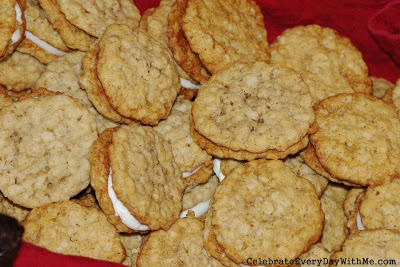 Oatmeal Cream Pies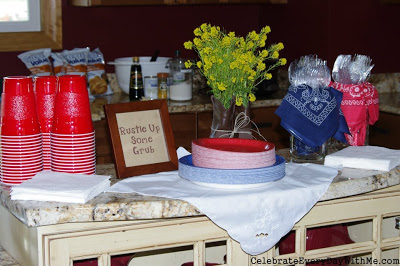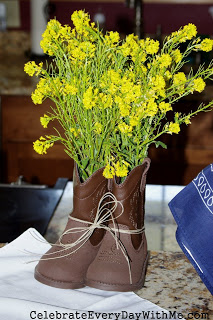 At the beginning of the buffet line, don't miss Cherise's "Rustle Up Some Grub" sign, bandana silverware holders and cowboy boots holding hand-picked posies.  Pictured below is the number one wrapped in yarn.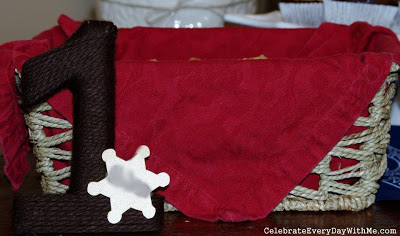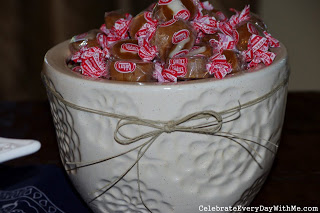 For favors, Cherise offered her guests small brown paper bags to take home caramel cream candies (bulls eyes) and root beer barrels.  This is the note she wrote and then printed for each bag:
Thanks y'all for comin' out, from east and west and all about,
to celebrate my turnin' one, this backaroo sure had some fun.
Before you saddle up your horse, I have I treat for you, of course,
so fill up your bag and grab your phone, and ride into the great unknown.
Looks like a rootin' tootin' party!  Stop back next week to see party two and the rest of the cowboy fun.
In the meantime, you can check out Cherise's daughter's Bumblebee Birthday Bash.
Do you have a party to share?  Send it in to Kristen (AT) CelebrateEveryDayWithMe (DOT) com.