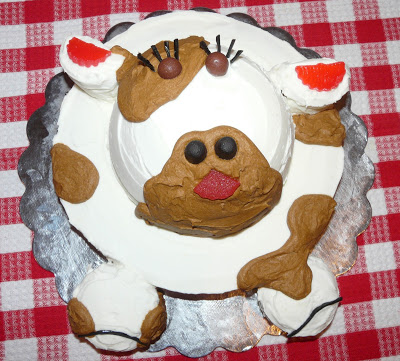 If you haven't already figured it out, I love birthdays!  And I love choosing themes for birthday parties.  Last year, for my son's 3rd birthday party, we selected a Barnyard Farm Theme.
We had fun farm games where the kids pretended to be the farmers and had to bring all the hidden miniature animals back to "the barn," and also a lolli-pop hunt in the hay.  Yes, there were four bales of hay on my front porch for over a month.  But it was so much fun to climb on and play – and thankfully, perfect for the fall season.
For favors, we pretended the items pictured below were apples, filled with treats and goodies.  I had intended to hang them from a tree outside and let the kids choose their apple upon departure, but the weather didn't cooperate.  So they, along with construction paper leaves, were strung from my dining room chandelier.  A child's imagination sure comes in handy!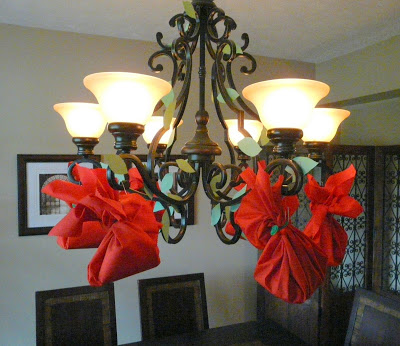 But one of my favorite elements of the party was the Cow Cake.  It was very easy to make with no special cake decorating skills required.  It also incorporated one of my favorite cake building tools – a plain silver bowl!  (To see a lady bug bowl cake, go here.)  If you'd like instructions and to see a video on creating this Cow Cake, check it out at Family Fun.
And last but not least, to complete our party atmosphere,  I downloaded and played a farm medley of animal noises from Amazon
.  The kids loved it!
(This post contains an affiliate link.  Please see the Disclosure Policy on the About Page.)