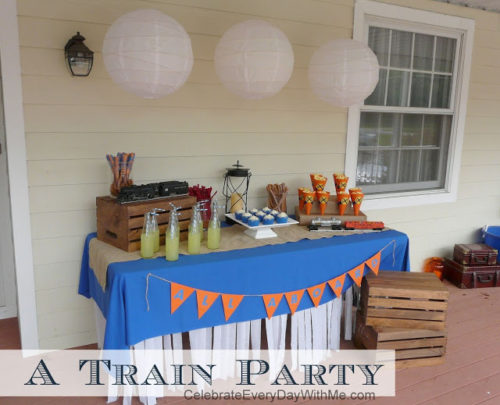 My son is completely into trains.  He chugs through stores, weaves imaginative tales while playing and has drawn the whole family into "train fever."  So for his 5th birthday friends' party, we didn't have to think too hard for a fun theme.  The best part?  Dear friends of ours have a 1/8 scale railroad on a big farm perfectly set between two real railroad tracks in the country.  Children and adults enjoyed riding the trains.
The inspiration for the color scheme came from a set of blue and orange stickers in a Thomas the Train book.  I didn't want a Thomas or Chuggington party per se, so I went with a more vintage railroad feel, pulling from a Lionel train set and adding the brown.
Above are the Popcorn Cones, M&M's in the hopper and Cow Tales.  I won the RR tags from 
Party-Tales
 earlier this year (Milenna can customize printables to fit your party theme.  Check out her site!)
I had planned on serving sticks of homemade rock candy (orange, of course) instead of the Cow Tales.  But the rock candy was a complete failure.  It sounded so easy on Pinterest!  I didn't even have one stick start to crystalize in the 10 jars of sugar water that filled my kitchen and dining room.  But, it all worked out.  The Cow Tales fit in perfectly.
Chocolate covered pretzels next to the Lionel engine.
Lemonade in glass bottles with
Kikkerland Blue and White Striped Straws
.  Twizzlers filled my third glass hurricane jar.  I used pretzels as the base filler in each of the three jars.  Inexpensive and fitting!
Vanilla cupcakes with a surprise dulce de leche filling.  I made the train cupcake wrappers with my
Silhouette Cameo
(and if you want to read why I like the Cameo better than the Cricut,
go here
.)
Chalkboard art!  You don't have to be an artist to do this . . . you just have to be able to see something and reproduce it.  
Find out how here
.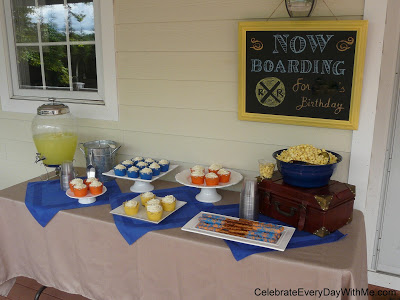 More cupcakes and snacks for the kids' families who came.
I cut brown craft paper for the runner at the kids' table.  With a sharpie marker, I drew the railroad track and then cut the letters for "Happy Birthday" with my Cameo.
Engineer hats for the kids once they finished the training obstacle course (coming later).  I lucked out with this cool sign our friends had, hooks and all.
Here Comes The Train Down The Railroad Track!
We have to chug off for now.  But stop back later in the week to catch more of the party.
Related Post: