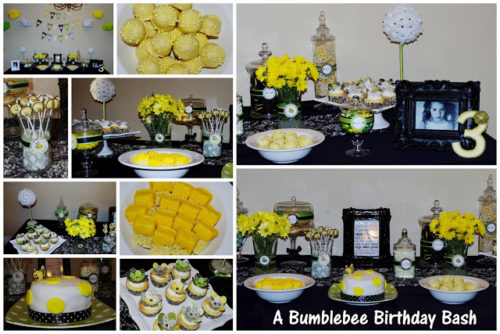 All I can say is . . . WOW!  Check out this adorable Bumblebee Birthday party from Cherise T.  This 'sweet as honey' party was thrown to celebrate Cherise's daughter's 3rd birthday.  And check out all these goodies!
All desserts and decorations were made by Cherise, from cake pops, cupcakes and whoopies to pom poms, topiaries and more!  Let's take a closer look.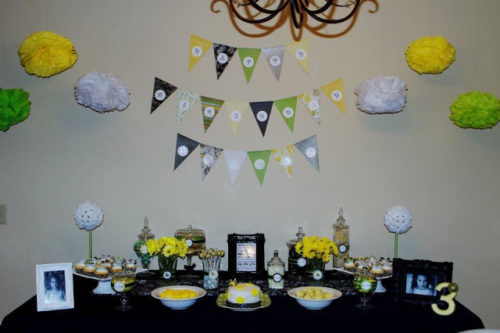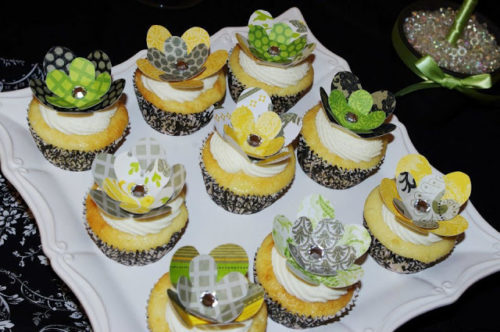 Cherise made the Happy Birthday Banner and cupcake toppers out of scrapbook paper, hand-cutting each flower.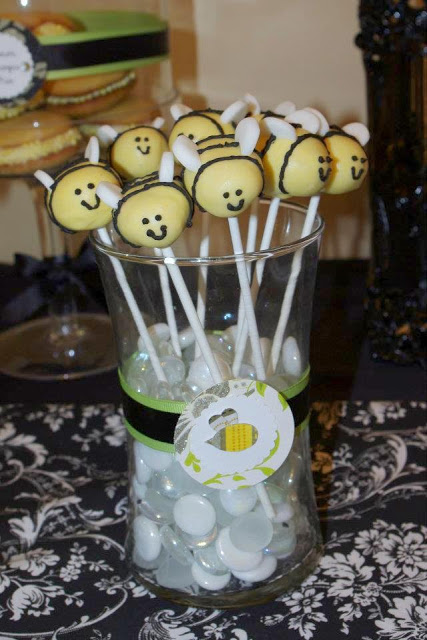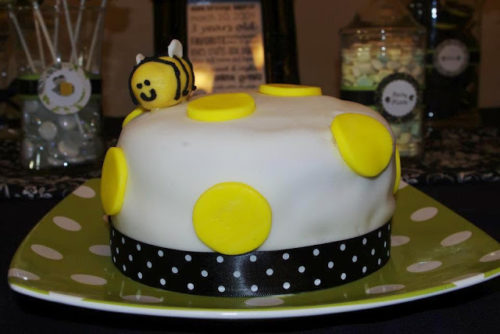 The bumblebee cake pops are funfetti/vanilla cake coated in white chocolate, dyed with yellow food coloring gel.  Cherise made a cassata cake covered in fondant.   (The bumblebee wings are also fondant.)
And let's not forget the cake balls at the top of the collage.  Want to know how she made them?  She baked, cooled, crumbled the cake and then mixed in 2/3 cup canned frosting.  The cake went into the fridge to chill and then she rolled the cake into balls and placed on wax paper.  Last, she dipped each ball into chocolate, decorated with sprinkles and refrigerated.  (I think that box of cake mix and frosting in the pantry is calling my name!)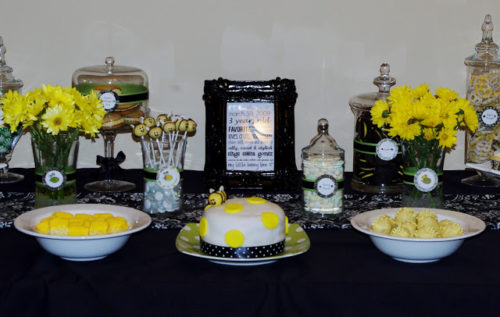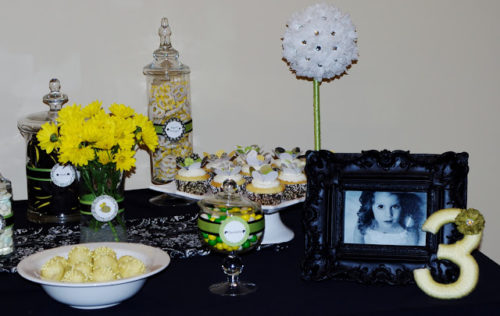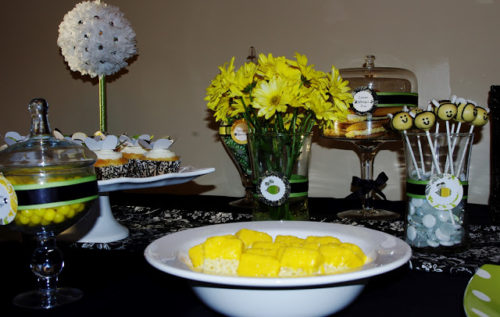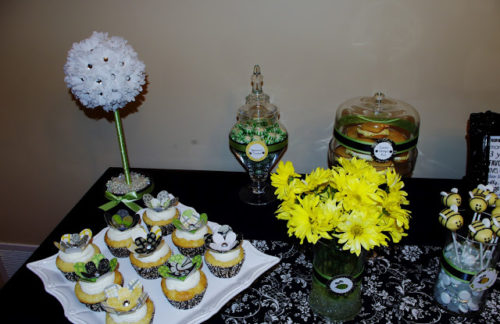 Cherise has collected a great assortment of apothecary jars which she filled with spring oreos (yellow cream), party mints, spearmints, lemonheads, white yogurt pretzels with yellow candy drizzle and green, yellow and white gumballs.  Lemon whoopies with whipped cream filling and yellow candy-dipped rice krispy treats were the final desserts on the table (I'm drooling!).
I love the details Cherise tended to like the labels with ribbon on jars, the gem center on the cupcake toppers and even the wooden #3 wrapped in yarn adorned with a flower and gem.  The framed text at the back of the dessert table is subway art that she made in the program, Gimp.
Thanks for sharing this fabulous party, Cherise!  I think we all have gained weight from just looking at all the yummy treats.  But what a sweet celebration!